Why Oval Engagement Rings Are Here To Stay

There is nothing quite as elegant as an oval diamond when it comes to engagement rings! The oval diamond has gained huge popularity over the years. People are looking to show their individuality and design. The first decision on a ring is establishing what diamond shape is best suited to you? as a unique individual.
If you are reading this article, it is a very good sign that you are already drawn to the oval shape.
We are going to address a few questions below that we get asked from our valued clients in our studio, and hope this will help you in the decision-making process.
Do Oval Engagement Rings Only Suit People with Long Fingers?
The slender body of the oval diamond creates a beautiful, elongated look. Due to the elongated look, it will appear often to make the hand and fingers appear finer. The oval shape will suit every individual's hand, whether you are looking for a design that is modern, traditional, small or large. The oval shape works in most of all the popular and traditional engagement ring designs to unique once-off pieces. Draw rather on the elements you prefer, such as the oval shape, the metal colour and whether you want a detailed or plain design. Speak to one of our designers and they will be more than happy to assist in working on a personalised engagement ring design for you, at our Melbourne or Sydney studio.
Are Oval Engagement Rings Modern?
Oval shaped engagement rings can be described as 'modern' if you are thinking of being current and in line with today's styling. They are working on modern broad designs to showcasing the oval diamond with a thin band. We are in a very exciting era in jewellery as everything goes, the ring needs to showcase your style and personality. It is an item of jewellery you wear every day, so you want to love everything about the design. Oval shaped engagement rings appeal to a variety of brides, including those looking for something different. The options are endless when it comes to choosing a setting for your chosen oval cut diamond or centre stone. It is very important in creating a ring that you love.
Do Oval Diamonds Look Bigger?
Since the oval diamond has a larger surface, it will actually appear bigger than a round diamond if you compare the same carat weight. The average 1-carat oval diamond's surface is about 10% larger than the average 1 carat diamond cut as a round brilliant. This means that you can get a diamond that looks larger, for a lower price. Oval cut diamonds come in a variety of oval shapes. Depending on the length to width ratio of an oval diamond, it may have a wide, normal or slender oval shape.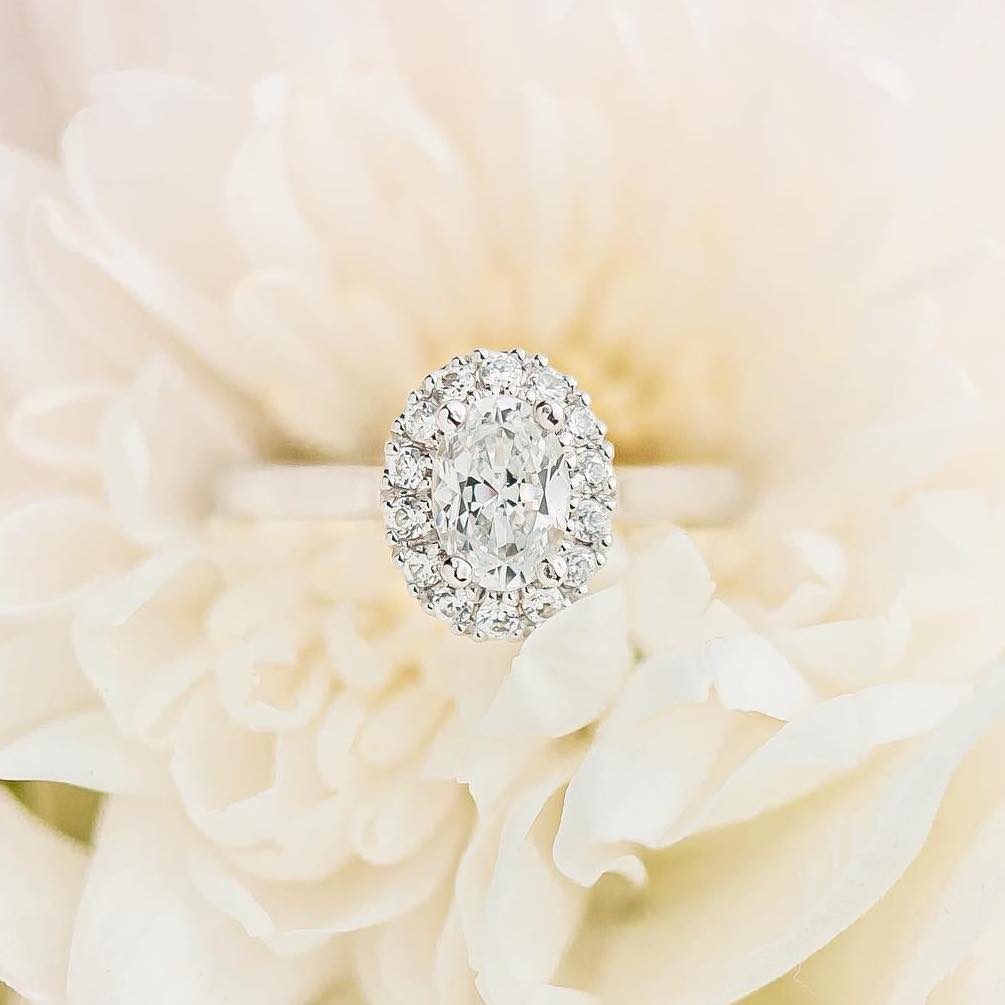 Are Oval Diamonds More Expensive Than Round Diamonds?
Oval diamonds are less expensive than rounds. Comparing exactly the same specifications in the diamonds. Such as colour, clarity, size, diamond certificate type and fluorescence. We always recommend speaking to one of our team members at Larsen who can showcase the differences in each diamond. There is always a reason for pricing, and we advise you to speak to a recommended jeweller who you can trust for sound advice.
What Ring Designs Suit Oval Shapes?
All designs are very suitable to oval cut engagement rings. At Larsen Jewellery we offer some very popular styles from oval solitaire engagement rings. Oval ring with side diamonds in the band and oval halo engagement rings. Seen in the images below-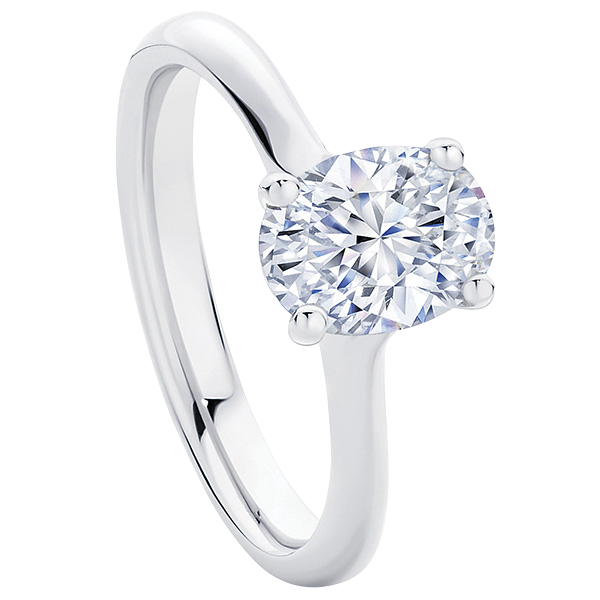 A classic oval diamond solitaire engagement ring
An oval diamond ring, with side diamonds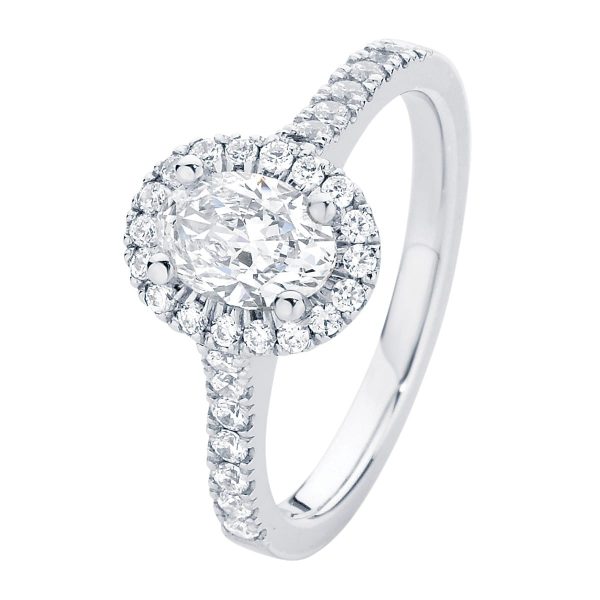 Oval diamond halo engagement ring
The oval is a very versatile shape as it suits sharp lines to soft scrollwork designs in an engagement ring. Our team can set up an obligation-free design appointment to work out the perfect design for you or your partner if you wish to keep the surprise.
Click here to see more stunning oval engagement ring designs
Should Oval Stones Be Set With 4 Or 6 Claws?
More often than not, our team of jewellers and designers are creating oval stone settings in four claws. It is more current in design and we feel is visually more appealing. The six claws would offer you a more vintage style take on our classic oval solitaire design, as seen in the image below.
Simple diamond rings are most popular in design with the four-claw setting, the main reason is that the diamond is the main focus area. It is very complimentary and not overpowering or distracting.
We take into consideration the design you are looking at and what claws will look best with your chosen diamond or stone such as a sapphire. We may recommend round or talon claws, or double claws. Our team of designers will always recommend the option that will optimise the look but also give you the best safety for your chosen stone.
Do Oval Diamonds and Gemstones Look Good in Vintage styles?
Whether you're hoping for a minimal, timeless, or vintage-inspired engagement ring, an oval-cut diamond will do the trick.
In the vintage style, the soft curvature of the oval shape complemented with hand engraving on the band. It will look exceptional in a three-stone setting where the centre diamond, enhanced with round or pear diamonds on the side.
You can personalise your oval cut engagement ring by spending time thinking about the metal colour. Oval diamond set in rose gold, for example, can feel vintage even though it is a brand-new ring creation by our team at Larsen Jewellery. If you want oval halo engagement rings, made up of all diamonds, you will want to opt for platinum or white gold. A white alloy metal blends seamlessly with diamonds so your eye, drawn to the diamonds and/ or stones and not the setting.
What Coloured Gemstones Suit Oval Shapes?
Practical decisions should come first when it comes to a coloured stone. You'll want a gem that is durable and holds up to daily wear. Next to diamonds, sapphire and ruby are the hardest gems on the Mohs scale, so these are excellent choices. All the colours of the rainbow are available and can be suitable in the oval shape engagement ring. Consider what colours portrait your individual style, that you are comfortable to wear every day. We would recommend speaking to our team and they can recommend stones for durability within your preferred colour choice.
What Wedding Bands Look Good with Oval Engagement Rings?
You need to consider the engagement rings design. What will be complimentary, but not take focus away from your beautiful centre oval stone. The wedding band signifies your transition from engagement to getting married. Your engagement ring, it's something you'll be wearing forever. You have the ring of your dreams—now it's time to find the perfect wedding band! Remember that there's no right or wrong—the pairing should be whatever is most beautiful to you.
Oval diamond engagement rings emphasise the centre stone of your choice. Without losing the classic feel of vintage diamond shape. With many options available for different styles the oval diamond is the most versatile and striking option with a sense of being unique and right to your style choices. Oval rings are becoming one of the more popular shapes with brides-to-be and definitely here to stay.
Would you like an oval diamond ring? What style would you choose? Let us know in the comments below!
Related Posts