Vintage Inspired Engagement Rings and Wedding Rings
The term vintage-inspired is a very loose term to describe designs reflecting elements of a time once passed. If you are under the impression that all vintage style rings look the same, then you are very much mistaken. Vintage inspired engagement rings might be a long-standing trend but even within this, there are mini-trends that come and go. From gothic style rings to the ever-popular Art Deco designs, there are many subcategories. Some that people fall in love with over and over again and others that disappear as fast as they came.
So what's en vogue in vintage inspired engagement rings?
Beautiful rose gold rings that are delicate and intricate in nature featuring round, oval and marquise diamonds. Your design may feature a perfect halo of round diamonds or play with the geometry of alternative shapes. Smaller diamonds to create a unique pattern, the combination of rose gold and white diamonds is a match made in heaven.
The Art Deco-inspired engagement ring is one style that does not fade away and we have seen some stunning rings inspired by this era. One design in particular which continues to inspire brides across the globe is Pippa Middleton's octagonal halo design. Pippa's exquisite, Art Deco-inspired platinum ring features an Asscher cut diamond, the cut that epitomises this era.
Hand engraved rings such as our 'Empress' engagement ring pay tribute to an age-old craft. This design is a perfect example of how beautiful the outcome can be when you marry modern design with vintage elements.
Delicate details, engraving, geometric diamonds and gemstones are all features of vintage inspired rings. We are seeing more and more women drawn to these styles, recreating their own inspired pieces featuring many of these elements.
Vintage Inspired Ring Styles
Art Deco
The Art Deco period of design started in France in the 1920s and 1930s, following on from the Art Nouveau period. It was a time of extravagance, class, high society and radical design. The Art Deco style reflected this with the use of grand and elegant geometry, long curved lines, motifs and bold use of colour.
This period also coincided with the advancement of the diamond and gemstone cutting technology which saw the rise in types of cuts available and the introduction to cutting techniques that saw diamonds and gemstones sparkle like never before.
Antique Art Deco engagement rings are extremely rare to come by; especially from the renowned French designers of that time Sandoz, Templier, Fouquet and Brandt. However, many women draw inspiration from these famous styles to come up with their own modern take on an Art Deco ring.
Art Deco inspired rings are typically formed of lots of metal, geometric shapes and patterns that reflect the architecture of this period, and are often pattern-based. They are usually beautiful elegant pieces, far from being understated in appearance.
One typical style of an Art Deco engagement ring will consist of a square cut centre stone and then surrounded by rectangular baguettes or triangular stones all set into a bold geometric pattern. It is not uncommon for coloured gemstones to be used in Art Deco designs, especially rubies, blue sapphires and emeralds as these colours very much represent the style of this period.
Art Nouveau
Edwardian
Victorian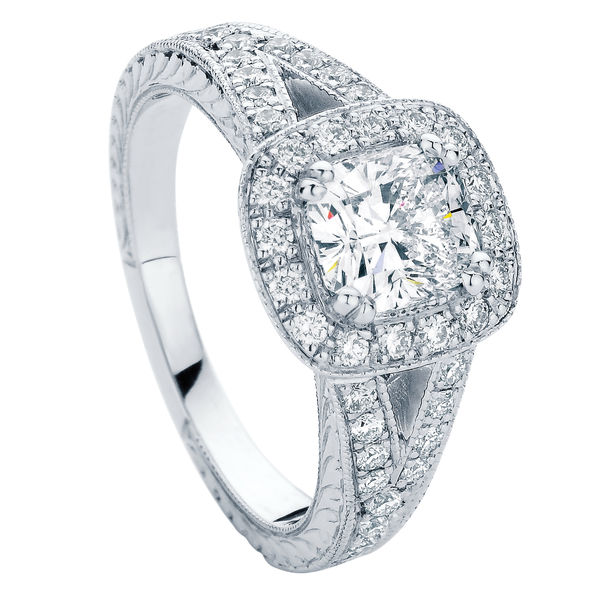 The Victorian period of art and design followed on from the Georgian period, starting around 1837 through to the 1900s. This was the period that Queen Victoria reigned, specifically from 1837-1901. She was only 18 when she became the monarch and her style became a strong influence on the fashion and jewellery of this time.
The aesthetic of this period was romantic; ornate and decorative in appearance. Designs were intricate and delicate in appearance. Often floral patterns and motifs were used and engraving a common technique practised. They often told stories and had symbolic meanings incorporating beautiful motifs of flowers, hearts, bows, and birds. Dearest rings and acrostic jewellery also gained popularity during this period.
The Catholic Church was another strong influence during the style of the Victorian Era. Victorian jewellery quite typically uses religious symbols such as crosses, ivy or snakes. A 'coiling snake', for example, is a symbol used in Victorian jewellery to represent eternal love.
The Victorian Era was a time that saw prosperity as a result of the Industrial Revolution. There was an increase in the wealth of the middle class especially. This resulted in a demand for jewellery that represented class and wealth. Yet, as diamonds were still quite rare it was only the very wealthy who could afford such decadence. Victorian style engagement rings that featured diamonds were set with Rose Cut and other hand-cut diamonds. More common in Victorian engagement rings are gemstones such as emeralds, rubies, garnets and even pearls. These were most commonly set into rose gold or yellow gold.
Over the Victorian era, there was a transition of styles broken up into the early Victorian, also known as the Romantic era, the Grand and the Late. The beginning of the Grand period was when Prince Albert sadly died, this saw the beginning of her period of mourning.
Queen Victoria mourned for many years and would wear jewellery that reflected this. Jewellery appeared darker in nature compared to before, lighter stones such as emeralds and soft blues were replaced by black stones such as onyx and deep red garnets. Influenced by this time, mourning jewellery became widely popular.
Following the Grand period was the Late Victorian era when Queen Victoria transitioned out of mourning. Her jewellery mirrored this change and flaunted her fortune and the prosperity of this time. Jewellery was heavily embellished with motifs featuring flowers, dragons, serpents, insects, and birds; along with the beautiful use of diamonds and coloured gemstones.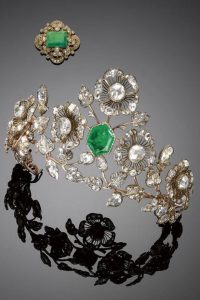 Queen Victoria's antique floral tiara featuring an emerald and diamonds
Our Best Vintage Style Rings
It doesn't matter how many engagement ring trends come and go there is no shifting this one. The permanency and long life of this trend brings a constant flow of beautiful vintage-inspired rings each year.
As every Larsen Jewellery ring is custom made, it means that we bring you a beautiful collection of vintage-inspired rings year after year. From vintage designs inspired by the famous Royal Sapphire ring to all things Art Deco. Whether it's beautiful diamond bands or vibrant coloured gemstone rings, we have covered it all.
The best diamond cuts for vintage-inspired rings
Consider featuring cuts such as Asscher, Emerald cut, old mine cut and Marquise cut diamonds. Baguette, Carre and single cut diamonds are excellent choices for side stones.
Vintage Inspired Rings By Decade
In recent years, we have seen a vast range of engagement ring trends. We can put this down to social media, which provides a wide range of inspiration available at our fingertips. Before this, decades and even centuries ago, trends emerged from what was seen in Hollywood, on the hands of royalty and by the conditions of the times.
Let's take a look at the various trends, going right back to the beginning of the 20th century.
Early 20th Century:
The beginning of the 20th century, the Edwardian period, saw the industrial revolution. A time of prosperity and when engagement rings became more of a social norm. Rings were ornate in style, featuring diamonds and exquisite details. These included engraving, mill grain and filigree patterns.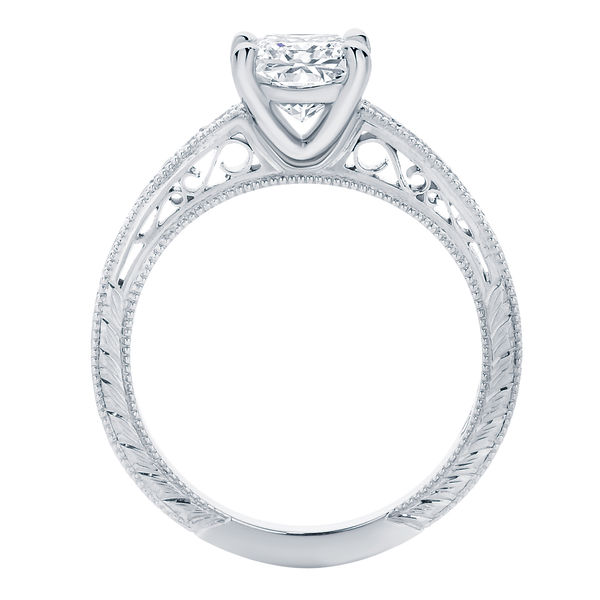 The 1920s-1930s
This is the time of the Art Deco period, one of the most influential periods of design in general. Art Deco jewellery featured geometric patterns often inspired by the architecture of the time. Designs also included splashes of colour, with the use of gemstones such as emeralds, rubies and sapphires.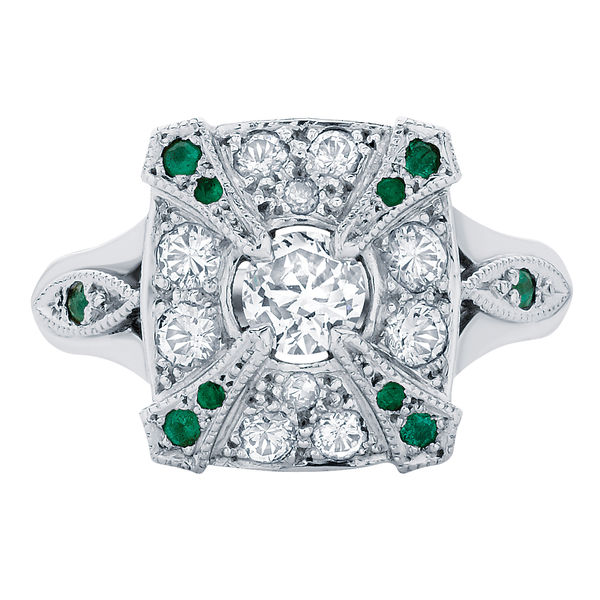 The 1940s
Despite the hardship as a result of the world war, engagements rings were still popular. Not everyone could afford a diamond ring, this caused a rise in the use of synthetic stones. Designs were more fluid and feminine than that of the Art Deco period, featuring beautiful ribbons and bows.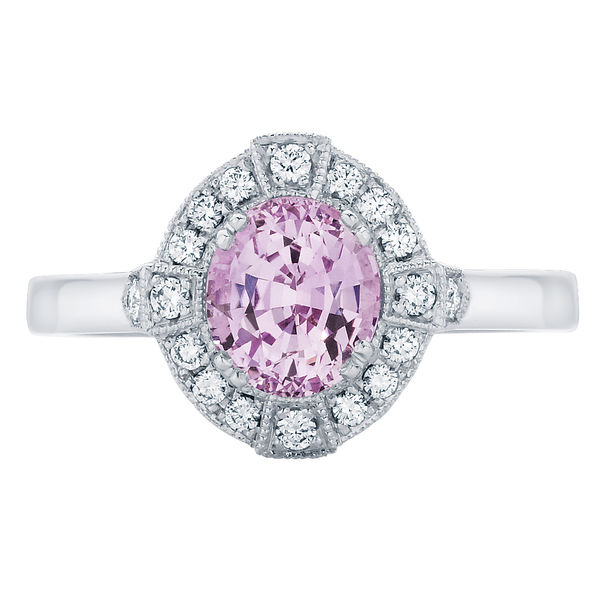 The 1950s
In the 1950s, the war was over and as a result, engagement rings changed significantly and diamonds were noticeably bigger. People loved three-stone rings, halo rings and fancy cut diamonds. Stackable and interlocking rings were also favourites in this era, thanks to the beautiful Audrey Hepburn.
The 1960s
The 1960s saw the return of the Art Deco style, which became popular once again. Modern ladies would create their own take on these popular design style using colour and bold patterns. Two important women of this time, Elizabeth Taylor and Jacquie Kennedy, also set trends with their respective rings. Taylor's impressive Asscher cut diamond ring and Kennedy's emerald ring made women go weak at the knees all around the globe.
The 1970s
The 1970s was a significant time for diamond cuts, this was the era when the famous Princess cut diamond emerged. Women all over the world embraced this cut with stunning solitaire designs. Also, during this time, designs featuring clusters of diamonds were rising in popularity.
The 1980s
In the 1980s, Princess Diana received what is arguably the most famous ring, the Royal Sapphire ring. This saw the rise in the popularity of the Ceylon Blue Sapphire. Until this day, there are women across the world requesting their own version of this famous ring.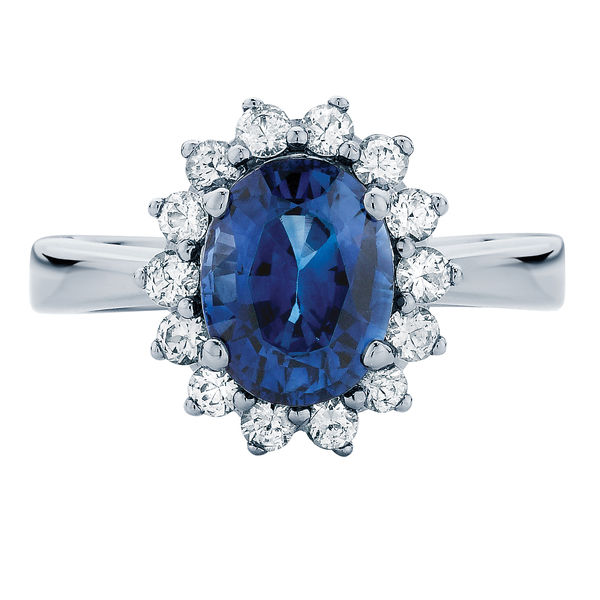 The 1990s
The most popular engagement ring style since the 1990s is the round brilliant cut solitaire. In this period, there has not been one stand-alone trend. We have seen women embrace three stone rings, coloured gemstone rings and halo rings. There has also been a strong demand for engraved rings, contemporary and beautiful vintage style rings.
The 2000s
The decade of the halo design. This decade has seen every possible variation of the halo design. Whatever shape, colour or gemstone was featured, it has was surrounded by tiny diamonds. It's like everyone became aware in an instant how effective a halo is at enhancing your chosen centre stone and adding that extra sparkle.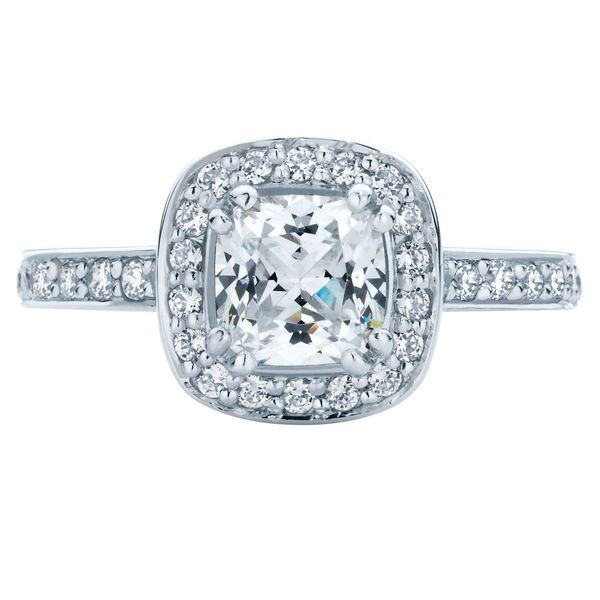 The 2010s
The barely-there ring. The most commonly asked question in this decade was "can the band be made any thinner?". Having a delicate, narrow band creates an optical illusion with double the impact. It makes fingers appear longer and featured diamonds appear larger. Now show me any bride to be who isn't impressed by that combination!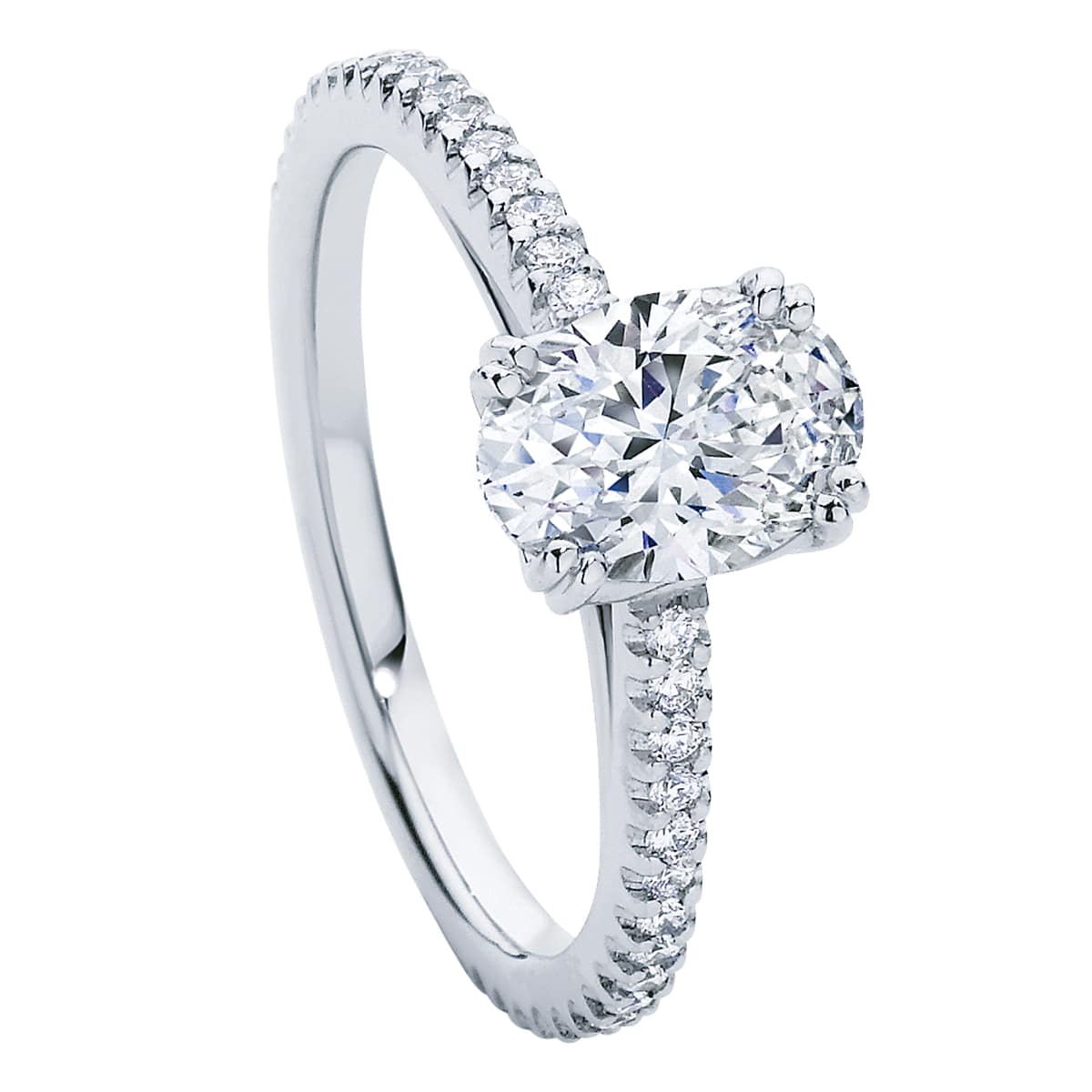 The 2020s
Now we don't have a crystal ball so we won't hedge bets about what style will sweep the globe. All we know is that we will embrace it. We love innovation and we take inspiration in every trend that comes and goes.
No matter what your style is, there is a ring and an era to draw inspiration from.
Vintage Inspired Wedding Rings
The classical, timeless elegance of certain design eras is undeniable. It is no surprise, then, that demand for vintage style engagement and wedding rings continues to increase.
For those who are after a vintage style wedding ring, your sources of inspiration are endless. If you have already received a vintage-inspired engagement ring then a vintage style wedding ring is the natural fit. Now, it is certainly not a prerequisite for owning a vintage style wedding ring. A trend that is becoming more and more popular is mixing styles. A vintage style wedding ring can make the perfect, contrasting set, mixing old with new, modern with classical. The added benefit to this is that your rings look great together and when worn on their own.
To create a vintage wedding ring you only need to look at the many different design eras throughout time. Flick through the pages of magazines or browse the internet for inspiration. With endless options available, you will never be stuck for ideas.
When designing a vintage-inspired wedding ring you will notice certain design features. These often mirror vintage engagement ring styles. Ancient techniques such as mill grain, hand engraving and filigree are common. These are used to create beautiful delicate and intricate patterns that may include small diamonds to add a little extra sparkle. Depending on what era you are drawing inspiration from, you may also like to include coloured gemstones.
The most important thing to remember when custom making any piece of jewellery is that there are no rules! You should love your ring and it should be a true reflection of yourself!
To help inspire your own piece of history here are a few of our favourite vintage style pieces: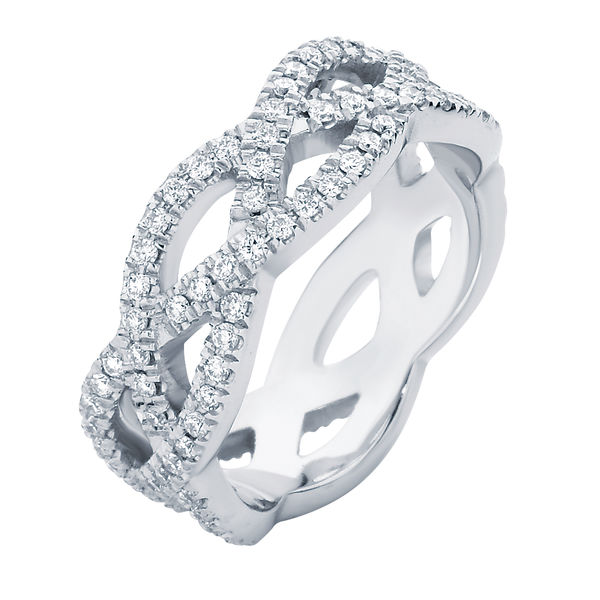 Beautiful diamond-encrusted 'Trinity' wedding ring. Stunning worn on its own or beautiful against your diamond engagement ring.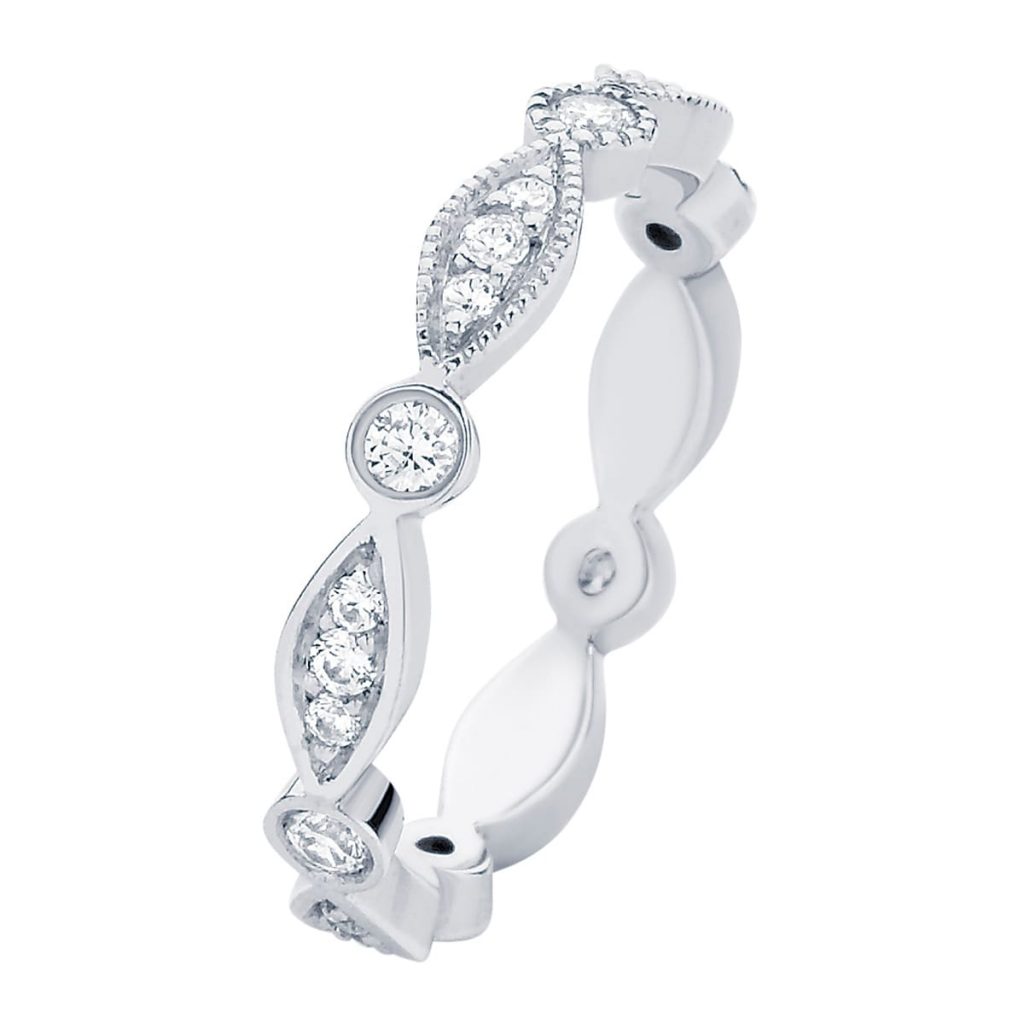 The exquisite patterned 'Stella Brilliant' wedding band. Custom design your own taking inspiration from shapes and form in vintage design.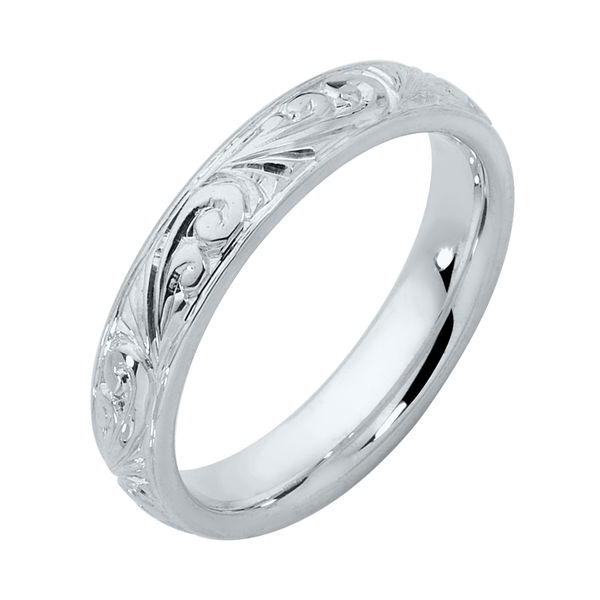 The 'Inscription' featuring traditional style hand engraving. Just one of the many vintage style hand engraved patterns.
Vintage style engagement rings are popular, so it is no surprise that vintage style wedding rings aren't far behind. The beautiful, delicate and detailed nature of vintage pieces is what makes them so appealing to so many.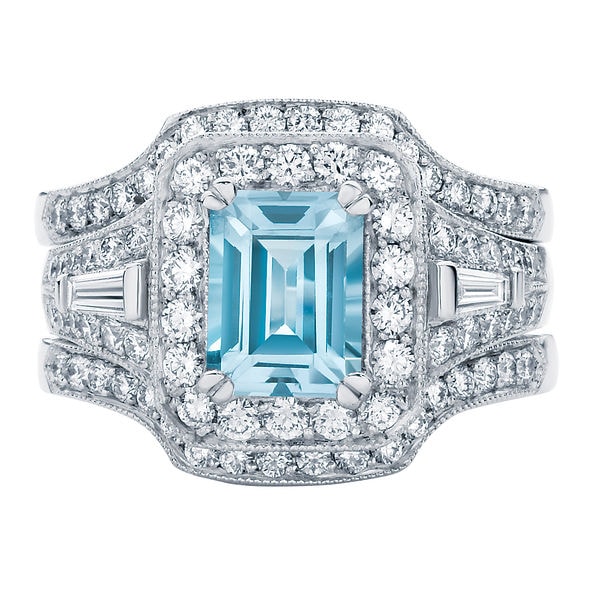 If you have a vintage style engagement ring, then chances are you have a good idea of what style wedding ring will suit. You may be considering creating a perfect matching vintage wedding ring for your engagement ring. Perhaps later on down the track, you'll consider adding an eternity ring to complete the set. Needless to say, a vintage style bridal set is simply stunning and will surely win the heart of your loved one.
For those that don't have a vintage style engagement ring, this is not a problem. Having a vintage style engagement ring is not prerequisite for having a vintage style wedding ring. In-fact a vintage style wedding ring can create a beautiful contrast to a modern solitaire band.
What should you look for in a vintage style wedding ring?
There are many different styles when it comes to vintage wedding rings. They can be diamond set, adorned with engraved patterns or lined with mill-grain edges. If you have your heart set on a vintage style wedding band start scrolling through the internet for endless inspiration.
What metal should you choose?
The metal you choose is completely up to you. There is no rule saying that you must match the metal of your wedding ring to the metal of your engagement ring. If we're being traditional, vintage style engagement and wedding rings are commonly yellow or rose gold pieces. Yet, white gold is also a very popular option nowadays.
Are diamonds a must in a vintage style wedding ring?
No, not at all! This is a personal choice. You may already have diamonds in your engagement ring and this may be enough sparkle for you! Or, like many ladies out there, this may not even be a question as there can only be one answer – Diamonds! Coloured Gemstones are another option and can create a lovely contrast to the diamonds in your engagement ring.
How to create fine detail in your vintage wedding ring?
What stands out to most of us when we look at vintage jewellery is the impeccable and intricate detail. You might be wondering how you replicate and capture this in your vintage style wedding ring? Ancient techniques are what create these beautiful details. Beautiful mill grain edges, filigree patterns and hand engraving are among the most popular techniques.
Why is recreating a vintage style wedding ring such a good option and is it better than buying second hand?
Even though vintage and antique rings can be undeniably beautiful you should always choose them with care. It is a good idea to consider the fragile nature of vintage pieces. They often need repairs or have been made in an era when precious metals were difficult to come by and hugely expensive. This can mean that the band and claws can be perilously thin. Custom making a vintage style design to your specifications avoids all these problems. Every piece we create in our workshop comes with a lifetime guarantee to give you peace of mind that you have made the right choice.
Related Posts