What is an Eternity Ring?


Eternity rings are the usually the third ring given to you by your partner, in addition to your engagement ring and wedding ring. They round out a three ring set and for those who purchased a simpler design for these, it provides an opportunity to add a little more sparkle. Are they necessary? Is it too much? What should they look like? The first thing to keep in mind is that not everyone wants one but for those that do, the process of choosing the right one need not be arduous. Let's take a look at some of the most commonly asked questions about eternity rings and see if we can un-muddy the waters a little.
What is an eternity ring?
Traditionally an eternity ring is worn on the left hand, alongside a wedding ring and engagement ring. It was originally an unbroken circle of small diamonds and gifted after 10 years of marriage. This basic premise has evolved somewhat over the years and is no longer so strictly defined. The engagement ring was first used as proof of a promise of marriage, and the wedding band the symbol of the marriage itself. The eternity ring is meant to be an affirmation of that but was originally conceptualised by the diamond market as a way to encourage a further purchase. One of the more memorable sales slogans from the 1960s was "She married you for richer or poorer, let her know how it's going".
The definition of eternity ring is now far more encompassing than that and is largely driven by fashion. There are some who factor a third ring into the design of their engagement and wedding set. From a design perspective, they can be used to complete a chosen aesthetic that would otherwise seem lopsided. There are many who believe a three ring set looks more symmetrical, thus the basis of its appeal.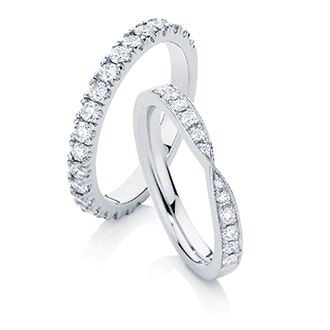 What does an eternity ring symbolise?
The unbroken line of diamonds was meant to symbolise never-ending love much in the way a wedding band does. This traditional view has fallen somewhat by the wayside for a number many reasons, the most common being it is not always practical. Depending on the size of the diamonds used this style can be uncomfortable to wear. It can also be impossible to resize and may in fact require additional care and repair work down the track.
Many people today actually prefer their eternity ring to only have stones set into the upper half of the ring. Leaving the back of the band plain can limit the irritation between the fingers and make the design a little more versatile. Given the prevalence of diamond set wedding bands, many now choose to replicate the design as an eternity ring. This can create symmetry that their set lacked before, completing the aesthetic.
When do you give an eternity ring?
Ten years of marriage is still a thing but is not strictly adhered to. Many now give them on any significant anniversary, and yes boys every anniversary is significant, including the first. The truth is it's usually the women who decide when is the right time, especially if she envisioned a three ring set form the start. It is important to remember that not every woman wants an eternity ring. Sometimes two rings on one finger is enough. This being said maybe the right answer to this particular question is when she asks for it?
But when do I get an eternity ring? The best time is after your wedding when you feel it is appropriate to do so. As with many traditions associated with tying the knot this one has changed quite a bit. There is no concrete answer. If you ever do find yourself strapped for ideas around your anniversary, this might be a good way to buy yourself another year.
Can you give an eternity ring before marriage?
The short answer is yes, but these kinds of gifts are usually viewed as friendship rings or promise rings. As the so-called rules for what each of these types of rings should look like keeps changing it can get confusing. The most important thing to remember when gifting jewellery is to define what it's purpose is when you gift it. For example, you may gift something as a promise ring before marriage, but perhaps your partner may wear it as an eternity ring after your wedding. As long as no one mistakes it as an engagement ring everyone should be happy!
When in doubt, leave the diamonds until the engagement ring and wedding ring. Promise rings, friendship rings and purity rings should probably be a little less ornate.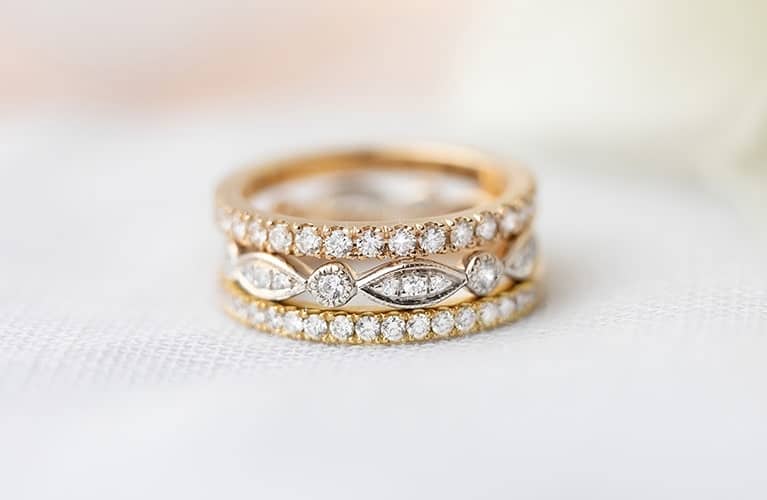 What finger do you wear an eternity ring on?
It is usually worn on the ring finger of the left hand with the other two. Traditionally the wedding band is first (closest to your heart) followed by the engagement ring. The eternity ring is the last worn, on the other side of the engagement ring. There is however no rule that says this must be done. It might be worth considering wearing it on another finger if, for example, you have a large diamond in the engagement ring or a very chunky design for your set. There are many who would challenge me on this point, but you may already have too many diamonds in one spot! Plenty of room on the next finger over…
Do eternity rings have to have diamonds?
Absolutely not. There is possibly an argument that eternity rings should feature stones but that doesn't mean just diamonds. Bringing a little colour into the equation is not only a good way to spice it up, sometimes it's required. If you have a sapphire engagement ring a little matching blue in the eternity can really bring the whole story together. It can also be great play with different design elements to create something that speaks to the wearer. As with all aspects of jewellery design, the rules are fluid and should be used as a guide only. Buy what you like!
The diamond eternity ring is the most common, but sapphire and rubies are also commonly used. This is not a recent development, as they are also seen in vintage pieces too.
What eternity ring designs are popular?
This question is a little complicated, as we advocate for design that suits the wearer, not that satisfies fashion. There are always trends that come and go in the jewellery industry. Almost all of them are driven by other fashion fads, and they all disappear as fast as they came. The thing to keep in mind when purchasing an eternity ring is to be mindful of what it is being worn against. It must look good with your existing set and work from an engineering perspective. Not all engagement rings are made to accommodate large diamond bands being worn against them, so always double-check! It is in fact a good idea to return to the jeweller you bought your original set from, as they will know what will work.
The shorter answer to the above is usually a simple band set with small diamonds halfway around. If the engagement ring has a small motif that can be replicated it is usually a good idea to incorporate it. It may be a good idea to consider replicating your wedding band if it has diamonds it to make things match but consider personalising it with engraving inside. If you like the idea of an unbroken line (all the way around), it is a good idea to try this on before committing. Make sure you find it comfortable to wear and that it will not adversely wear against the engagement ring. If it does not sit quite right maybe consider wearing your eternity ring on the right hand.
What metal options are there for eternity rings?
Eternity rings can be made in any metal. Yellow, white and rose gold as well as platinum. This decision is often made for you, however, as they should always be of the same material as the other two rings. All of the coloured golds can be worn side by side, but a platinum band shouldn't be worn beside a gold band. As the platinum is harder than the gold it will slowly wear away the softer metal, causing damage over time. It is always best to show the jeweller you are working with your existing rings so they know what they are working with.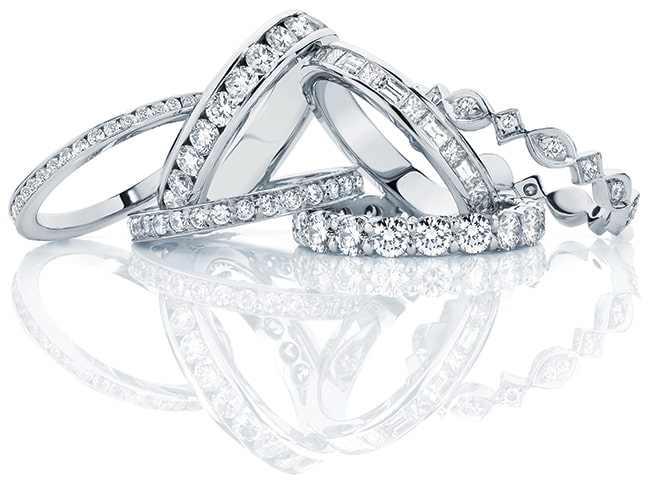 Do men wear eternity rings?
Traditionally no, but who's going to stop you if you want to? There has been a recent increase in the number of men who wear both an engagement ring and wedding band, so why not? It would probably be advisable to wear it on the right hand as men's jewellery does tend to be on the heavy side. Perhaps making the design a little more contemporary might be a good way to go, with darker colours in the gemstones. Black diamonds or dark blue sapphires would create a more masculine edge. Many men don't like the idea of rings that have too much bling, so something a little sleeker might be in order. Personal taste is everything, and the design of his wedding band might be the best indicator of the direction to move in.
Eternity rings are a great way to round out your wedding set. Not everyone thinks about them as necessary, so they are a great gift idea. The variety of styles means it's hard to get it wrong. When in doubt, just replicate her existing ring for a stunning result. At Larsen Jewellery we can design the ring that is right for you in either our Sydney and Melbourne studios.
Related Posts