What is Channel Setting?
Channel Setting is a fantastic choice that often gets overlooked in favour of the popular pavé or 'grain' settings.
What is channel setting?
Channel setting
is a 'neat and clean' style of setting. Channels are cut into metal to house a row of diamonds, framing the diamonds with a perfect wall of metal. The diamonds sit securely in recesses that are cut into the walls of the metal.
Not only is channel setting beautiful, but channel setting is arguably one of the most secure styles of settings. With metal completely enclosing the sizes and edges of your diamonds, your diamonds will have that extra bit of protection from any accidental knocks.
Who suits a channel set ring?
If your style is modern and sophisticated, then channel setting might just be the ideal choice for you. Channel setting is the perfect way to create a clean, contemporary look. Perfect for that
modern style engagement ring
you are dreaming of. Channel settings add lovely, long, elegant lines to modern designs. One style of channel setting that is ultra-sleek and contemporary is a row of
princess
or baguette cut stones. Using lovely square or rectangular-shaped stones means that you lose any little gaps between stones, creating a beautifully elegant, clean row of diamonds.
The most wonderful thing about channel setting is the versatility it offers. They look stunning in a wide range of designs; whether they are set next to
coloured stones,
in a striking modern minimal design or in a. Whatever design you settle on with the help of your jeweller, your channel set diamonds will add that extra flair and provide your diamonds with that extra bit of security.
Here is are some of Larsen Jewellery's favourite channel set designs: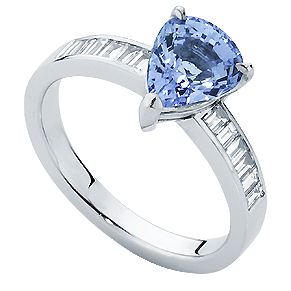 The
'Azure'
, a beautiful modern style engagement ring featuring a stunning 1.25ct Ceylon Sapphire and 12 baguette diamonds seamlessly channel set on either side.
The
'Poppy'
engagement ring features a 1.00ct round brilliant diamond and 10 x 4pt round brilliant diamonds channel set into the shoulders.
The
'Mercury'
a striking diamond dazzler! Featuring three princess cut diamonds and six 7pt baguette diamonds channel set into each shoulder.
Related Posts