8 famous gemstone engagement rings
Although diamonds are the most popular choice for an engagement ring, they are not the only option. Coloured gemstones have been incorporated into engagement rings for years and these days we are seeing more and more ladies looking for a splash of colour rather than a diamond dazzler.
Coloured gemstones are a guaranteed way of creating a unique design, there are no two gemstones exactly the same. Whether your design features an exquisite coloured centre stone designed to make an impact or just a hint of colour to accentuate the main diamond, there are many ways to incorporate colour into your engagement ring.
Over the years, we have seen some amazing gemstone rings worn by the rich and famous. Some of these have changed the landscape of engagement rings forever and some are just so exquisite they will go down in the history books as the most beautiful gemstone rings of all time.
In recent years we have seen more and more celebrities with engagement rings featuring a splash of colour but this is not a new trend. Elizabeth Taylor had one of the most exquisite collections of gemstone jewellery, with 7 husbands and 8 weddings she had more than her fair share of engagement rings and jewellery. Her famous collection consisted of many exquisite coloured gemstone pieces such as a fabulous ruby and diamond ring to a Colombian emerald brooch and a Cognac and white diamond brooch.
At Larsen Jewellery we cannot get enough of coloured gemstones, we can lose hours admiring some of the most beautiful gems up close and there is nothing more exciting when a customer comes in and wants to incorporate one of these beauties into their engagement ring.
If you are contemplating a coloured gemstone for your engagement ring, we have put together the perfect source of inspiration for you. Here are 8 of our favourite famous coloured gemstone engagement rings for you to swoon over:
Emma Slater & Sasha Farber
American Dancing with the Stars celebrities, Emma Slater & Sasha Farber, recently engaged and Emma received the most exquisite deep pink or "wine" coloured sapphire.
Olivia Palermo
It is no surprise that fashion icon, Olivia Palermo's, engagement ring is simply stunning featuring a yellow diamond set into a platinum ring.
Poppy Delevingne
Poppy Delevingne's engagement ring is one of the most unique rings in Hollywood. The wide yellow gold ring features a bezel set emerald cut blue diamond as the centre stone and two heart shaped diamonds set either side. She than has two yellow gold diamond wedding rings which follow the line of the engagement ring to complete a wonderfully unique set.
Hilary Swank
Hilary Swank followed in the steps of Halle Berry (below) with a stunning Emerald and yellow gold diamond engagement ring.
Halle Berry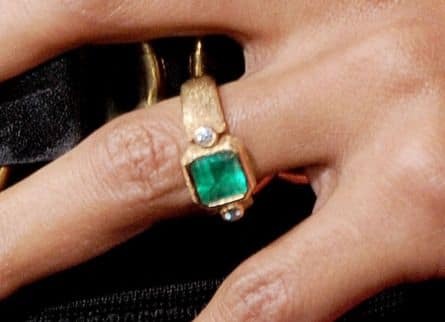 Eva Longoria
Eva Longoria's engagement ring features a radiant Ruby as the centre stone, surrounded by colourless diamonds that are set into a floral shape.
Heidi Klum
Although no longer together, Heidi Klum and Seal, the engagement ring Heidi received is still one of our most favourite coloured gemstone engagement rings. The vibrant cushion cut yellow diamond sits perfectly in a diamond set yellow gold ring. A testament to how wonderful yellows gems can look when teamed with yellow gold.
The Royal Sapphire Engagement Ring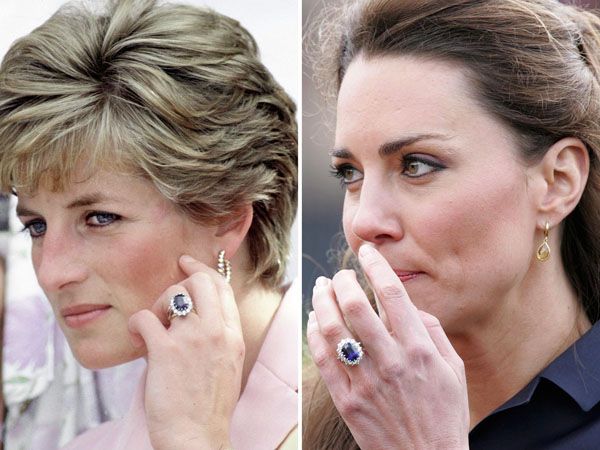 There is no way that Princess Diana's sapphire engagement, now worn by Princess Kate, cannot make the list of famous gemstone engagement rings. The most famous engagement ring of all time has set trends all over the world. There is never a year that goes by that we don't see women inspired by this ring and decide to create their own version.
Related Posts