A Guide To Coloured Stone Engagement Rings
Diamonds are not the only option, have you explored the idea of a coloured stone engagement ring? Many prefer a splash of colour, others cite ethical reasons and some just prefer a little less bling. Whatever your reason, if diamonds are not your thing, there are still plenty of coloured stone engagement ring options available to you.
How Can You Add Colour to an Engagement Ring?
From blues to greens, yellows to oranges and pinks to purples, the Sapphire has you covered with whichever colour of the rainbow you prefer. They are also the second most recommended option for an engagement ring as their hardness is superior to many other coloured gems. But there are other options, the ultimate choice for many (and usually the most expensive option) is a coloured diamond. The rare varieties such as pink, blue and green have higher prices whereas cognac, black and champagne, are more affordable.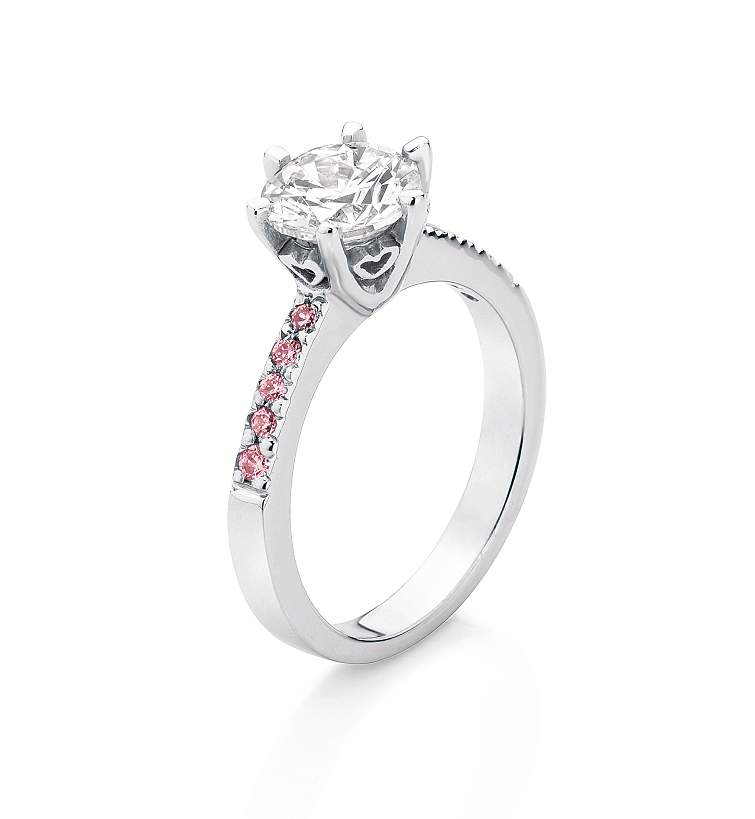 Since gemstones used in wedding rings are typically lower set, smaller stones are more protected. Safe from everyday knocks and bumps, it is usually safer to include more fragile gems. Another great thing about considering some colour for your wedding ring is you may be able to include a fancy-coloured diamond. Being smaller in size (in comparison to the centre stone of an engagement ring) a pink diamond in a wedding ring is a more realistic option for most.
Coloured Diamond Engagement Rings
Diamonds can occur in virtually all colours of the spectrum, as well as milky-white, black and grey. The two most common colours, or hues, in diamonds, are yellow and brown with yellow being by far the most popular. Some colours are very rare, the rarest and most prized colour of all being red diamonds.
Coloured diamonds are graded according to their properties of colour, tone and saturation. In all cases, for any given hue, the greater the saturation the higher the value.
The GIA is recognised as the foremost authority on the grading of coloured diamonds. They currently grade colour in nine categories ranging from Faintly Coloured to Fancy Vivid Colour. Argyle Pink Diamonds, Argyle Champagne Diamonds and Argyle Cognac Diamonds are graded on a different scale. Their grades are determined by a proprietary, in-house system developed by the Argyle Diamond Mines of Australia.
What Are the Most Popular Coloured Diamonds?
If you are on the hunt for a coloured diamond engagement ring and feeling stuck for inspiration, a never-ending source is the hands of Hollywood. Always competing for the biggest, most extravagant, celebrity engagement rings never fail to shine.
One trend that is proving to be a hit amongst the stars is exquisite 'Fancy' coloured diamond engagement rings. Now you may read this and wonder how on earth this could be a realistic source of inspiration. Yes, some coloured diamonds are on the more expensive end of the price range, but these designs prove how lovely a coloured centre stone can look.
So what exactly are fancy coloured diamonds?
Coloured diamonds differ from the popular white diamonds, in that they are graded and valued on the intensity of their colour. This is the opposite of white diamonds, which are graded on their lack of colour.
What Colours Are Fancy Coloured Diamonds Available In?
Fancy coloured diamonds come in many colours from yellows to blues and greens to stunning champagne and cognac. The most sought after are pink diamonds, in particular, Australia's own Argyle pink diamonds. One of the world's most expensive diamonds is the Pink Star, formerly known as the Steinmetz Diamond. An incredible 59.6ct fancy vivid pink diamond said to be worth $72 million.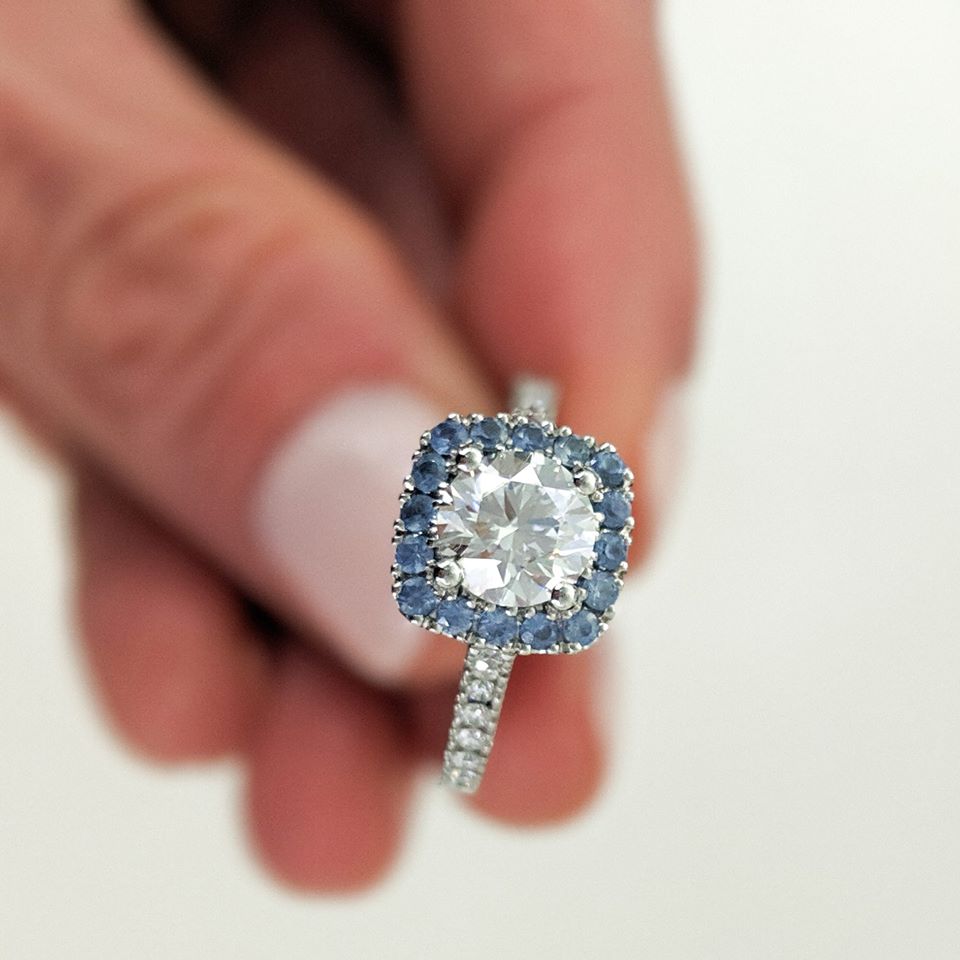 Here are a few of Larsen Jewellery's favourite fancy coloured celebrity engagement rings:
1. Heidi Klum received an amazing 10ct fancy yellow diamond from Seal. The beautiful stone is set in a yellow gold ring.
2. We have mentioned Blake Lively's ring several times before in our blogs as one of our favourite celebrity engagement rings. So it is no surprise that Blake's Fancy Light Pink Oval Diamond ring has made the cut (pun intended).
3. Kristen Bell received an amazing Art Deco-inspired ring featuring a beautiful 3ct, peachy-brown diamond.
4. It's no surprise that Carrie Bradshaw started a huge trend on this list. In the final series of Sex and the City, Big proposed with a dramatic 5ct, round black diamond.
5. Kelly Clarkson wears an amazing vintage style engagement ring. Her exquisite ring features a spectacular canary yellow diamond.
6. J Lo received a striking green diamond ring when Ben Affleck proposed (again!) in 2022. Weighing in at an impressive 8.5 carats, this cushion cut beauty is a gorgeous lime-green colour with yellow undertones.
Coloured diamonds have been hugely popular amongst gemmologists and jewellers for many years. In recent years the popularity of coloured diamonds has increased amongst the wider population too. With their incredible natural beauty, it is no surprise that their star is rising!
So, what makes coloured diamonds demand such high prices?
Well, their incredible natural beauty is extremely rare. One fact that puts it in perspective is that of the millions of diamonds that come from mines worldwide, less than 0.1% are fancy colours. It is no wonder then that fancy-coloured diamonds have a reputation as a safe investment.
How do diamonds get their colour?
Whether they are white or coloured, diamonds take millions of years to form. How a coloured diamond develops depends on very specific conditions. In some cases, such as pink and red diamonds, it is a process we still do not entirely understand. It is the presence of impurities and the way they absorb into the structure of a diamond that gives its colour. For example, diamonds that are blue in colour will contain Hydrogen or Boron. Similarly, a yellow diamond gets its colour from the presence of Nitrogen during formation.
What is the most popular coloured diamond?
All coloured diamonds are stunning. Champagne and Cognac diamonds are the most common and as a result, the most affordable. They are generally priced lower than white diamonds of the same size. Yellow diamonds have increased in popularity and so has their price tag. Sitting at the top of the pyramid are the very rare green, blue and red followed by the most popular, pink diamonds.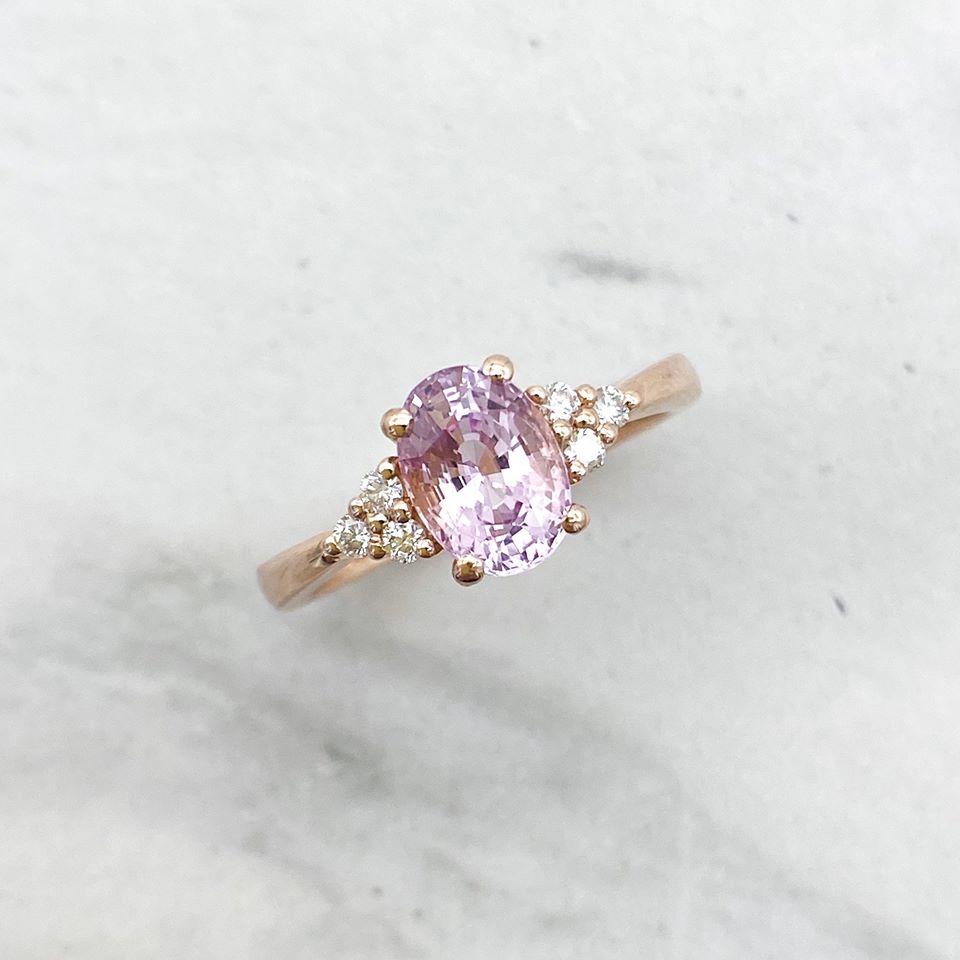 How are coloured diamonds graded?
White diamonds are graded according to the lack of colour present. Conversely, coloured diamonds get their grades from the intensity of their colour. The GIA grading system for coloured diamonds uses nine different categories. They range from 'Fancy Light' to 'Fancy Intense'. The higher the colour grade – the more desirable the diamond is.
What is the world's most expensive coloured diamond?
In 2017 the Pink Star, a 59.5ct oval cut, pink diamond, set a world record for the highest price at an auction of over US$71 million. The record for the most valuable coloured diamond is held by the famous Hope diamond. The steel-blue cushion cut diamond has an estimated value of over US$300m.
Are Fancy-Coloured diamonds only for the rich?
Fancy-coloured diamonds are a luxury and demand a high price tag. For most of us, we can only dream of owning an engagement ring with a huge fancy-pink diamond! But this does not mean that fancy-coloured diamonds are only for the rich and famous! Champagne or cognac diamonds are stunning and very affordable. If it is the pinks, blues or yellows that you have your heart set on you may want to consider incorporating smaller diamonds. You can include them in your design to add that perfect hint of colour without blowing the budget. Small coloured diamonds can be set into your halo, down the shoulders or subtly into the side of your band.
Are Argyle Diamonds the Most Expensive Coloured Diamonds?
Argyle Pink Diamonds are said to be the most sort after and expensive diamonds on the world market. The rarity and their beautiful deep pink hue set these beautiful diamonds apart from other coloured diamonds on the market.
The Argyle Mine is in the Kimberley Region in northern Western Australia. Exploration of the Argyle region started in the 1970s and it wasn't until the 1980s that the Argyle mine was up and running. Since then the Argyle mine has continued to grow as the world's leading producer of intense pink diamonds. Every year Pink Argyle diamonds go to auction on the world market for astoundingly high prices. Differing from white diamonds, pink diamonds are graded on their colour and saturation. The more intense the pink the higher the value – 1P being the darkest and 8P being the lightest.
The Argyle mines supply approximately 90 per cent of the world's pink diamonds but this number is diminishing. Experts speculate that there is less than 10 years' supply of pink diamonds remaining, making now the perfect time to invest.
At Larsen Jewellery we work along with the industry's most reputable suppliers to source some of the most beautiful pink diamonds. Our talented jewellers can work with you to come up with a stunning piece of jewellery to feature one of these most beautiful natural treasures!
Coloured Gemstone Engagement Rings
Coloured diamonds might corner the elite market of celebrities and high-rollers. There is hope, natural coloured gemstones are more achievable for the rest of us. A perfectly cut coloured gemstone can be equally as beautiful and have a much more appealing price tag.
Here are some of the most popular coloured gemstones our clients choose to feature in their engagement rings.
A few stones aren't suited for day-to-day wear, because they're softer, easier to scratch, are brittle, are more prone to inclusions or have other properties that make them less suited for a forever ring like an engagement or wedding ring. That's not to say you can't use them but that there will be a different set of considerations when you work with these stones:
Opal
Emeralds
Amethyst
Peridot
Pearl
Turquoise
Aquamarine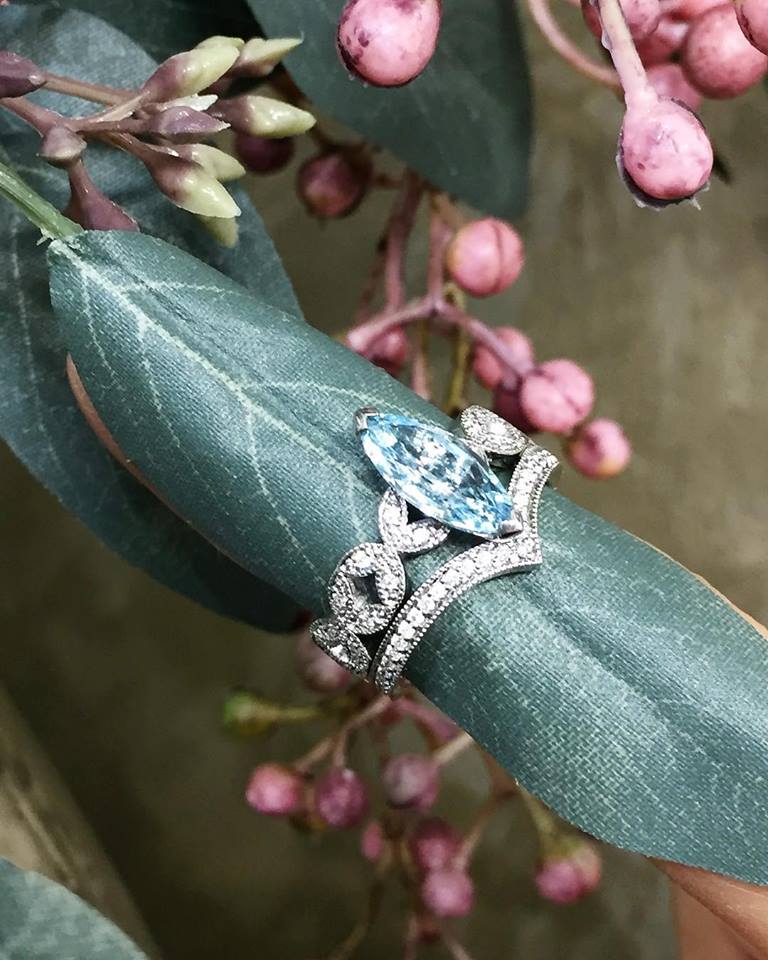 Aquamarine jewellery and engagement rings are becoming increasingly popular. Below are a few facts about the gemstone that you might find of interest.
Aquamarine is the traditional birthstone for March and the name comes from Latin which translates to 'seawater'. This describes the natural colour of aquamarine well as most untreated material will be blue/green. Before the 1900s this was the preferred colour, yet today, it is the more 'pure' blue tones that people love. This colour is given intensity through routine heat treatment that drives out the green tones and leaves the pure blues we see today.
Aquamarines are available in small sizes through to large (10ct+) stones. They come in an array of cuts and varying qualities that will fit most budgets. In general, the more intense the blue – the more valuable the stone. Although, a large untreated intense blue aquamarine will have a much higher price than a heat-treated aquamarine of the same size.
The most important country for aquamarine production is (for both volume and quality) Brazil. Other important producing countries include China, Madagascar, Mozambique, Ukraine, Nigeria, Pakistan and Zambia.
Sapphire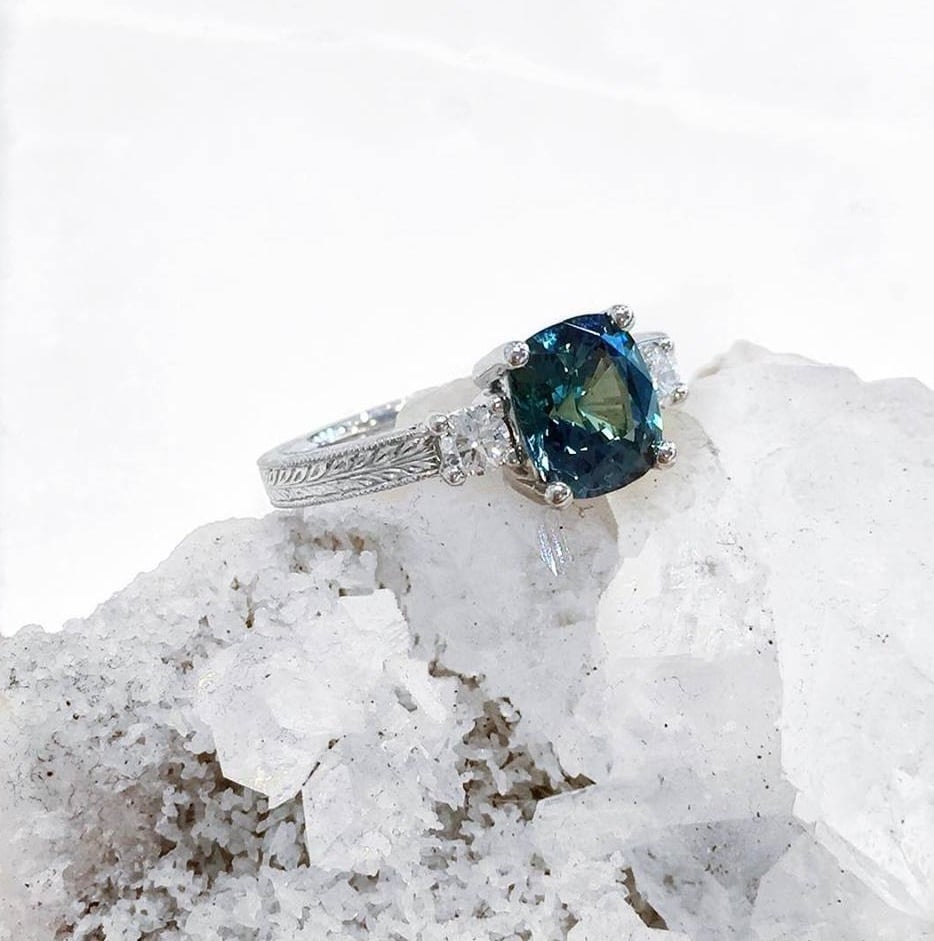 Sapphires are the second most popular choice of centre stone for engagement rings after diamonds. Why would you choose a Sapphire for your engagement ring? They're an excellent choice if you are after a splash of colour or a larger stone that is not going to break the bank. A Sapphire could be the perfect choice for a lower-priced stone that doesn't compromise on durability.
If you are surprising your partner with an engagement ring, choosing a coloured gemstone might be a risky choice. Make sure you know that this is a stone/colour that she loves. It might be a wise idea to ask one of her close girlfriends, a sister or her mother before you make a final choice. There is nothing wrong with taking extra precautions so that you ensure that your wife-to-be gets her dream ring. The last thing you want is a disappointed fiancée!
If you have your heart set on a Sapphire, or you know that it is the right choice for your partner, the next step is deciding on which colour. What you may not realise is that Sapphires come in an array of colours. Varying from the ever-popular royal blues and pinks to the lesser-known greens, yellows and soft peaches.
What Kind of Sapphire Engagement Ring Should You Surprise Your Partner With?
Traditional in Style
If you are after something more traditional or vintage then you may be inspired by the British Royal Family. Once owned by Princess Diana, this ring is arguably one of the most iconic Sapphire rings in recent history. Of course, it is now worn by Kate Middleton. This beautiful sapphire cluster design has to be one of the most popular non-diamond engagement ring choices all over the world.
Feminine Touch
For those ladies who are after a more feminine touch, the lovely shades of pink or soft peach might be your preference. Rose gold looks particularly good with these soft pink beauties. Now although it's not a Sapphire, a great example of this lovely colour combination is Blake Lively's engagement ring. Lively's ring features a stunning pale pink diamond set into rose gold. Most of us can only dream of receiving an engagement ring with this kind of price tag, but what if you choose a soft pink sapphire? This tiny compromise will offer a very similar look and will create an equally stunning engagement ring.
Fresh, Vibrant and Modern
A yellow Sapphire might be the perfect choice for you. If you are after something that is unique, modern and refreshingly bright. Yellow sapphires come in all shades, from soft canary yellows to intense sunflower yellows. They look fabulous set in both white and yellow metals.
Browse our stunning sapphire engagement ring collection here.
Dreaming of a large centre diamond?
If you have your heart set on an engagement ring with a large centre stone don't feel discouraged if your budget is more conservative. A little known option is a colourless or white Sapphire. This is a beautiful alternative that will offer a very similar look to a diamond, without breaking the bank!
Before rushing into making your decision, take the opportunity to have a look at a variety of different Sapphires. They are truly beautiful when viewed up close. Discuss your options with your jeweller, a sapphire engagement ring will stand out on its own as an exquisite custom made treasure!
Emerald
Emeralds were first discovered in a collection of mines near the Red Sea in Egypt in what came to be known as Cleopatra's emerald mines. The first discovery of emeralds in Australia was in 1890 in New South Wales.
The name Emerald comes from the Persian word "Smaragdus" meaning green.
Emerald belongs to the beryl family which also includes gems such as aquamarine and morganite. The colour of the highest quality emeralds is almost pure spectral green, sometimes with a faint touch of blue. Emeralds derive their green colour from chromium and vanadium.
Emeralds are rarely clear crystals and often contain fine inclusions that are evidence of it being a natural stone.
Even though emerald is a fairly hard stone, they can chip easily as they are brittle.
Emerald is the birthstone for May and the 55th wedding anniversary gemstone.
Emerald is one of the traditional five precious gemstones.
It is the birthstone of May and commemorates the 20th and 35th wedding anniversaries.
There are Emerald mines all around the world, including Egypt, Brazil, Australia, Africa, India, USA and Afghanistan. But it is Colombian emeralds that are the most sought after and are considered the world's finest. Colombia's most famed emerald mining locations in order of current production include Cosquez, Muzo and Chivor.
One of the characteristics of most natural emeralds is that they have significant inclusions. These inclusion are not always a bad thing – they have the poetic name 'Jardin' which translates as 'garden' in French. Unfortunately, 'Jardin' is also the reason why emeralds are fragile and selecting an emerald engagement ring should be carefully considered.
Ruby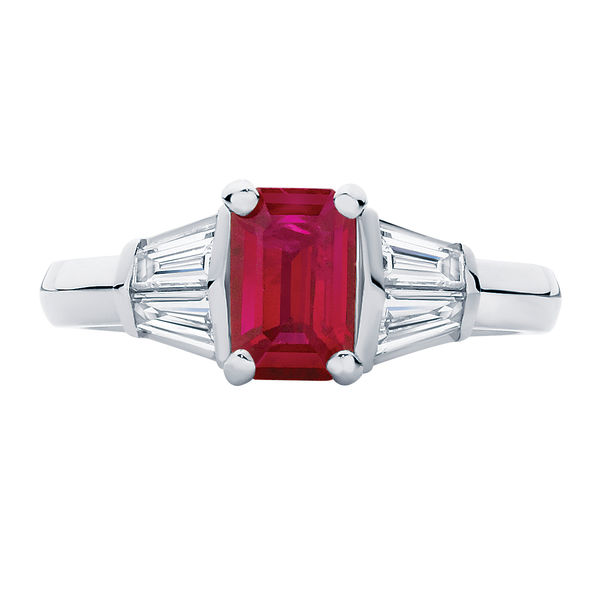 Red is the colour of passion, love and romance. It would be fair to suggest that out of all the coloured stone engagement ring options, the Ruby engagement ring is the most romantic. If you look back in the history books, particularly in the 17th and 18th centuries, Rubies were a popular choice for engagement rings. Rubies are exquisitely beautiful especially when paired with beautifully contrasting white diamonds.
Burmese rubies are the most famous and the most expensive. Other sources of good quality Ruby are Thailand (Siam), Madagascar, Tanzania and Sri Lanka.
Are Rubies suitable for engagement rings?
Rubies are the red variety of corundum, the crystal family of Sapphire. They have a high hardness rating on the Moh's hardness scale, making them ideal for an engagement ring. One thing to be wary of is that in the practice of 'fracture filling' which has appeared on the market. The process involves filling low-grade stones with surface-reaching fractures with lead glass. This transforms the stone into something more visually appealing, even though the fractures in the stone remain. Applying heat to a fracture-filled ruby or placing it in can often result in a frosty, white coating on the stone that cannot be reversed.
This treatment is undesirable and Larsen Jewellery will never supply a Ruby where this treatment is used. If you see a ruby that appears to be of reasonable quality at an unbelievably low price – beware. As the old saying goes, "If it seems too good to be true, then it probably is." The most important thing is to buy your Ruby through a reputable jeweller or gemstone dealer. One who will be able to give you expert advice on which is the right stone for you.
What Designs Are Best for Rubies?
Rubies are a truly beautiful gemstone and a wonder to work with, especially for those that are after something unique. More often than not, a Ruby will shine in vintage style design but that's not to say they do not lend themselves to a more modern, contemporary look. Jessica Simpson and Ashlee Simpson both received beautiful Ruby engagement rings. The lady who had the most enviable jewellery collection, Elizabeth Taylor, had a stunning 8.24 carat Ruby and diamond ring.
If you love the thought of a Ruby engagement ring, draw inspiration from the hundreds of coloured engagement rings available. Vintage or modern, one stunning Ruby will take centre stage and be a beautiful contrast with your design.
Morganite
Morganite is one of the most beautiful and also lesser-known gemstones. This stunning gem is renowned for its exquisite blush peachy-pink tone. This gem belongs to the Beryl family and is also known for its brilliance and clarity. Morganite makes the perfect match for rose gold coloured stone engagement rings.
What Other Coloured Stones Are Good for Engagement Rings?

Not all gems are a suitable choice for a coloured stone engagement ring. An engagement ring is for life and not all coloured gems out there are not all equipped for the challenge of everyday wear. Many are unable to withstand all those accidental bumps and knocks. Luckily the most suitable gemstone is the Sapphire which comes in all colours of the rainbow. Available in yellows, oranges, pinks, purples, greens, blacks and of course the most popular, the blue Sapphire.
Spinels, tourmalines and garnets are a few that can also make a wonderful choice. Some of these can be fragile in nature so it is always best to engage a professional ensure that a particular stone is right for your needs. We often recommend black spinels for people looking for a large black centre stone, as black diamonds can be too fragile, especially when larger.
Each year we see different trends when it comes to coloured gemstones. Fashion and design are a big influence on which gemstones are popular from season to season. So too are the engagement ring choices that celebrities make. There was a spike in the popularity of blue Sapphires after both Princess Diana and Princess Kate received the Royal Sapphire ring. Or the black diamond trend following that moment when Mr Big finally popped the question to Carrie in Sex and the City.
More recently it is yellows, peaches and pinks that have been growing in popularity. Requests for blues and blacks maintain their place as common alternatives to a white diamond.
Famous Celebrities With Coloured Stone Engagement Rings
White diamonds might be the most popular choice of stone for engagement rings but, they are not the only option! Here are 10 celebrities who have gone against the grain by featuring colour in their engagement rings with gemstones or diamonds!
1. Shane Warne proposed to Elizabeth Hurley with a beautiful three stone engagement ring. It featured an emerald-cut Sapphire and two trilliant cut diamonds set either side.
2. Jackie Kennedy once wore a beautiful emerald and diamond engagement ring.
3. Kate Middleton famously now wears the stunning Sapphire ring Princess Diana once wore.
4. The Duchess of York, Sarah Ferguson was proposed to by Prince Andrew with a beautiful oval Ruby engagement ring.
5. Halle Berry received an amazing Emerald engagement ring from Oliver Martinez.
6. Kelly Clarkson's wears a stunning canary yellow diamond engagement ring.
7. Penelope Cruz wears a beautiful oval Sapphire engagement ring, inspired by the famous Royal engagement ring.
8. Jessica Simpson has a beautiful three stone engagement ring, featuring an amazing oval Ruby centre. It is offset by two pear-shaped diamonds set either side.
9. Sarah Jessica Parker's character in Sex and the City, 'Carrie Bradshaw' started the popular trend of black diamond engagement rings.
10. Heidi Klum once wore a beautiful 10ct yellow diamond engagement ring given to her by Seal.
How To Design A Perfect Engagement Ring With Colour
A diamond engagement ring might be the standard, but it is understandable why so many fall in love with the many stunning coloured gemstones. Many of our clients find themselves torn between the two.
If this sounds like you, then why not have the best of both worlds and enhance your diamond with a hint of colour? This is easy to do by including coloured gemstones in your design. Add a halo around the central diamond or set into the shoulders of your engagement ring. Adding coloured gemstones opens the doors to a world of creative choices. Choose your favourite colour or your birthstone. Create stark contrasts with black diamonds or a subtle match with pink sapphires set in rose gold.
Here are just a few of Larsen Jewellery's favourite diamond and coloured engagement rings:
To start the process of creating your perfect coloured engagement ring with Larsen Jewellery, make an enquiry via the form below!
Related Posts