9ct Gold vs. 18ct Gold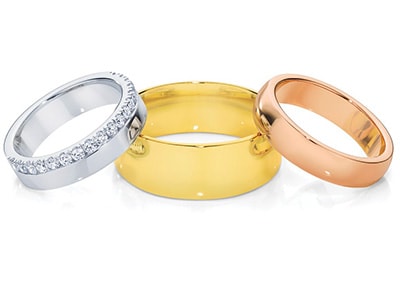 The talented team of Jewellers at Larsen Jewellery can bring your dream wedding ring to fruition.
When deciding on which metal to use, the important question arises of whether to use either 9ct or 18ct gold. Both options are viable, although we highly recommended 18ct gold as the better option.
The main element that differentiates these two options is the amount of pure gold they contain.
Pure gold is too soft to use in jewellery, therefore it needs to be alloyed with other metals to become stronger. 18ct gold yellow contains 75% pure gold and 25% silver and copper. 18ct gold is usually stamped with the numbers 750. 9ct yellow gold contains 37.5% pure gold and 62.5% silver and copper. 9ct gold is usually stamped with the numbers 375.
As 18ct gold has a higher pure gold content, people tend to assume it is less strong, although this is not the case. The Vickers Hardness Test, created in 1924, is used to determine the hardness of metals. 9ct yellow, white and rose gold each have a Vickers Test Score Value of up to 170, whereas the 18ct versions all score up to 230; therefore all 18ct gold alloys are scientifically proven to be more durable and hard-wearing than 9ct gold alloys. Basically, 18ct gold will generally age better as it is more resilient to everyday wear and tear.
For more information on how to choose the best metal for your special item of jewellery, please contact Larsen Jewellery in The Strand Arcade, Sydney on 02 9223 2006.
 
Related Posts