Pave Engagement Rings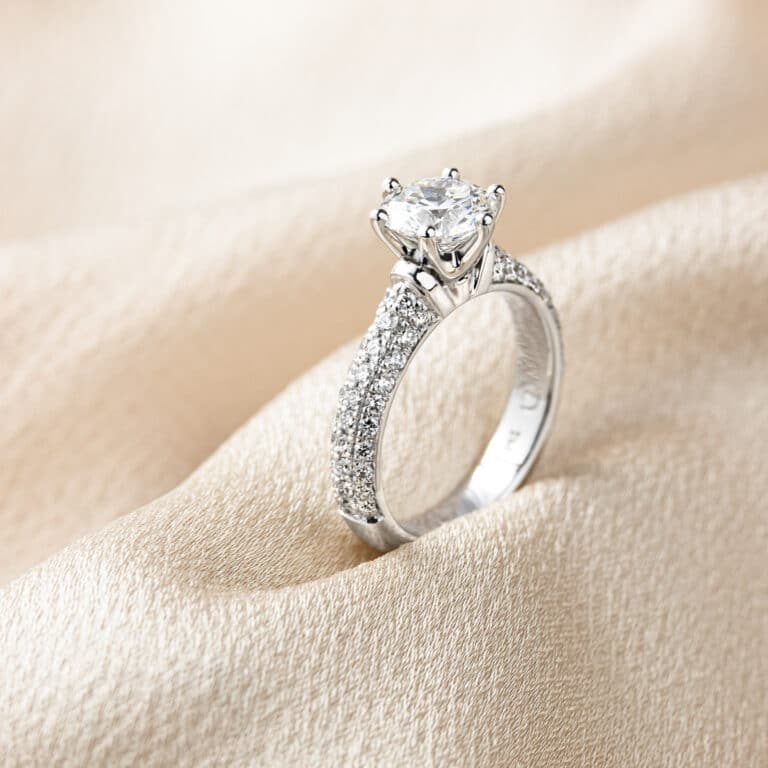 One engagement ring style that diamond lovers swoon over are pavé engagement rings and we love them too.
Pavé engagement rings are, as the name suggests, "paved" with diamonds. Diamonds are set closely together with tiny beads of metal positioned in between to secure the diamonds. This setting is all about the diamond with as little metal visible as possible. Rows of diamonds set next to each other create a surface that sparkles and glitters in the light. Pave setting is a wonderful option for anyone who wants to enhance their centre stone or create the illusion of a larger diamond.
The pave setting has been around for centuries but became increasingly popular in the 20th century. Today there are many famous women who have stunning pave set diamond engagement rings, some of the most popular being Blake Lively, Emily VanCamp and Nicole Williams
Halo Engagement Rings
One of the most popular styles featuring pave set diamonds are halo engagement rings. Halo engagement rings naturally suit pave settings. A pave set halo creates that sparkling look that so many love and also offers the illusion of a larger centre stone for those that are budget conscious. If you're considering this style, we suggest enhancing the overall look by including pave set diamonds into the band.
Contemporary Styles
Pave settings are also the perfect solution for those that love diamonds yet are after something a little less traditional. They look fabulous in wider styles where the focal point is not a centre diamond. Some women also combine their engagement and wedding ring into one by having a wide ring which is paved in rows of 'pave' set diamonds. This style is fantastic for those with larger hands or those who want their ring to sparkle from every angle.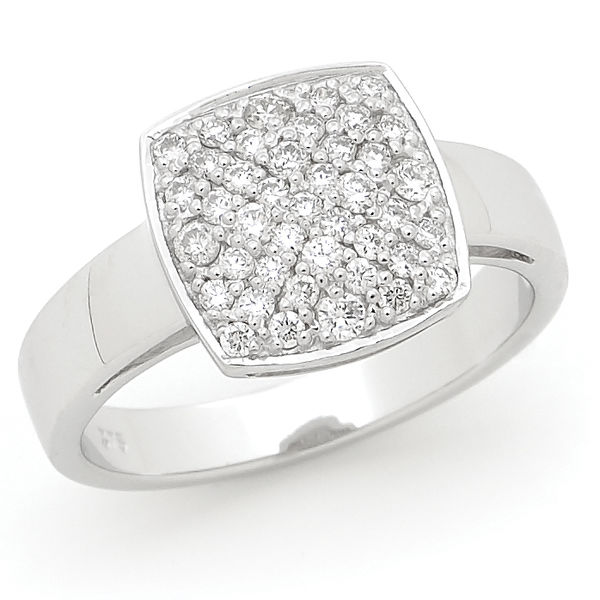 Are pave engagement rings suitable for everyday wear?
Yes, pave engagement rings are well-suited for everyday wear. The diamonds in a pave setting are held in place with tiny beads of metal, ensuring they're secure but have minimal metal obscurring the diamonds. However, it's essential to take some precautions to maintain the ring's brilliance over time. Regular cleaning and occasional tightening by a jeweller will help keep the diamonds safe and ensure the ring looks its best for years to come.
Can I customize a pave engagement ring to fit my personal style?
Absolutely! One of the appealing aspects of pave engagement rings is their versatility. You can easily customize the ring to fit your unique style preferences. From the choice of metal, such as white gold, yellow gold, rose gold, or platinum, to selecting the size and arrangement of the pave diamonds, the possibilities are virtually endless. A skilled jeweller can work with you to create a bespoke pave engagement ring that perfectly reflects your taste and personality.
What sets pave engagement rings apart from other styles?
Pave engagement rings stand out for their stunning surface that sparkles and glitters in the light. Unlike other settings that may showcase more metal, pave settings highlight the brilliance and beauty of the diamonds. This makes pave engagement rings an excellent choice for those who want their ring to have maximum sparkle. The pave setting also offers a modern and elegant look, making it a popular choice for contemporary individuals. Those who appreciate the beauty of diamonds in a refined and sophisticated setting.
Related Posts