Spots to Propose in Brisbane
Warm weather, water and your loved ones — what more could you ask for? Not much, so finding just that perfect spot to propose in Brisbane could be the cherry on top for you and your partner's special day. Plus having an engagement ring made in Brisbane (and hopefully wedding rings too) that reflects your own unique relationship makes it all the better.
Fairy Light Figs & Evening Lights
In Brisbane there are nearly 30 different light installations throughout the city, with more in the surrounds. We think some of the prettiest are the fairy light figs, with a gorgeous one at Kangaroo Point in Captain Burke Park. One of these evening creative lighting spots in Brisbane might just be a favourite place of yours.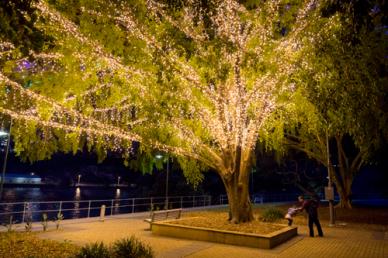 Story Bridge Adventure Climb
If you and your partner appreciate big gestures, proposing at the top of the Story Bridge climb might be the ticket. It's hard not to anticipate a proposal when you suggest the climb, so it may not necessarily be a surprise! We'd imagine it's still appreciated with a stunning view of the city. Just be careful to safely secure the ring before proposing, whether you choose to get down on one knee or not.
Mount Ngungun
If you're up for a drive and want to really be immersed in nature for your proposal, consider Mount Ngungun. Gun gun is a relatively easy walk, so neither of you should be too sweaty by the end of it, and it's less than 3K one-way. All in all, it should be an easy afternoon walk in the mountains with hopefully a lovely surprise in the middle. Stupendous views out on the rest of the Glass House Mountains range make it all the more poignant.
Wheel of Brisbane VIP Gondola
Like the Story Bridge climb, sometimes a proposal spot is popular for a reason — and why not take advantage of the superior and unique view onto Brisbane the Wheel of Brisbane gives you? Plus, if you book far enough in advance (72 hours+) you can include food as well as drinks in your proposal plan.
Mt Coot-tha Lookout & Surrounds
Around Mt Coot-tha there are a lot of different options, whether the simple and lovely walk around the botanic gardens, enjoying the lookout, discovering the semi-hidden Wilson's outlook, or something more of an event. You could make a reservation at The Summit, or even hire out the planetarium. The sky is truly the limit.
These are just a few options of some pretty spectacular places in and around Brisbane to propose with that perfect ring (even a temporary ring is perfect when you want to create your ring together). Whether or not your find your proposal spot from this article, we hope it's spurred your imagination.
Related Posts