Russian Wedding Rings
What is a Russian wedding ring?
Russian wedding rings are constructed from 3 interlocked bands traditionally worn on the right hand. Typically three rings of different coloured golds (yellow, rose and white) are intertwined together to create one ring. However, today in its modern form it is quite common for the ring to be made out of only one type of metal and also may include diamonds or engraving.
Historically Russian women didn't receive an engagement ring, they would wear only a wedding ring. Today, however, western culture has influenced modern Russian women and the custom of receiving an engagement ring is becoming a much more common tradition. Like Russian women adopting other traditions, western women have borrowed this style of wedding ring and applied a more modern twist. Intertwining three rings allows endless options for unique designs; from adding small diamonds or coloured gemstones to combining filigree or engraving.
Why are Russian wedding bands popular?
Russian wedding rings feel lovely to wear. When the three bands are aligned correctly, it rolls over the knuckle and sits beautifully on the finger. They are inherently difficult to size correctly but when done right, a Russian wedding band can be an excellent option for someone with larger knuckles. The rolling action allows you to take the ring on and off without discomfort and, because the rings sit separately, they spread slightly to hug the base of the finger without looking awkwardly loose.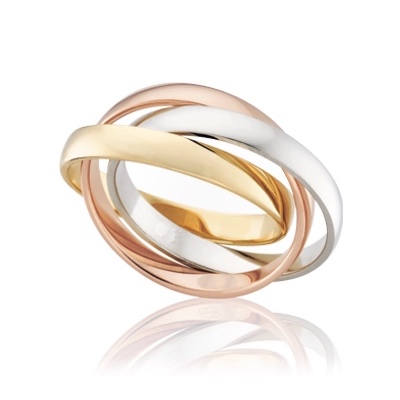 What does the Russian wedding ring mean, and why does it have three bands?
Traditionally the three bands of the Russian wedding ring signify the Father, Son and Holy Spirit, coming together to form the Holy Trinity.
The three intertwined rings originate in 19th Century Russia. However, the ring has become popular outside its Russian context, and this has led to other meanings being attached to the rings. Some of these ideas include the Past, Present and Future of a relationship, and Body, Mind and Spirit. Your Russian wedding rings can hold their traditional meaning, or take on a set of values that are significant to you.
Can you have a diamond Russian wedding ring?
Whilst you can have diamonds and coloured gemstones set in a Russian wedding ring, it is not something that we would recommend at Larsen Jewellery. Intrinsic to the design is that the individual bands roll over each other as they are put on the finger. When stones are set in the rings, the settings catch and scratch on the other bands as the ring is being worn. This can result in damage to the stones as well. Thus having diamonds set in your Russian wedding ring is likely to affect the longevity of the ring and stones, and so is not advised.
What to consider when choosing a Russian wedding ring?
When choosing a Russian Wedding Ring there are several things to consider. The ring can be made in the Trinity of three precious metal colours: yellow gold, rose gold and white gold. Another design would be to make all three bands out of one precious metal type, for instance, all yellow gold.
The sizing of Russian wedding rings can be a little difficult, so it is important to go over the sizing in detail with our lovely designers. The three rings roll into different arrangements on the finger, so this can change the feeling of the size when it is being worn.
It is difficult to resize a Russian wedding band due to the complexity of the intertwining rings. If you are looking for a ring that is more suitable to be resized, we have a wide range of two-tone and other wedding ring designs here: https://www.larsenjewellery.com.au/wedding-rings/designs
Why do Russians wear wedding rings on their right hand?
The tradition of wearing a Wedding ring on the right hand is common throughout Russia, Greece and many Eastern European countries.
The ancient Egyptians wore wedding rings on the fourth finger of their left hand. They believed that a vein that had the powers of love and fidelity ran from that finger to the heart. The ancient Romans adopted this tradition but instead wore the wedding ring on the fourth finger of the right hand. They had a superstition that the left hand was untrustworthy and sinister, and so considered it foreboding to wear the wedding ring on that finger. This custom of wearing a wedding ring on the right hand was then passed on to modern-day Russians through the Roman Orthodox Christian Church.
Is it true that a vein runs from the ring finger to the heart?
The ancient Egyptians believed that there was a vein that ran from the fourth finger of the left hand directly to the heart. They believed that this vein had the powers of love and fidelity, and so chose to wear the wedding ring on that finger. The ancient Greeks and Romans adopted this tradition, and the Romans created the term Vena Amoris(the Vein of Love) to describe the vein. Whilst we now know that there is not a vein running directly from this finger to the heart, many people continue this custom today.
Do all countries wear wedding rings on the left hand?
Depending on where you are in the world, the hand you wear your wedding ring on will vary.
It is more common to wear a wedding ring on the left hand. Some of the countries preferring this practice include:
The UK
Japan
U.S.A.
Slovakia
Romania
Sweden
Finland
Ireland
Switzerland
Turkey
In many countries, it is customary to wear the wedding ring on the right hand, including:
Russia
Greece
Serbia
Latvia
Ukraine
Colombia
Peru
Venezuela
Norway
Denmark
What did different cultures and civilisations make their wedding rings out of?
The exchange of rings is a central custom of marriage in many cultures. The circular shape of the ring is functional, so as to fit on the finger. However, this form also symbolises eternity. Ouroboros is an Ancient Egyptian concept of eternity, symbolised by a snake eating its tail. This symbol also suggests the shape of a ring, and has permeated jewellery design throughout history! This circular representation of eternity is also common in many Eastern beliefs.
The first wedding rings we know of are in Ancient Egypt and were made out of reeds, so weren't able to have the longevity of the rings we know today.
The wedding rings were made out of iron in Ancient Rome, and the more noble figures of Roman society wore a gold ring. The ancient Romans are the first civilisation that we know of who engraved their wedding rings.
At Larsen Jewellery, our talented team of jewellers love to design unique pieces! We have made many variations of Russian wedding rings over the years. They are available in 9ct or 18ct yellow, white and rose golds, platinum and you can even have one of the bands in zirconium or titanium if you wish. They look absolutely stunning when they are hand engraved, our master engraver can engrave a wide variety of patterns and textures around the outside. Please feel free to call or email us to organise an obligation free design appointment. Click here to read more about our custom made wedding ring designs.
Related Posts