Top 6 Wedding Ring Trends of 2023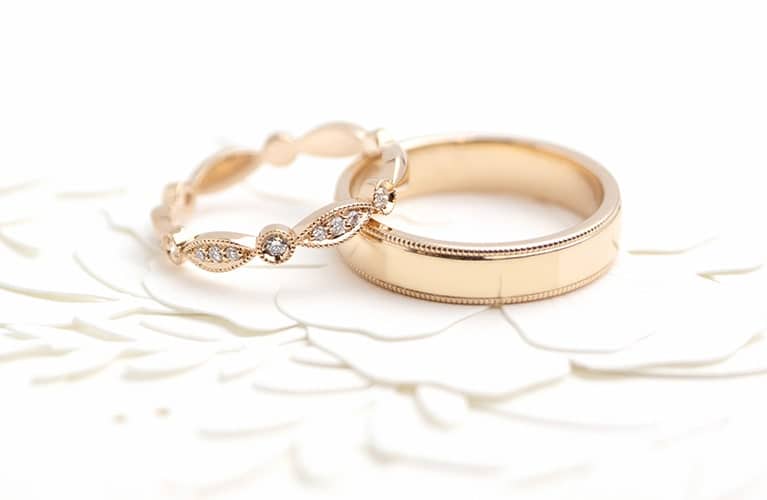 With your wedding planning in full swing, it's time to start looking for the perfect wedding rings!
Your wedding rings will be the most beautiful symbols of the shared love and commitment you will give to each other. It can often be difficult to know where to start looking for something so important!
Luckily, there are so many different wedding ring trends, styles and microtrends to pick and choose from or make your own. From unique ladies and mens wedding rings, to gender neutral rings, to the entirely one-of-a-kind, the choices are almost endless.
To give you some inspiration (and a place to start!) we've put together this list of the top wedding ring trends for 2023.
Mixed metal wedding bands
Goodbye traditional one-metal bands, hello mixed metals! Mixed-metal rings are a growing trend which can make your wedding bands exceptional.
Rather than choosing just one metal type, you might like to instead go for two or even three tones combined. Mixing the warmth of yellow or rose gold (or both!) with the cool tone of white gold can add a contemporary touch to your wedding set.
There's a variety of ways you can go about creating a mixed-metal look for your wedding bands. One way is the popular Russian wedding ring, which interlinks bands of different metals to create one unique, overlapping ring.
While it's traditional to match metals in all rings in your wedding set, as well as with your partner – this isn't a must! To give you and your partner's wedding bands a "personal but matched" feel, choose bands of the same style but in different metals. This also adds a touch of romance, as a symbol of two different individuals coming together in one union.
You might also like to opt for a different metal from your engagement ring. Match your wedding and eternity bands for a two-toned look, or choose a different metal for each ring to symbolise the stages in your life together.
For an even more one-of-a-kind mixed-metal band, why not try mokume gane? This style is becoming a popular choice for people looking for a wedding band that is a little different. A Japanese technique, the name mokume gane comes from interesting "wood-grain"-esque patterns worked into the metal.
Not only are these rings beautiful, but every pattern created is one-of-a-kind, which means your ring will be completely unique to you!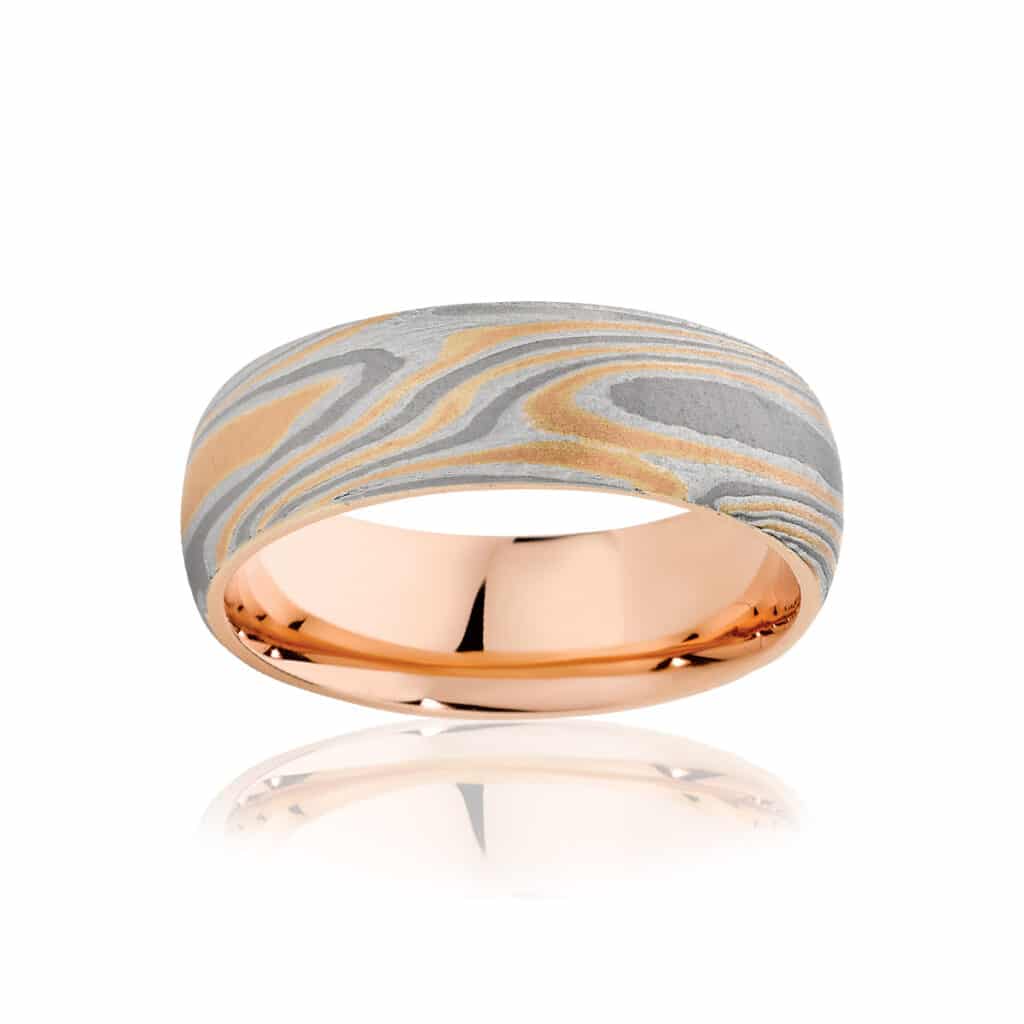 Fancy shape and mixed shape diamond bands
Bored with the same, traditional round brilliant cut stones? Why not choose pear shape or oval, emerald cut or marquise? This year has seen a rise in popularity for diamond wedding bands featuring a variety of stone cuts beyond the traditional round shape.
For those looking for tradition with a twist, consider the popular oval-shaped diamond set band. This is one of our absolute favourite wedding ring trends. A step outside the norm, this style adds interest and elegance without going overboard.
If you're a little bolder, you might like to alternate round diamonds with fancy shapes such as marquise, pear, or oval cut. Even more adventurous types might opt for a pattern of several different cuts, or to add small coloured gemstones for a pop of colour.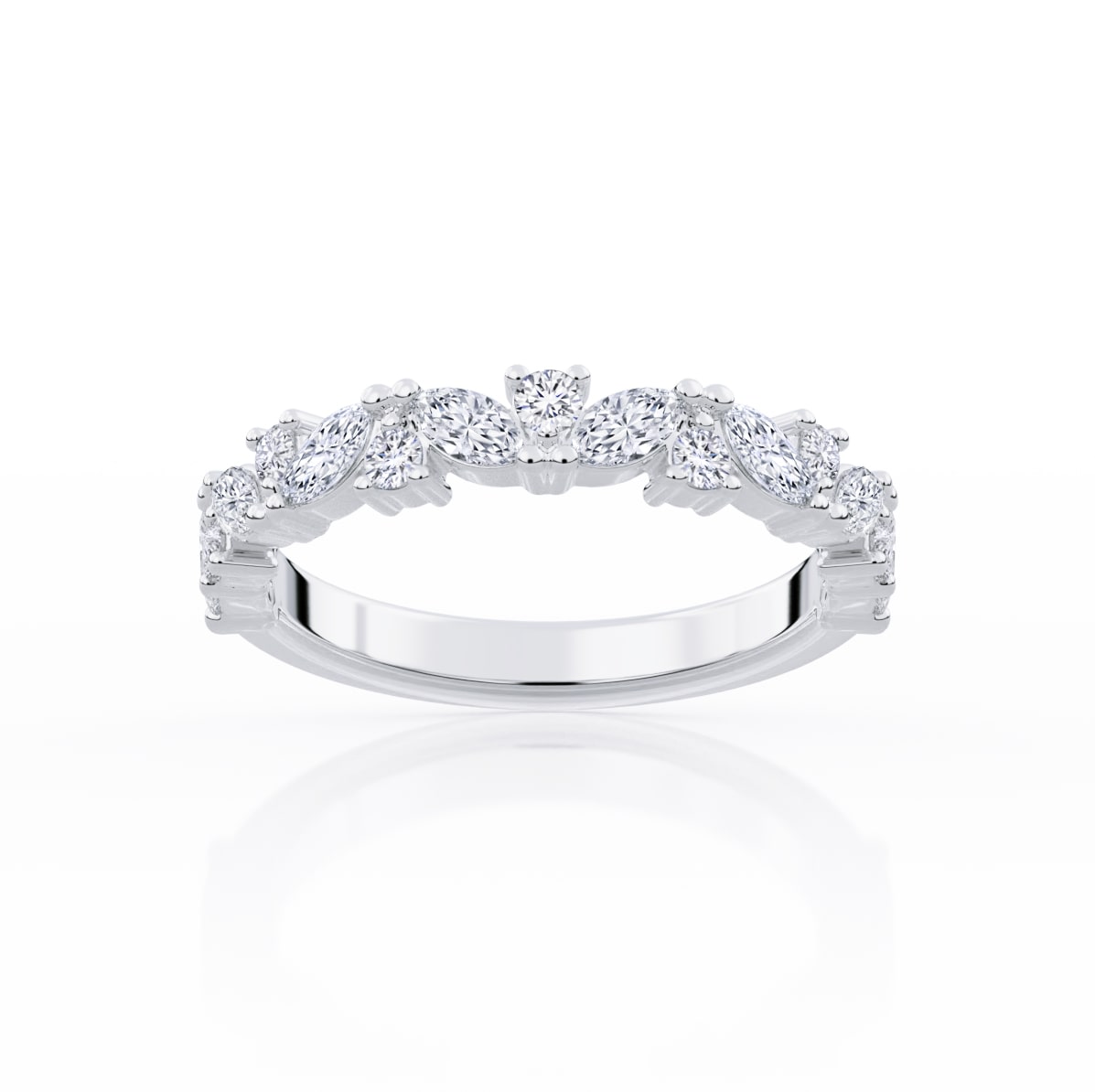 Curved and fitted diamond wedding bands
Straight wedding rings aren't the only option!
Contoured wedding bands are a huge hit right now and give stylish shape to your bridal set. Curved rings come in a variety of different styles, so you aren't limited to plain or round diamond wedding bands. You might even choose to combine this style of ring with one of the other trends we've mentioned!
You can even have your wedding bands custom designed to fit exactly with the shape of your engagement ring. This is a great option if your ring is low-set, or you would like to highlight the silhouette of your engagement ring.
One popular trending style for this is the 'Tiara' fitted diamond wedding band. This style adds a cute cluster of diamonds which sits above your engagement ring. It almost looks like a little crown for your ring – hence the 'Tiara' name!
You can read more about choosing the perfect diamond wedding ring here.
Wedding rings with a textured finish
Asking for a textured finish on your rings is another way to make them more stand-out and exceptional. These finishes are possible on most ring surfaces, and come in a variety of different styles.
A matte finish, hammered finish or a mill-grain edge can add a little bit of extra special detail to your ring. Once you have decided upon the profile (i.e. the general shape of your ring) you can choose to have the textured finish applied to make it even more unique.
This wedding ring trend has been especially popular on wider, chunkier rings, such as mens' wedding rings.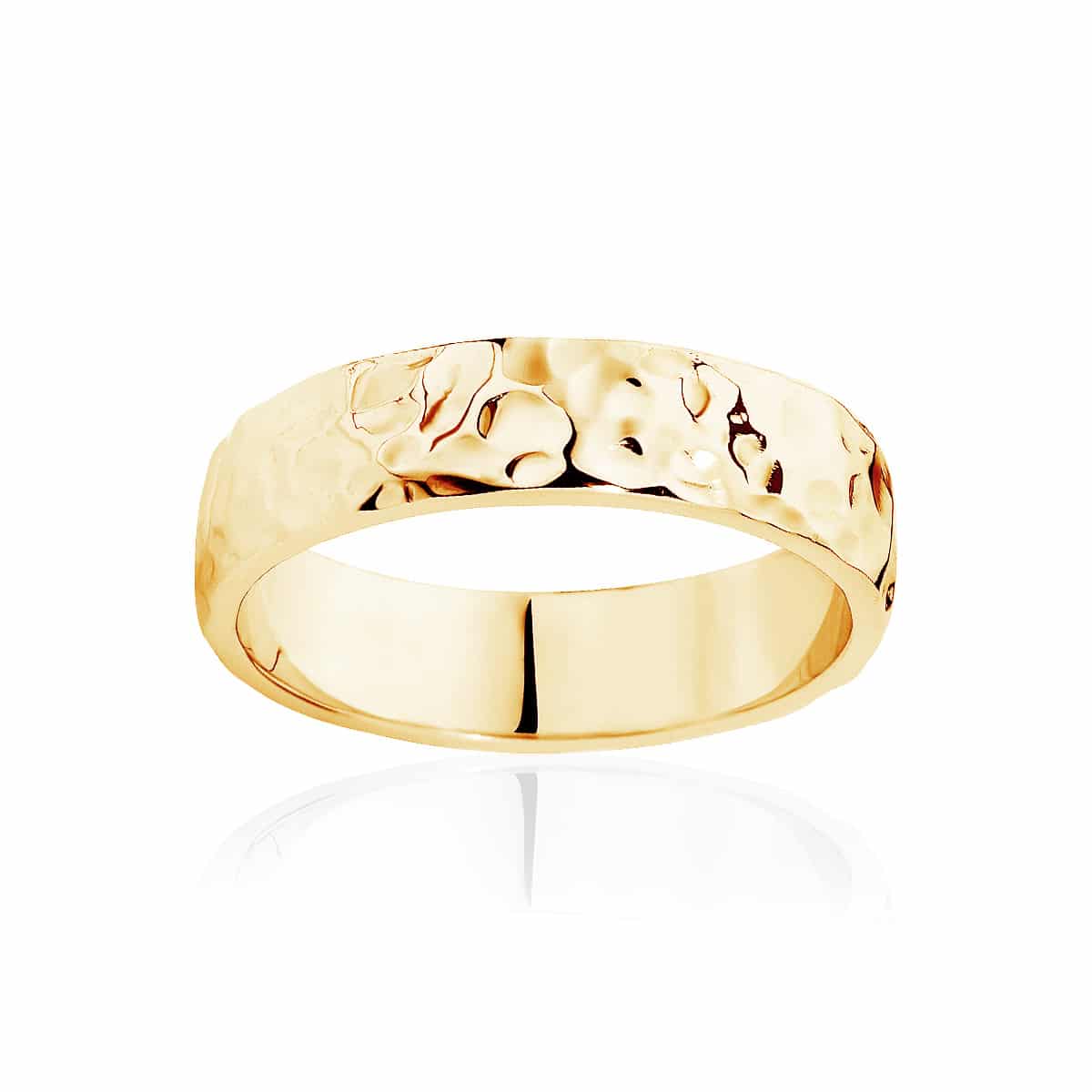 Personalise your wedding bands
As a symbol of your commitment to each other, the sentiment of your wedding rings plays a big part in this personalisation trend.
Personalised engraving is a popular finishing touch that can make your rings more personal.
It's popular to get wedding dates engraved on the inside of the band, or even a sweet little message to reminder each other of your love. Another option is to have your partner's fingerprint engraved onto your ring.
If you like this option, you might even like to add this personalised engraving to each other's rings as a surprise! This makes the added touch even more special, as you and your partner will see these details for the first time on your wedding day.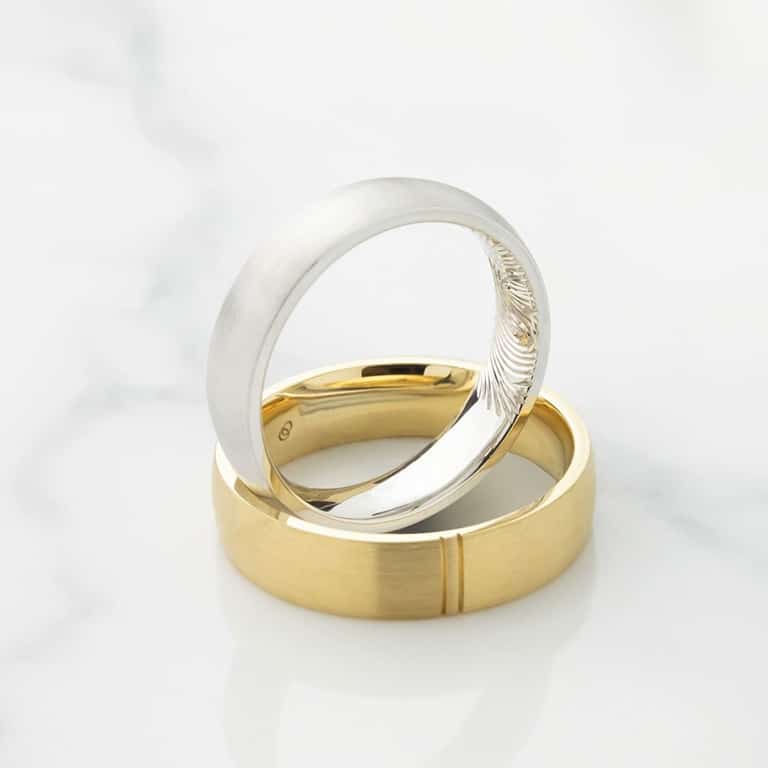 Make your wedding rings yourself!
What better way to symbolise this partnership than to personally hand-make each other's wedding bands? One ever-popular wedding ring trend, or wedding trend in general is to DIY. Larsen Jewellery is the very first jewellery studio in Australia to offer this unique and personal experience.
With the guidance of one of our expert jewellers, you will use traditional techniques to create your rings in our workshop. From metal bar to finished ring, your wedding bands will be uniquely hand-made by you and your partner. This is the ultimate romantic experience and a great way to add a little extra sentimental touch to the rings you will cherish for a lifetime.
View further details about our Wedding Ring Experience here.
You can experience our unmatched personal service in our Brisbane, Melbourne or Sydney studio. We can work with anyone in Australia to create their custom-made wedding bands. We also have a curated selection of items online
Related Posts