2017 Celebrity Weddings – So far!
In 2017, the second half of the year has once again come around quickly! And in the southern hemisphere, we are gearing up for another busy wedding season!
This is the time when brides are gathering inspiration, finalising guest numbers and ticking items off their wedding to-do-list! As for brides-to-be, an eye is always open looking out for the latest and greatest wedding ideas, one guaranteed place for endless inspiration is celebrity weddings. Lucky for these brides, the wedding bells in Hollywood have been busy ringing this year!
Let's have a look at some of the most fabulous, jaw dropping weddings off 2017 so far:
Kate Mara & Jamie Bell
Mara, the House of Cards star married long-term boyfriend, Jamie Bell who is known for his role in the movie, Billy Elliot.
Miranda Kerr & Evan Speigel
Supermodel, Miranda Kerr, broke hearts once again when she married Snapchat founder, Evan Speigel. The affair was an intimate backyard ceremony where Kerr wore a stunning Grace Kelly inspired dress.
Samira Wiley and Lauren Morelli
Orange is the New Black star Samira Wiley and partner of over two years, Lauren Morelli, married recently after getting engaged in October 2016. Wiley and Morelli met on the set of OITNB back in 2012.
Arizona Muse and Boniface Verney-Carron
Supermodel, Arizona, married her long-term love, Boniface, in a ceremony in London. Arizona looked stunning and relaxed in a spaghetti strap dress and Chopard jewels.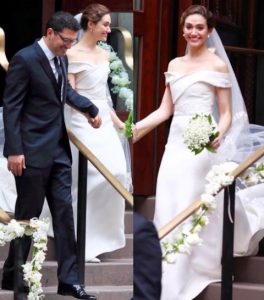 Emmy Rossum and Sam Esmail
Shameless star, Emmy, walked down the aisle with her long-term partner Sam Esmail in a ceremony in a synagogue in New York. Rossum wore a dramatic, Carolina Herrera, floor length gown.
Pippa Middleton and James Matthews
Perhaps not the same level of attention as her sister's Royal wedding demanded, Pippa's marriage to James still made headlines across the globe. The wedding took place on the grounds of her parent's home in a specially made glass marquee. Great lengths were taken to keep the event a private affair.
Amanda Seyfried and Thomas Sadoski
In March, Amanda and Thomas revealed they had tied the knot earlier this year. Six months after their engagement, they decided to elope in a very intimate ceremony in the country. The couple are now pregnant with their first child.
Related Posts