Champagne Diamond Engagement Rings
A champagne coloured diamond engagement ring can be a lovely reminder of the joy and celebration of your proposal or engagement. This may especially be the case if your proposal is on an occasion where bubbles are usually served, like New Years Eve. Champagne diamonds are beautiful in their own right and range from a light champagne colour to deep and rich chocolates, sometimes also called cognac.
Champagne diamonds are graded on a fancy colour diamond scale, from C1 to C6. The scale is based on the colour and intensity of the hue, with C1 being the lightest. C7 is considered cognac.
While some attribute champagne diamonds with a strong connection to nature, the earth, and being grounded…honestly, the meaning is entirely up to you. Part of the beauty and joy of any engagement ring is that it can reflect the relationship and hold special meaning to each person in it.
Celebrity
Celebrities have been fond of champagne diamonds for a while now, with a number of celeb couples choosing the warm, earthy tones of champagne or cognac diamonds.
Anna Camp
After looking at the diamond, most guess it to be around 3-4 carats and cushion cut. The couple also chose a halo engagement ring with a dainty band.
Katie Maloney
The Vanderpump Rules star also went for a champagne diamond, of a slightly deeper hue, estimated at about 2 carats. The rose gold pear-shaped engagement ring also featured side stones.
Kirsten Bell
This non-traditional and occasionally outspoken couple decided on a unique stone for the engagement ring, all the way back in 2009. Flaunting an estimated 3 carat emerald cut engagement ring featuring a breathtaking champagne diamond. The unique engagement ring has side stones and a partial diamond halo, this is a lovely art deco inspired design.
Larsen Jewellery
We have a number of options at Larsen Jewellery for those who want to celebrate the warmth of a champagne colour.
With a rose gold band, this adaption of our popular Lyra has an eye-catching design and a lot of sparkle.
The Osiris Engagement Ring might be perfect for the minimalist looking for a bit of warmth and a unique take on the traditional solitaire.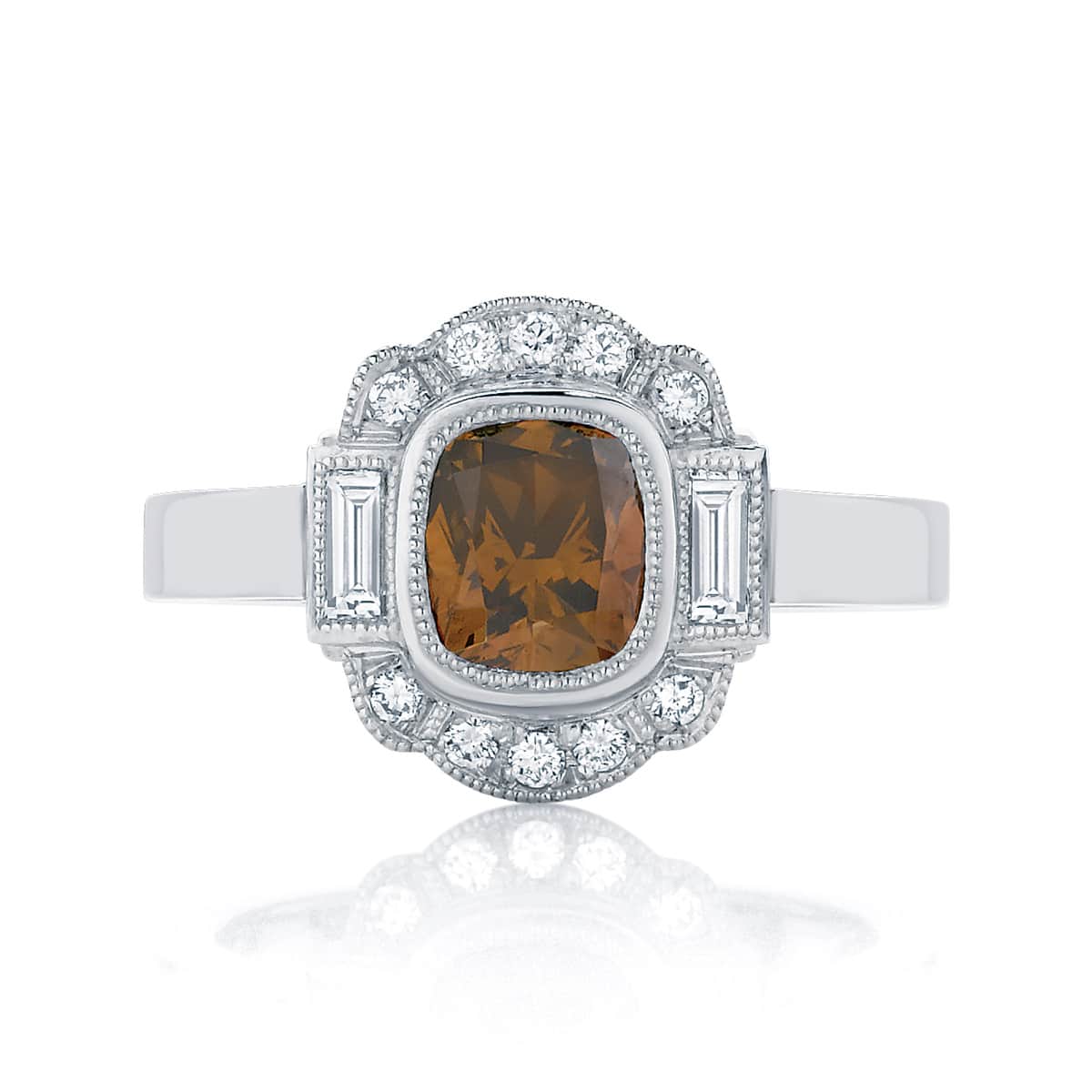 Our Messina engagement ring design is a stunning option for folks who are looking for an art deco or vintage inspired design.
And if you're looking to design a ring entirely unique to you with a champagne diamond, we're more than happy to help. Plus, we have a number of custom designs with champagne diamonds to help inspire and guide your selection.
If you have yet to consider a champagne diamond for your engagement ring, we hope now they're on your radar as a warm, beautiful and potentially more affordable alternative to a traditional white diamond.
Related Posts