Out of the Box – Ideas for Unique Engagement Rings
Times have changed and thankfully, the attitudes and views towards marriage have evolved along with the trends for engagement rings. The desire for us to give a ring to our chosen loved one, as a symbol of our commitment, has never changed. While the traditional 6 claw solitaire is a beautiful, timeless classic, it may not be for you.
You may have started looking for an engagement ring but, you are just not quite seeing "the one" that you must have. If this is the case, you may like to consider custom making your engagement ring. This way you can be part of the design process and achieve a truly unique piece. In this article, we are going to explore some ideas that are outside of the box of typical engagement ring designs.
If you are leaning towards some of the classic designs but you would like something "a little different", you may like to consider customising it. This could be by using an heirloom stone or by adding a fancier basket or a hidden gem. This is a nice touch as you see the classic design from the top of the hand and as you look down the finger, the subtle features you have added are revealed.
Or, you may like something a little more adventurous. Let's explore a couple of ideas to get your creative juices going!
An engagement ring without a centre stone? That's not an engagement ring you may say, where is the rock? Having a single diamond in engagement rings is actually a relatively new concept, around since the 1930's. Before then, the giving of a stone set engagement ring was reserved for the elite. After the great depression, the price of diamonds came down dramatically making them much more affordable and available to the general population, but it hasn't always been that way.
For example, the Greeks would traditionally give a plain wedding band at the time of the engagement which was worn on the left hand. After the wedding, the same ring is engraved with the names of the happy couple and then swapped over to the right hand.
Vintage Style Engagement Rings
That might not be for you and you would like some bling for your engagement ring. There are still some stunning alternatives. This could be a small cluster of gems forming an elegant daisy cluster. Or a wider ring may suit your hand, set with smaller gems. These look beautiful in geometric patterns or in an Art Deco style. This has been popular for couples that would like to combine the engagement and wedding rings.
Halo Rings
Engagement rings with diamond halos epitomise glamour. The most popular is the round brilliant diamond surrounded with a halo of glittering diamonds however the cushion, asscher and radiant cuts are also wonderful options. And for those that want even more sparkle, follow the lead of many celebrities and opt for a double halo with two rows of diamonds surrounding the centre stone.
Three Stone Rings
Three stone rings, traditionally representing the past, the present and the future, come in many different combinations and styles. Your imagination is your only limitation. For those that love sparkle they may be inspired by Meghan Markle's three stone engagement ring which is enhanced by many more diamonds.
Fancy Cut Gemstones
Recently, we have seen a rise in popularity of fancy cut gemstones. These include Hexagon and Kite shape cut diamond or, if you would like to add a splash of colour, then a fancy cut sapphire would be a great choice.
Sapphires, with care, can be worn every day making them perfect for engagement rings. There is a beautiful array of colours available in sapphires and we are also seeing some stunning free form shapes making them totally unique! A teal sapphire set in rose gold is a stunning colour combination and looks amazing in a simple setting and band showing off the unusual cut gemstone to its fullest!
Heirloom Cuts
You may have inherited or be given an heirloom stone and you would like to use it in your engagement ring. To use a stone that has been handed down through the family is a wonderful thing to do. There are a couple of things to consider, the stone would need to be assessed.
An experienced jeweller or gemmologist will closely inspect the stone to make sure it's safe to re-set. There is always some risk involved, usually, the stone needs to be removed from an older piece and then reset into the new ring. Older stones were also cut a little differently, often with fewer facets. They may not look quite as bright or sparkly next to modern cut gems but they look stunning in vintage style setting!
Stacking Rings
For those after something a little quirky, stacking rings could be for you. Smaller, thinner rings worn beside each other, these could be given on different occasions such as the engagement, wedding, births and anniversaries. With each ring been different from each other, it gives the ability to wear them in different combinations!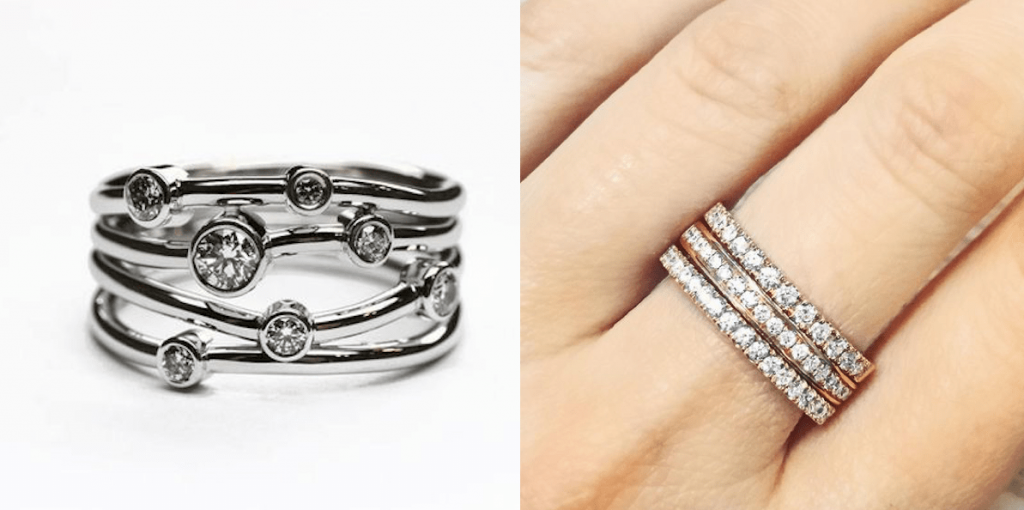 Over the years we have worked with many clients to achieve their dream piece, with modern technology almost anything is possible. We have designed engagement rings in the form of flowers, dolphins and even an arrow.
Whilst we have seen some beautiful possibilities for your engagement ring there are a few things to remember and consider before going crazy. Firstly, set a budget, it is easy to run away with our ideas and, before you know it, the extra hours' labour needed to create a unique piece have added up. Get some expert advice, you want your piece to last and to see if your ideas are possible.
The best advice for designing would be "KIS" Keep it simple! Don't overcomplicate it, rings aren't very big and fine details can be lost. Lastly, but often forgotten, give yourself plenty of time, Rome wasn't built in a day. With custom making a totally unique piece it will take extra time designing, drawing, fine-tuning and that's before we've even started making it for you.
If you're ready to start the journey for something a little different and you have gathered some ideas; make an appointment with the friendly, creative staff at Larsen Jewellery. We can sit down together, discuss your ideas and turn them into an engagement ring you will want to show off every day. We also have a wonderful selection of beautiful gemstones and diamonds you can choose from. So if it is something out of the box you are looking for, then definitely Larsen Jewellery is the first place you should visit!
Finally, we would like to ask you — what is the most unusual engagement ring you have seen? Did you love it?
Related Posts