Paris Hilton loses her $2 Million Engagement Ring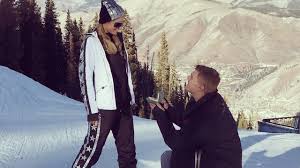 One of the biggest engagement rings in Hollywood in recent times is the pear-shaped diamond ring Paris Hilton received from her now finance Chris Zylka. The lavish 20-carat pear-shaped diamond ring was presented to Hilton whilst skiing in Aspen over the New Year period. Costing a cool $2 million, it is a ring, you would assume, that one would protect with their life. Making sure that it could not be lost by accident.
Well, it has just hit the news that Paris has reportedly lost the ring. You may wonder, how does someone lose a $2 million ring? Apparently, she was having too good a time on the dance floor at a nightclub in Miami. Luckily for her, as soon as she realised, a search got underway and her ring was found in an ice bucket not far from where she was.
This story, if nothing else, drives home the importance of making sure your ring fits you correctly. We are guessing Paris has made a trip to her jewellers to do the exact same thing. When a ring has been custom made for you, your jeweller will measure your finger and determine the best size for your ring. This is another reason why a custom-made ring is a superior option over purchasing a ring online.
Paris is not the first to lose an extravagant ring. In a very different and incredibly frightening scenario, Kim Kardashian had her engagement ring stolen from her whilst staying in a hotel in Paris. While held at gunpoint and gagged in the bathroom of the hotel suite, 5 masked men stole an estimated $9.5 million worth of jewellery from Kardashian, including her second engagement ring from Kanye West.
Related Posts