Pear Cut Engagement Rings
The pear cut has been around for some time, and is a hybrid cut that's been in use since the late 15th century. It combines round and marquise shapes with the aim of showcasing a brilliant fire, or to amplify the way light reflects off the diamond to give that sparkle. Some of the most opulent rings — some engagement rings, some not — in recent history have been pear-cut diamond rings.
What does a pear shaped diamond signify?
There isn't one specific meaning associated with pear shaped diamonds, also sometimes called teardrop. For some, it represents the tears of joy of the wedded couple on their special day, for others, it's raindrops, and for others it reflects the uniqueness of the wearer.
Is a pear shaped diamond expensive?
Like a number of other fancy cut diamonds, a pear cut diamond is generally more affordable than a round brilliant. For example, a one carat pear shaped diamond usually costs about 20% less than a round brilliant cut.
What should I consider when getting a pear shaped diamond?
With pear shaped diamonds you can get what's called a "bowtie effect" which is caused by the way the diamond is cut. This can limit or change the way light reflects through the diamond and results in two dark triangles sitting point-to-point accross the centre of the stone. Many jewellers, including Larsen, have vetting standards to make sure pear shaped diamonds with strong bowties aren't purchased and sold on to clients. Visual inspections are the only way you can see a bowtie, as this is not a characteristic included on the certificates.
Generally, the point of the pear shape should be protected with a claw or prong or another setting like a bezel. Any point or corner of a diamond or gemstone is prone to chipping if not protected in one way or another. A pear shaped diamond is usually set in either 3, 5 or occasionally 6 claws.
Most of the time, diamonds are cut in proportions that will work the best for the rough stone regardless of specific ratios, pear shaped diamonds have a few common proportions:
1:1.3 Sometimes called "squat" or "pudgy", this can be a wider pear shape
1:1.5 Generally this is the "goldilocks" ratio, or one that looks the most visually appealing to most eyes
1:1.7 A more elongated ratio, this may suit if you have particularly long fingers or are looking for a more elongated or vintage style ring
None of these proportions are "right" or "wrong" — it's a personal choice and comes down to what best suits you or the person you're buying for.
How are you supposed to wear a pear-shaped diamond?
Pear shaped diamond rings can be worn however you prefer. Point up or point down, there are no specific meanings associated with wearing it one way or the other. It's about personal preference, and if it's for an engagement ring, it's also about what kind of design you may want with your wedding band as well.
Point up and point down aren't the only ways to wear a pear shaped diamond, even. Another option is to use what's called an east-west setting, where the centre stone is actually set across the finger. Sometimes, you'll also see this done with two stones in a toi et moi arrangement.
If all this has you interested in creating a unique pear shaped engagement (or otherwise) ring all for yourself, discover a few famous ones for inspiration:
The Taylor Burton Diamond
The Taylor Burton diamond is an impressive 69 carat pear shaped diamond. Initially, it was set into a ring bought for Elizabeth Taylor by her then-husband, Richard Burton. When Burton purchased it, it was remade into a necklace, as the weight of the ring was reportedly too heavy for Taylor to wear. It was reset by Cartier, who had initially outbid Burton for the purchase.
Adele's Maybe-Engagement Ring
While playing coy to outright answering if she's engaged to boyfriend Rich Paul in 2022, Adele is sporting a rather large pear-shaped diamond ring on that finger.
Megan Fox
While we have already seen this lovely toi et moi ring from Megan Fox, it's worth sharing again. The diamond and emerald were reportedly included for each of the pair's birth months, as a representation of the two coming together as one.
From Us at Larsen
We have a number of designs at Larsen that feature pear shapes, from classic solitaires to engagement rings with halos or others with coloured gemstones. And of course, we can always work with you to make a pear shaped engagement ring unique to you: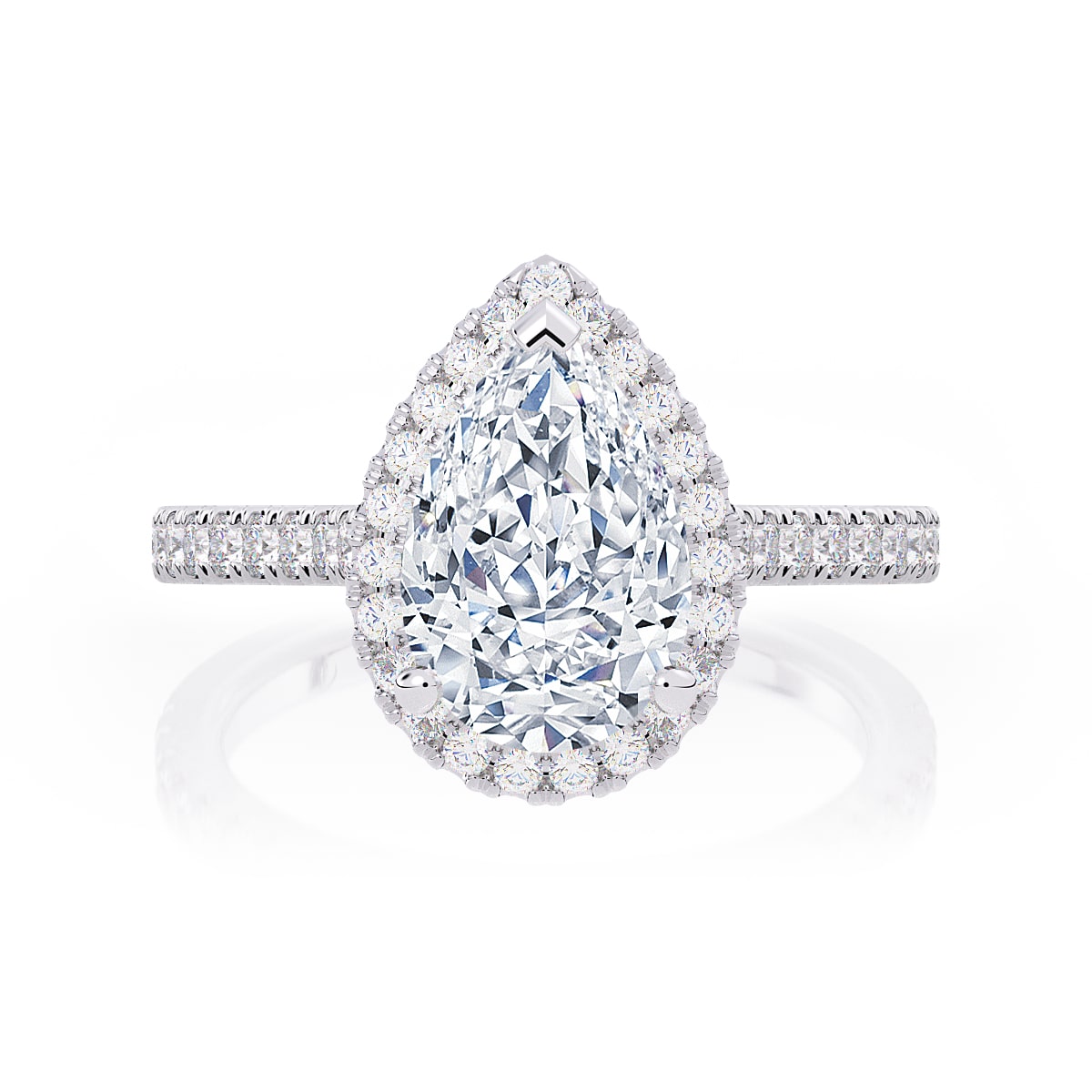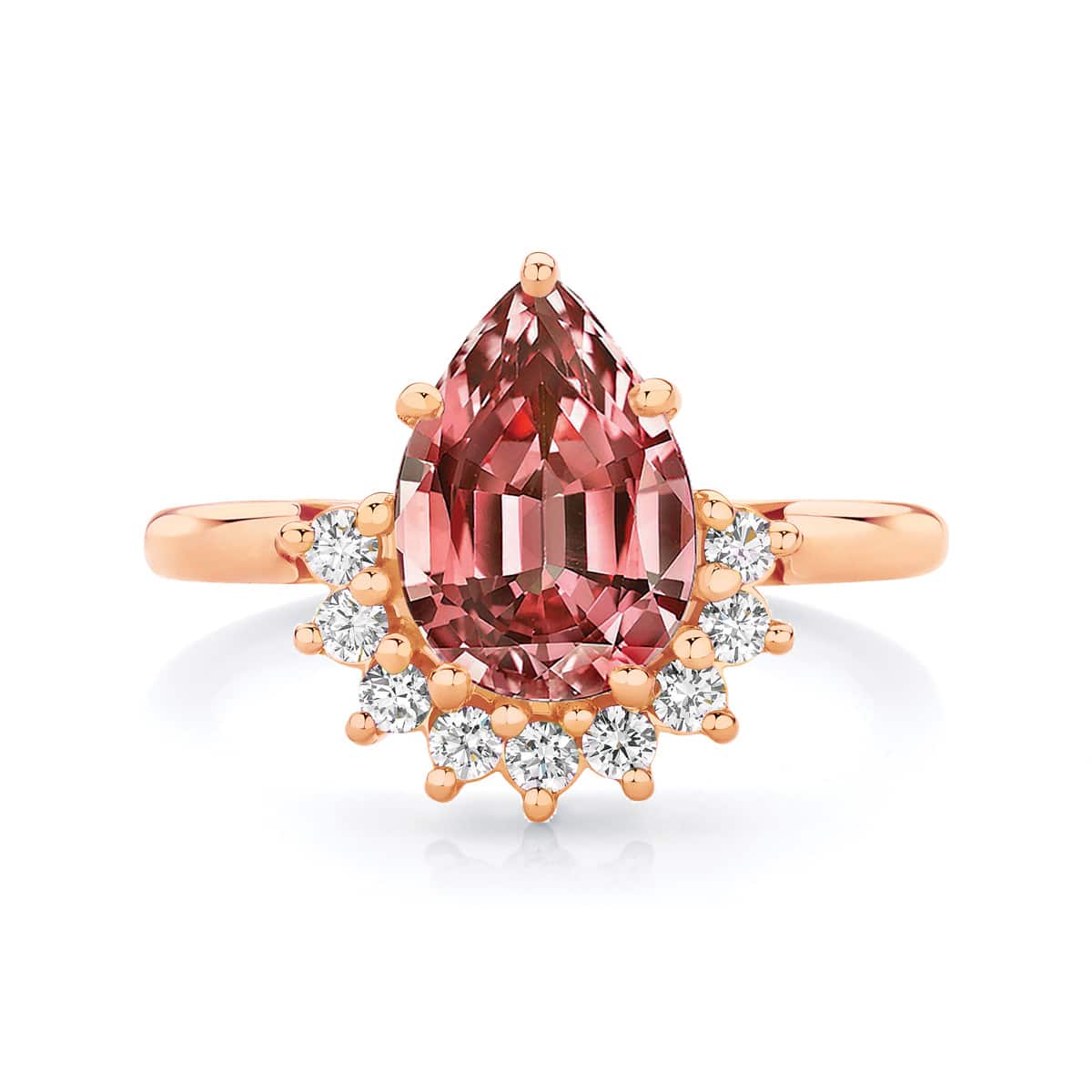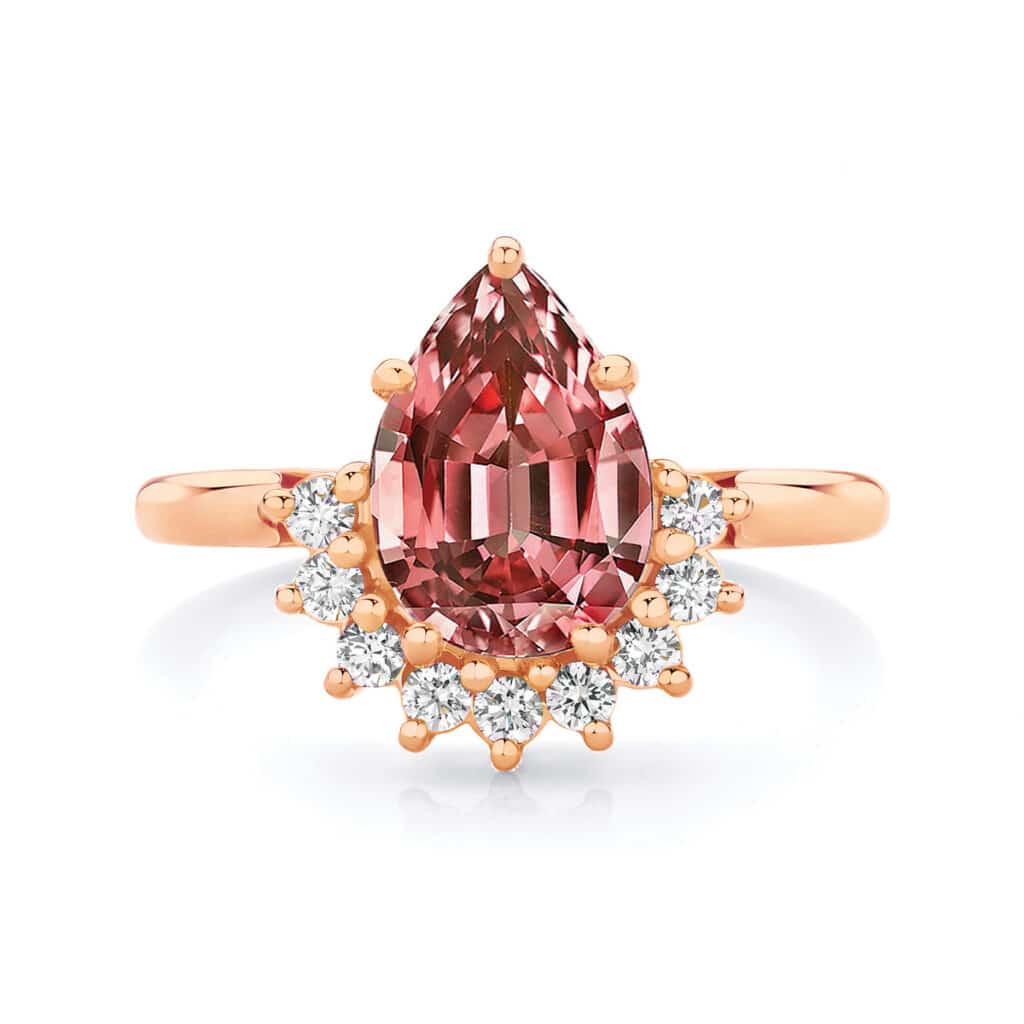 Related Posts