How To Find An Affordable Engagement Ring
When it comes to style, we all have our own unique preferences, what style of dress, shoes and jewellery we love can be completely different from the next. When it comes to engagement rings across Australia, it is no surprise that there are endless options to suit all tastes. If you fall in love with the showstoppers on the red carpet but don't fancy taking out a second mortgage, don't panic we have some tricks of the trade to help you. You can afford our dream ring without breaking the bank!
Engagement rings no longer need to cost you three months' salary. The amount you spend, whether it be more or less, is up to you and what you feel comfortable with. If money is a factor, as it is for most, then there are ways to save on your engagement ring without compromising on the design.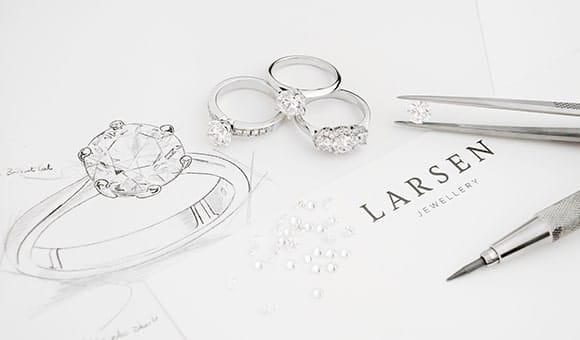 You can choose a beautiful ring without sacrificing the quality or breaking the budget. In this article, we're going to suggest a few helpful ways to cut the cost of your engagement ring. By choosing one or more of these options, you can use your savings for the next stage of your life together.
Your engagement ring is the first off a long list of expenses when it comes to your wedding. And if your wedding is in the not-to-distant future, it is understandable if you are a little more conscious about how much you part with!
If you are concerned about spending an overwhelming amount, please rest assured that it is not necessary to afford a beautiful ring.
To make sure you do not blow your budget when engagement ring shopping read our tips on how to keep on track!
1. Research.
It can be hard to know how much you should spend without knowing how much an engagement ring should cost. Before setting your budget do a bit of research. Do you feel comfortable asking your friends how much they spent? Research prices of local jewellers and, if you plan to have a ring custom made, visit in person. You can also request that a jeweller email you and list of their diamond prices to give you an idea.
2. Set a budget
This is the most important part and if you are wary of blowing the budget then take the time to work out a realistic budget. Write it down and make notes of the reasons behind this figure.
3. Compare apples with apples
When looking at engagement rings online it is important to make sure you are comparing "apples with apples". If an engagement ring or diamond sounds too good to be true, then chances are it is. There is a lot more to pricing diamonds that cut, colour, clarity and carat and not everything is on the certificates. There are many factors that cheapen diamonds for the simple reason that they affect how good they look. The age-old saying that you get what you pay for is well worth remembering.
4. Reveal your budget
It is completely up to you if you wish to reveal your budget when visiting jewellers at the initial stages. But keep in mind that by sharing an approximate figure, your jeweller can help you to design something appropriate. And help you find beautiful diamonds or gemstones within your budget.
5. Avoid temptation
If offered a slightly larger or more expensive stone then kindly resist. Diamonds are beautiful and their dazzling brilliance is hard to say no too!
6. Look at Alternatives
If you have your heart set on a large centre stone but cannot afford the diamond of your dream, perhaps consider the alternatives outlined below.
The most important thing to remember that engagement ring shopping should be enjoyable! Setting a budget will take some of the stress out and no matter how big or small your budget is, remember a beautiful ring is possible!!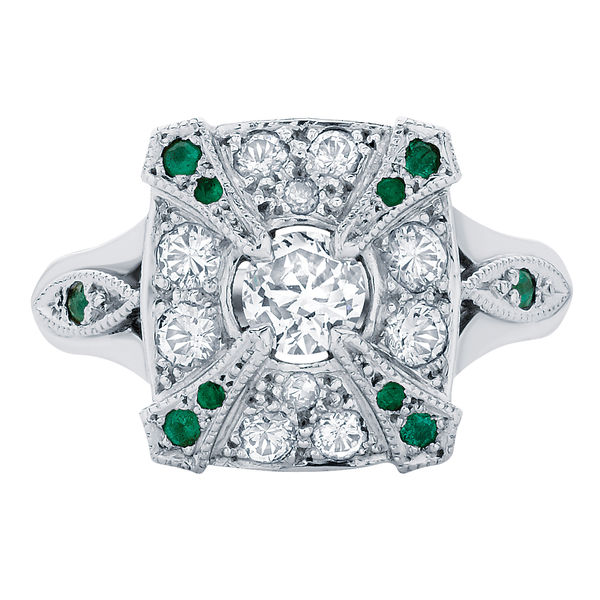 Our Engagement Ring Tricks to Make Your Design Red-Carpet-Ready
Are you inspired to create a ring like the one you've been admiring on the hand of a celebrity? Chances are it features an enormous diamond that most likely comes with an equally inflated price tag. The more sparkle the higher the price is the general rule. If you're wondering how to make a show-stopping engagement ring fit your budget, we have put together a list of clever ways to create the illusion. Here are a few tips on how you can achieve that dreamy diamond look:
Be Wise with Your Metal Choice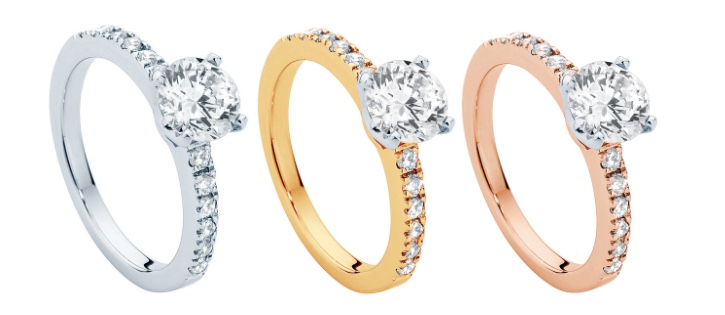 If you want to do everything you can to make your centre stone look bigger then it is all about making choices that enhance your stone, not compete with it. One of the biggest factors is the colour of the metal you choose. White metals, either platinum or white gold, will act as a mirror and reflect your diamond, enhancing it rather than contrasting with it.
If you are a lover of white metals then your best options are platinum and white gold. Platinum is considered the superior of the two renowned for its purity and density. It also more expensive than white gold and often the ring will last just as long in either metal. Chat to your jeweller about the requirements of your specific design, you may find white gold is the better choice. This change instantly drops the price of your engagement ring.
White metals are the most popular choice these days. Platinum is more expensive than white gold but this does not mean that white gold is an inferior option. The one thing to keep in mind is that white gold, unlike platinum, needs to be rhodium plated to keep its white colour. Depending on the wear of your ring this is a service that is required every 12 – 18 months.
Go For Colour

Colour gemstones have been featured in engagement ring designs for decades. One of the biggest bonuses about choosing a coloured gemstone is the price tag, a coloured gemstone means you can go large without it costing a bomb. When comparing the price to a similar size diamond, you will notice a significant difference so we recommend exploring this idea!
Coloured gemstones are rising in popularity, not only for the vibrancy, the unique engagement rings they create and also their price tag. These offer a great alternative to the traditional white diamond and are more affordable than a diamond of the same size.
Coloured gemstones are a wonderful option and are only becoming more and more popular. This is especially due to Sapphires rising rapidly among celebrities. Choosing a coloured gemstone will also mean that you will be able to afford a much larger stone than an equal white diamond. Sapphires are a great choice and are available in a wide variety of colours.
Coloured gemstone engagement rings are beautiful and can also be a great way to save a few dollars. Coloured gemstones are generally more affordable, meaning a larger stone may be possible for your budget. Consider Spinel or even black Sapphires for a dramatic look.
If you can't do colour, Choose a White Sapphire
If you love colourless stones then you may even consider a colourless white sapphire. By choosing a white sapphire, it is likely that you'll be able to afford a larger stone for your budget.
Many do not realise that it is possible to get sapphires that are colourless. These create a very similar look to a diamond for a considerably smaller price tag.
Consider Your Diamond Grade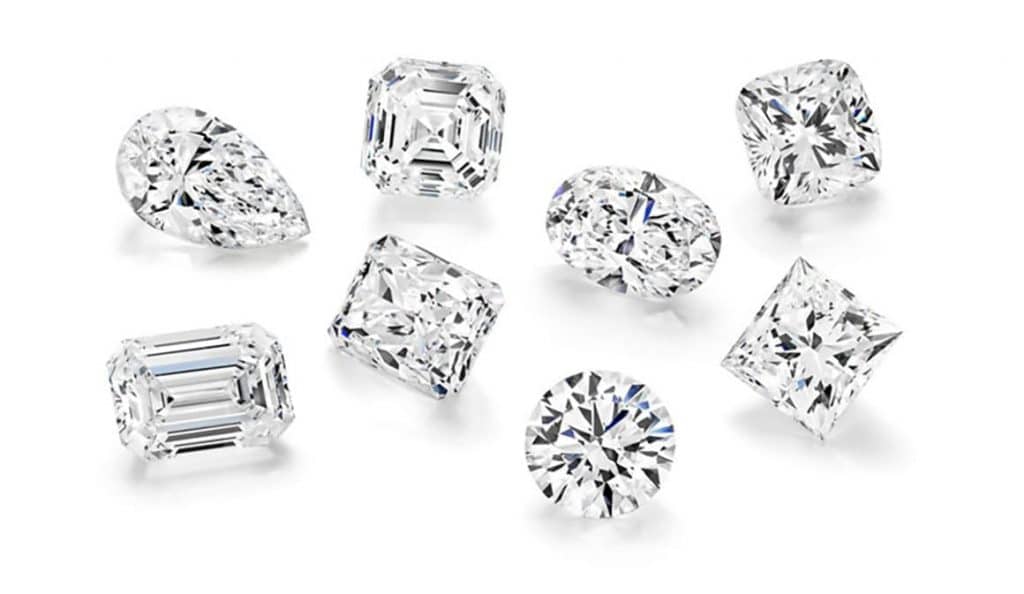 You don't need to buy a flawless diamond for it to be a beautiful diamond. A perfect one carat, D-colour, IF (internally flawless) with a perfect cut grade is very rare and exceptional and has an exceptional price tag. By compromising on some of the qualities, you can still afford a stunning diamond. For example, a diamond with a lower colour grade of F/G, VS2 clarity and a Very Good cut could cost half the price. These differences are barely discernible, even to an expert.
At Larsen Jewellery we specialise in finding the best diamond for your budget. If you are after a larger stone you may want to consider other alternatives to the highly sought-after Round Brilliant cut diamonds. Lower prices diamond cuts include Princess, Oval, Cushion and other 'fancy' shape diamonds that will get you a larger stone for the same price.
Forgo A Centre Stone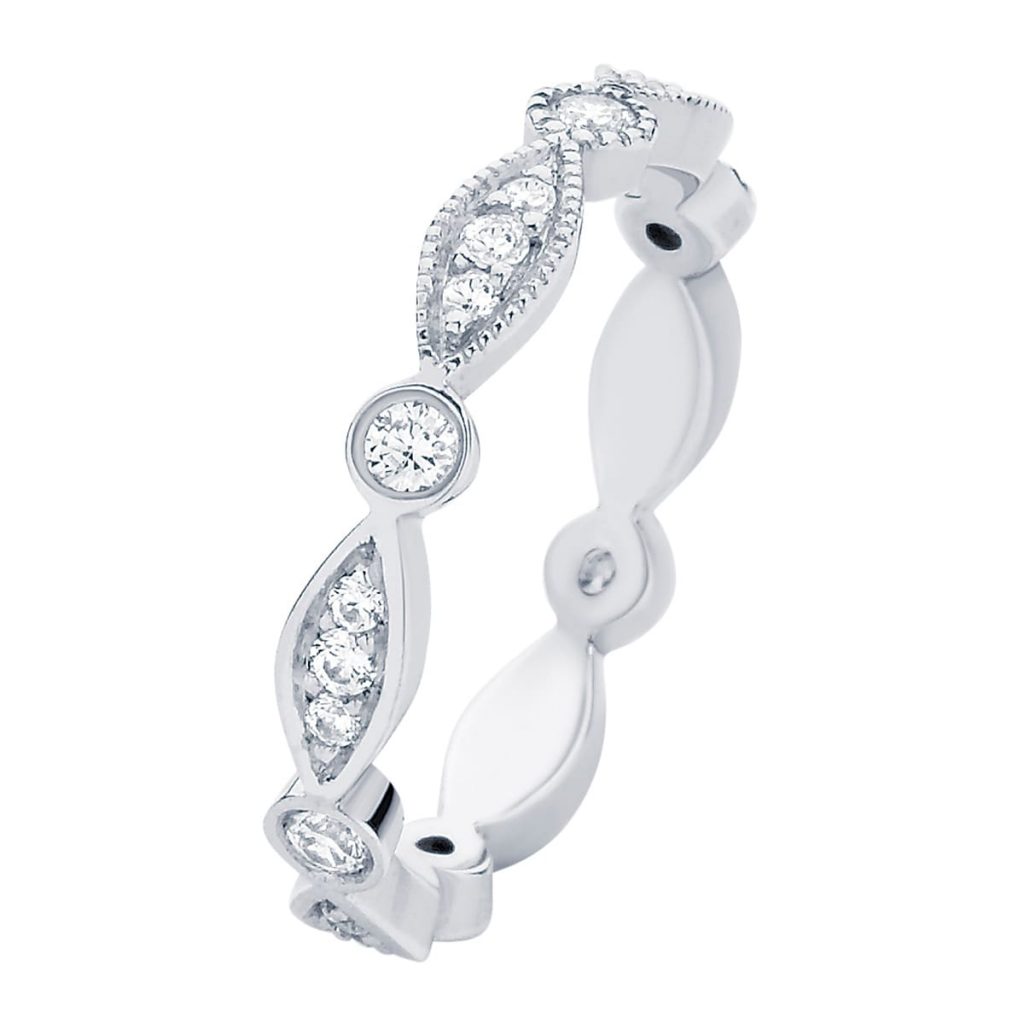 It is not a prerequisite that a beautiful, show-stopping ring must have a centre stone. Experiment with clusters of diamonds or gemstones to create the illusion of one larger stone or a beautiful pattern. Or for a ring that is guaranteed to sparkle, cover the surface of a wide ring with a continuous pavement of diamonds.
Who said that you must have a centre stone? There are many ways to create a stunning, unique ring without a centre stone. The centre stone is also often the most expensive part of the ring so why not design a ring without one? You will not only be saving $$$ but also opening the door to something truly unique.
You may already have some diamonds sitting at home in a pair of studs or an old ring that you no longer wear that could be incorporated into your design. A matching pair of diamonds may create a stunning three-stone ring or some small diamonds set into a band could perfect your design.
There is no rulebook saying that an engagement ring must have a centre diamond. Choosing to have an engagement ring without a centre diamond will instantly open up many design options. Your imagination will be your only limitation!
The Thinner Band Solitaire
A fairly simple and cost-effective way of creating the illusion of a larger diamond is by narrowing the band. A little thinning out can make the design appear less heavy and bring attention to the diamond. Before deciding this is the best option for you, have your jeweller take a look and tell you if it is a possibility.
It is hard to go wrong with a classic and timeless solitaire engagement ring. Choose the traditional Round Brilliant Diamond or an alternative shape such as Princess, Cushion or Asscher. The 'Elegance', 'Modern Brilliant' and 'Eclipse' are just three of our popular solitaire styles.
Browse some of our most popular solitaire designs here!
Fancy Shaped Diamonds
The shape of the diamond you choose plays a big part in the final price of the stone. Round brilliant diamonds are the most popular, as a result, they are the most expensive cut. They are also priced higher as more of the rough diamond lost in the cutting process. If you have your heart set on a larger diamond then consider fancy cut shapes such as princess, ovals, pear or marquise cuts.
Round Brilliant Cut diamonds are famous for their brilliance, yet their popularity means they have the highest price. Choosing an alternative shape for your central diamond is one way of getting more bling for your money. Oval, Marquise and Pear shaped diamonds are great options when wanting a bigger stone within your budget
For those that love rounds then consider oval, pear or marquise shape diamonds. And if you love streamlined cuts then a princess, emerald, Asscher or radiant cut might be the perfect choice for you. Typically, fancy cut diamonds are less expensive than a round brilliant cut of the same carat weight.
Fancy shaped diamonds are a great way of creating a unique style engagement ring. The plus side is that they are also the more affordable option to the popular Round Brilliant diamond. Remember, round diamonds demand a premium because of their popularity and also the wastage when cutting.
Halo, Halo, Halo
One way to create the illusion of a larger centre stone is to enhance your stone with a halo of diamonds. To create a dramatic look with serious sparkle don't stop at one halo, consider two halos or even three.
Halos are a popular choice, and rightly so for a couple of reasons. Adding a halo to your design is a great way to create extra sparkle without it breaking the bank. They also offer a solution for those wanting a ring with a large centre stone but cannot afford to achieve this with one, very large diamond. A halo of diamonds forms the illusion of having a larger centre stone, enhancing the centre stone and making it appear bigger and extra sparkly!
Adding a Halo can extend the amount of sparkle by around 2 to 4mm depending on the size of your diamonds. A halo, just as the name suggests, is a group of diamonds or coloured gemstones that are set encircling your centre stone. White diamonds set into a halo will enhance your central diamond and make it appear larger. Or you may wish to introduce some colour to your design by adding your favourite coloured gemstone.
Browse some of our most popular halo designs here!
How We Can Help You?
Engagement rings don't have to break the bank, equal a deposit for a house or the cost of a new car. Once upon a time, it was suggested we spend one month's salary, then it climbed to two months and now there are whispers that it could be three months. It's almost like there does not seem to be a cap on how much one should spend.
An engagement ring should only be judged by what it represents. It should be about the thought and energy that has gone into choosing the perfect ring and not about its dollar value.
If you believe that to afford a truly beautiful engagement ring it needs to have a five-digit value or more, then we can happily tell you that this is wrong. It is very possible to design a beautiful engagement ring for any budget and that is one reason to opt for a custom made ring. Custom made means that your jeweller can help you design a ring and choose the perfect diamond or gemstone to fit your budget.
You can personalise a simple, affordable style by adding thoughtful design details. If you can't afford a larger stone and lots of small diamonds but still want some detail to embellish the surface of your ring, there are other ways. Including hand-engraving can be a beautiful way to add finer design details.
All in all, there are many ways that you can design a beautiful engagement ring to fit your budget. The number one rule is to not let the outrageous prices of engagement rings in Hollywood scare you. Don't shy away from taking that step into your local jeweller!
Our expert jewellers will help you create the perfect ring for your budget. Click your location below to see a range of designs and prices.
Related Posts