Looking Back At The Bachelor Rings (Australian Seasons)
With season eleven underway, we have started to reminisce about all the seasons of The Bachelor Australia that we have been involved in as the official ring partner. Here's a little look back at all the characters, memorable moments and, most importantly, the unique commitment rings of the past seasons.
Bachelor Australia Season 10 2023
Season 10 bought us not one but three bachelors! In an effort to switch up the format, we were introduced to Thomas, Jed and Felix along with a staggering 30 contestants. As you can imagine, the sheer number of bachelorettes meant the producers had no shortage of content. Along with the usual clingers and villains, they also introduced one bachelorette who was in a polyamorous relationship with a man in the outside world. In an unusual plot twist, he was also bough onto the show and many media outlets began labeling him the season's 4th bachelor.
In the very first episode, each bachelor revealed their own unique engagement ring from Larsen Jewellery. A gesture to show they were on the show for the right reasons, each of them stating they were there to find their wife.
In the final episode, two of the bachelors proposed-
Thomas presented Leah with a stunning sapphire engagement ring. Crafted in 18ct white gold, it features six delicately set white diamonds in a stunning nature-inspired motif.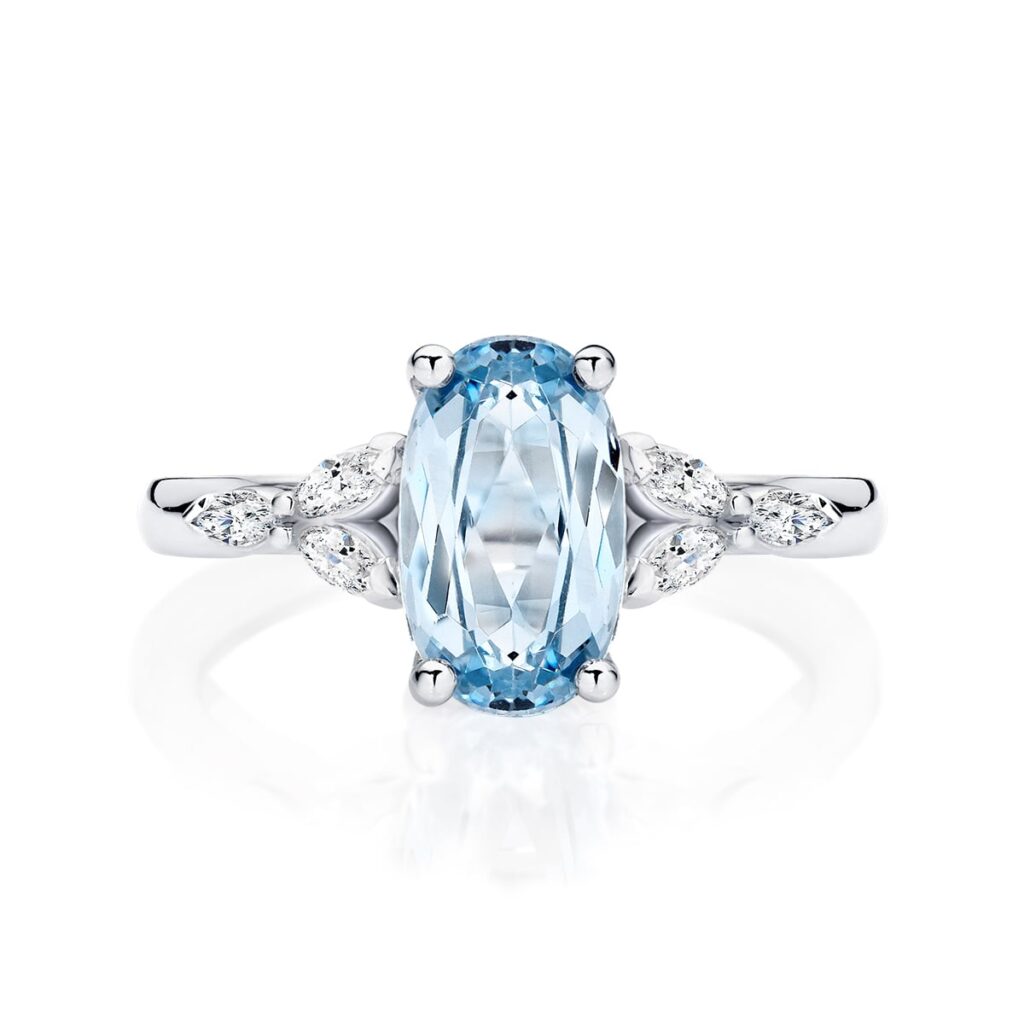 Jed proposed to Alésia, despite her pre-warning him that she would definitely not accept a proposal. He got down on one knee and unveiled this beautiful engagement ring. A striking marquise-cut champagne diamond in the centre accented by white diamonds on either side.
For more details on these two gor geous rings, head to The Bachelor Season 10 Ring Details
The third bachelor, Felix, elected not to propose to polyamorous Jessica. If he had, this would have been the gorgeous creation adorning her hand. A rose gold engagement ring with delicate diamonds set shoulders either side of a pristine emerald cut morganite.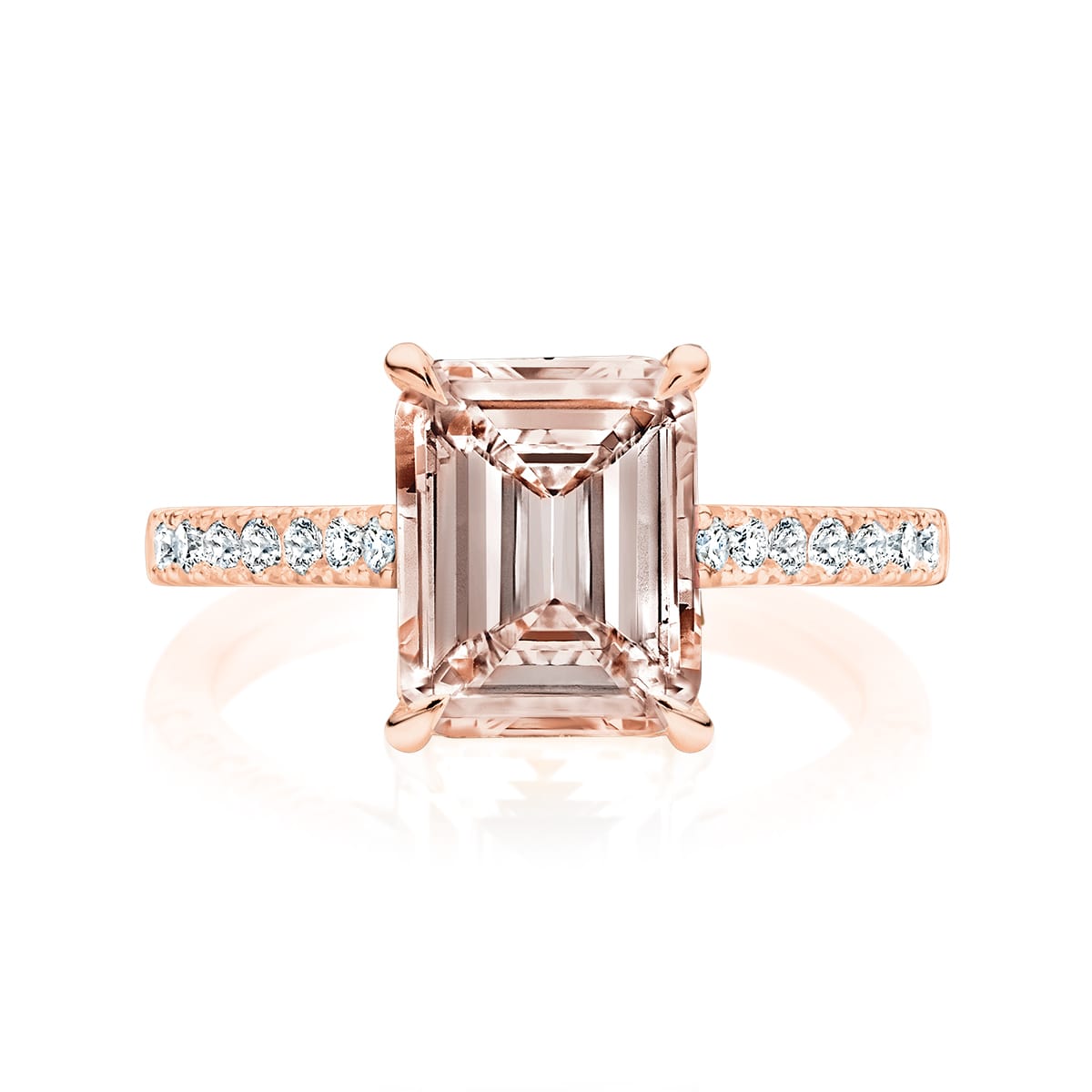 Bachelor Australia Season 9 2021
Australia's bachelor for season 9 was airline pilot, Jimmy Nicholson. Jimmy took the bachelorettes on some truly memorable dates in this season. He showcased his ability to drive just about anything, from speed boats to light planes, motorbikes and jetskis, we had it all. Of course, there was the usual jealousy and drama but one bachelorette won the hearts of everyone including Jimmy. The epitome of grace and class, it was Holly Kingston who stole the show.
In the final episode, Jimmy presented Holly with a stunning diamond ring from Larsen Jewellery. The ring featured an oval cut light champagne diamond and delicate fanned marquise white diamonds on either side. Around the centre stone was a diamond set hidden halo only visible from the side.
To read more about this custom creation, go to The Bachelor Season 9 Ring Details
Bachelor Australia Season 8 2020
2020 bought us Locky Gilbert as the bachelor. Locky first graced our screens on Survivor Australia where he gained quite the following as the dark and handsome adventurer. There were 25 women on Locky's season, as usual, they encompassed the full spectrum from beige to fiery red to green-eyed monsters. Every bachelor fan likes to talk about the villain of the season. There was some tough competition for this title in 2020 but without a doubt, COVID-19 was the biggest villain. The pandemic threw the show's filming schedule into disarray and Lockdown Locky had to resort to Zoom dates and care packages.
View this post on Instagram
As the season finale came closer, we saw fan favourites Irena and Bella, who were besties in the mansion, become staunch enemies in the battle for Locky's heart. In a first for the show, the finale was filmed locally in The Hunter Valley where Locky farewelled Bella and gave a stunning commitment ring to Irena. The ring was designed by Locky himself with the help of our talented jewellery designer, Nicole. It features a striking pear shaped tanzanite in a shell inspired setting with perfectly matched diamonds either side.
Centre gemstone: 6.14ct unheated natural tanzanite
Centre gemstone shape: Pear
Accent stones: marquise and pear shaped diamonds
Metal: 18ct white gold
To discover more about this beautiful ring and how you may perhaps seek inspiration from our custom design, read the following: The Bachelor Season 8 Ring Details
Tanzanite is said to strengthen spiritual communication and bring good luck. Obviously something is working for Locky and Irena as they're still together and more in love than ever!
Bachelor Australia Season 7 2019
In 2019, The Bachelor gave us Beauty and the Geek vibes when they introduced astrophysicist Matt Agnew as the suitor of the season. Not only is this dude super smart but also, pretty easy on the eye. Among the most memorable of his bachelorettes was Abbie. Some touted her as the villain of the season but many disagree. She sure wasn't your stereotypical bachy contestant but she sure was fun to watch.
View this post on Instagram
At the end of the season, Abbie was the runner up and Matt's fellow science buff, Chelsie, received the final rose. Matt presented her with a rose gold commitment ring he designed in collaboration with yours truly. The ring features a cushion cut grey spinel centre stone complemented by two shield cut diamonds.
Centre gemstone: 3.73ct grey spinel
Centre gemstone shape: Rectangular cushion
Accent stones: Shield cut diamonds
Metal: Fairtrade 18ct rose gold
To read more about this striking design: The Bachelor Season 7 Ring Details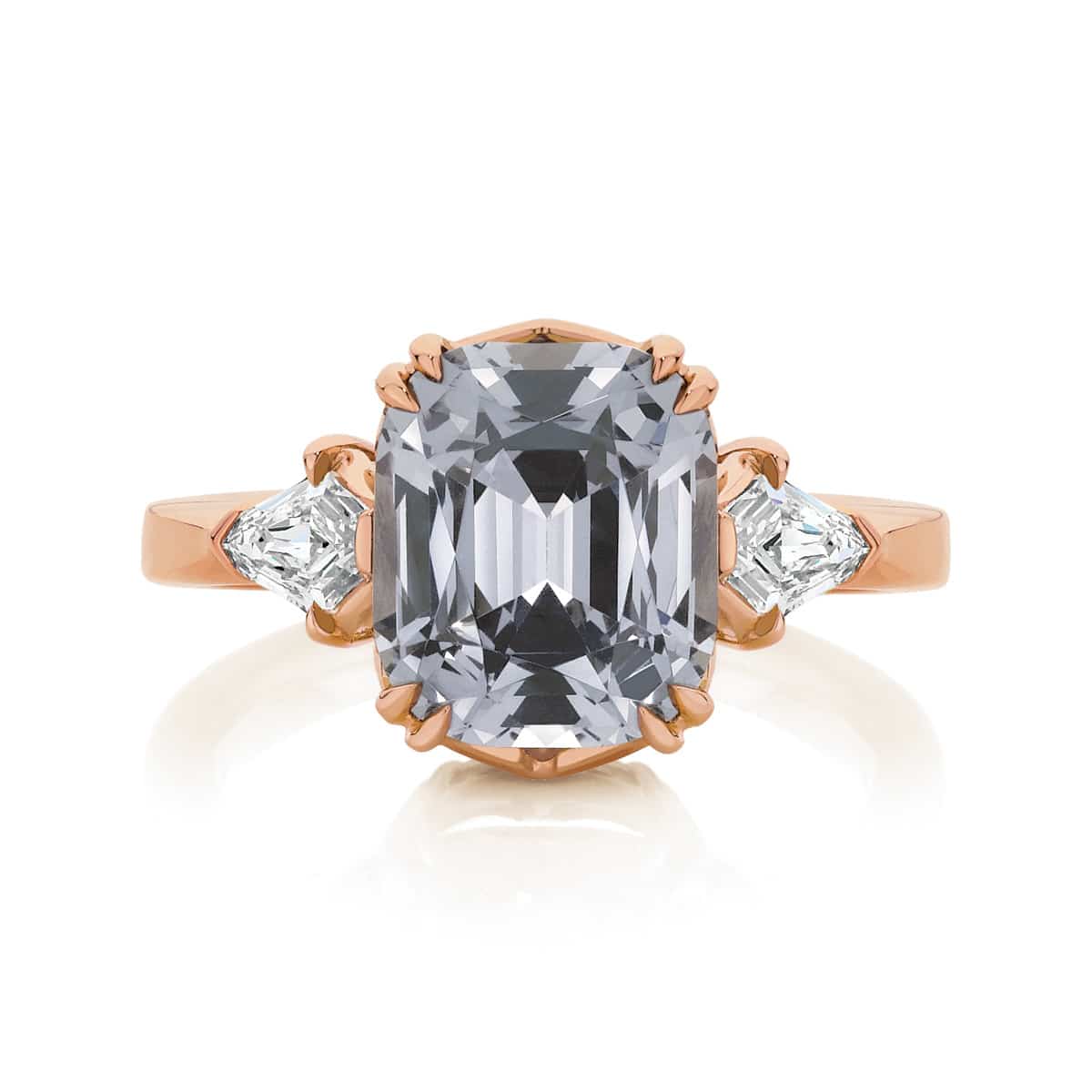 Sadly, this union didn't last with astrophysicist Matt and chemical engineer Chelsie parting ways shortly after the finale aired. Was it a lack of chemistry or just not written in the stars, I guess we'll never know.
Bachelor Australia Season 6 2018
The season that didn't. This season was highly anticipated with the slang slinging larrikin, Nick Cummins, hanging up the rugby boots and trying his luck at reality TV. Affectionately nicknamed the honey badger, this bach had loads of potential but ultimately failed to find love on the show.
Hands down the best moment of this season was when the gorgeous final 2 ladies realised neither had been given the final rose. Maybe they were united in heartbreak or perhaps it was the sheer relief of realising they'd dodged a bullet.
View this post on Instagram
Here at Larsen Jewellery, we were absolutely gutted that the stunning ring we created for this season didn't make it onto anyone's finger. The ring featured a Malaya garnet, in delicious sunset tones, flanked by trilliant cut diamond details. Ultimately, this stunning rose gold ring was gifted to charity where it helped to raise over $20,000 for The Foundation for Children at The Enchanted Ball.
Centre gemstone: 6.75ct Malaya garnet
Centre gemstone shape : Rectangular cushion

Accent stones: Trilliant and round brilliant cut diamonds
Metal: 18ct rose and white gold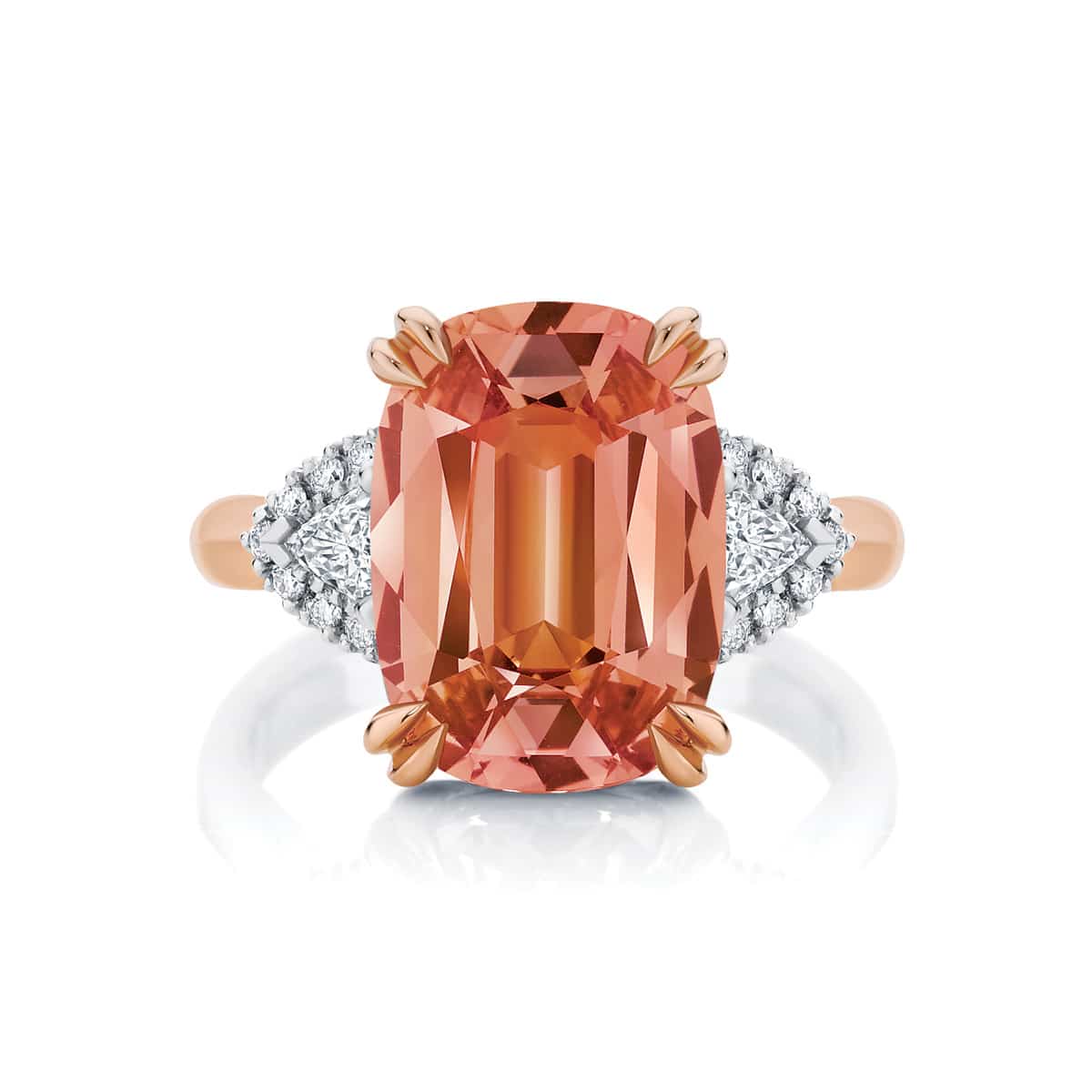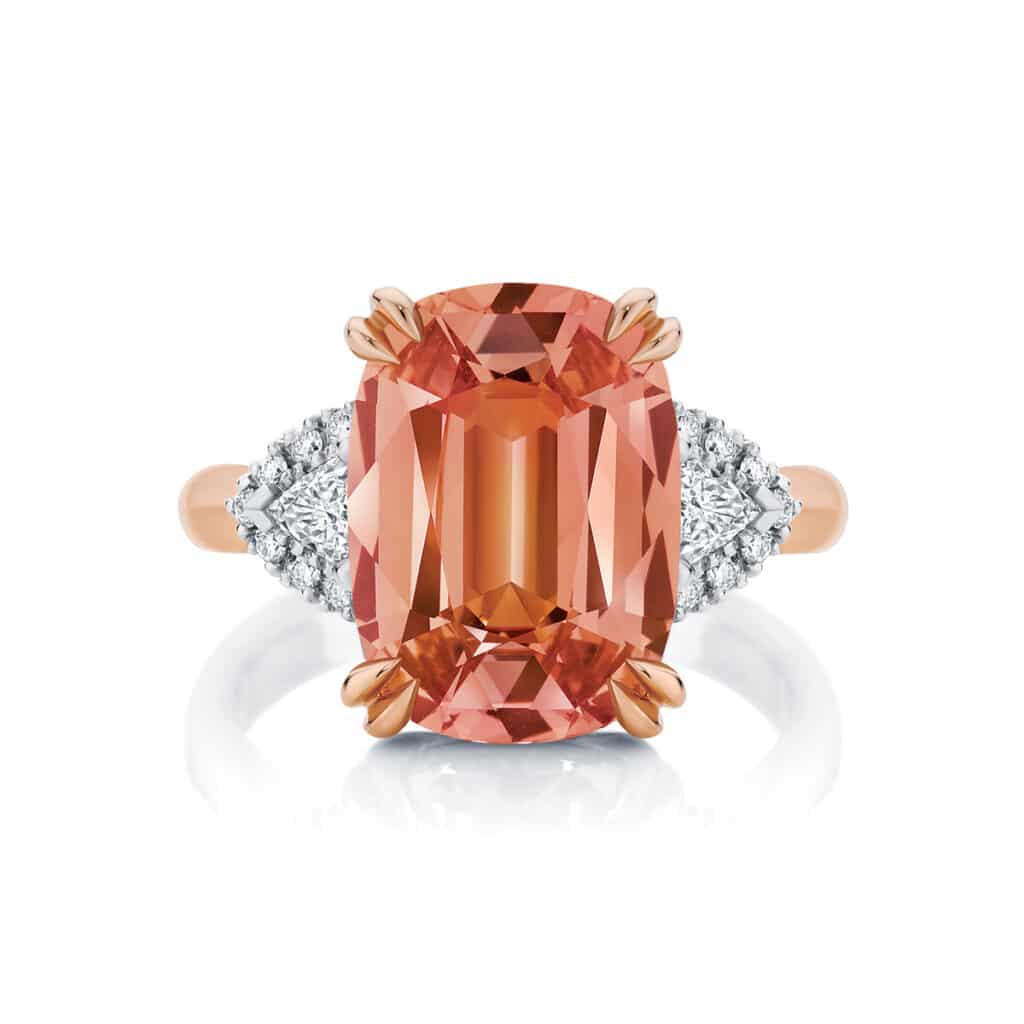 To find out more about the details of this gorgeous ring: The Bachelor Season 6 Ring Details
Bachelor Australia Season 5 2017
Ahh, Matty J, now we've saved the best 'til last. Maybe we're biased but this season of The Bachelor Australia remains a firm favourite for us. Matty J is gorgeous, charismatic and gave us the ultimate bachy love story in his season. The marketing manager from Sydney first graced our screens on season 2 of the bachelorette australia where Georgia Love did us a massive favor by not choosing him for her final rose.
There were also some memorable characters among the ladies featured in this season. Florence, Elora and Tara were all bachy gems but of course it was Laura who we all fell in love with. Now maybe we resonated so strongly with her because she's a fellow jewellery professional but mostly, it's just because she's just a dead set lovely human.
Matty teamed up with us to take on the unenviable task of designing a ring for a ring designer not once, but twice!
The first ring is the classic oval diamond design he presented her with during the show's finale. Laura was clearly bracing herself for rejection as she stood in front of Matty J in Thailand for the final rose.
Centre diamond : 1.30ct diamond
Centre diamond shape : Oval
Accent stones: Round brilliant cut diamonds
Metal: Platinum
Follow this link to read more about this classic ring: The Bachelor Season 5 Ring Details
Excitingly, in 2019 we got to share in another big step on this couple's journey when Matty asked us to create Laura's engagement ring. He was brave enough to do this as a surprise for Laura, selecting a diamond, conceptualising and fine tuning the design (with a little help from us of course 😁 ). The design features a stunning rose cut pear shaped diamond set into a bohemian inspired ring that was handmade entirely in Fairtrade gold. We love how this design suits Laura, I mean, could she look any happier?!
View this post on Instagram
We hope you have enjoyed our recap of the bachy rings we have created over the years. Whether we're creating a ring for reality tv or real couples in real love, we always put our heart and soul into it. If you're ready to give that special someone your final rose, please reach out to one of our studios below to get your dream ring underway.
Which one of The Bachelor Australia rings is your favourite? Let us know in the comments below!
Related Posts