Did Orlando Bloom Give Katy Perry the Same Engagement Ring He Gave Miranda Kerr?
The internet gushed when Katy Perry and Orlando Bloom took to Instagram to announce their engagement. But fans soon noticed Katy's ring looks alarmingly similar to the ring Orlando gave his ex, Miranda Kerr, when they got engaged in 2010. So, are the two rings identical? No. Rumours that Katy's diamonds are Miranda's remade or set differently are definitely false – the sizes and cutting styles are different. But no one can deny that they are very similar.

Let's get technical to explain the differences. Katy's is a petal-style cluster ring. It has a deep pink oval centre stone, yellow gold and features bezel settings. Miranda's ring featured a round diamond centre stone and white gold or platinum claw settings. Her ring looked to be genuinely vintage, but Katy's looks newly made.
There's been wild speculation about the value of Katy's ring, with some commentators suggesting it's worth a whopping $US5 million. This may be true if the pink stone in the centre is an incredibly rare pinkish-red diamond. It's impossible to tell from photos alone, but we think it looks more like a ruby, which puts the value of the ring at around $US100,000. Still, nothing to sneeze at! Miranda's vintage ring was reportedly worth between $US50,000 and $US70,000.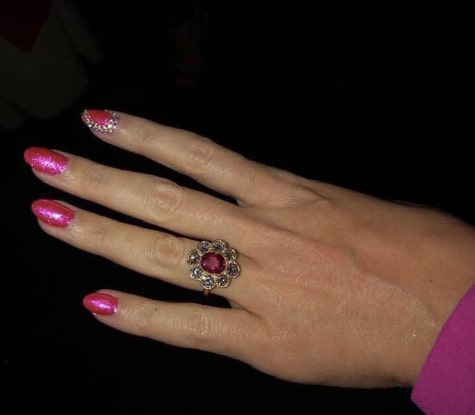 Perhaps the similarity between the two rings is a bizarre coincidence or some sort of floral reference to Orlando's surname. After all, Katy did caption her Instagram post announcing the news "full bloom". Katy has never shied away from bold colour so it's likely the centre stone is a nod to her style.
In any case, cluster rings are definitely on trend. Lots of couples ask us about this style of engagement ring and it isn't hard to see why – they're eye-catching, classic and memorable. Lady Gaga and Princess Eugenie have similar rings and, of course, Kate Middleton wears Princess Diana's iconic sapphire cluster ring.
Katy and Orlando have been dating on-and-off since 2016 when they were spotted flirting at a Golden Globes after party. After a well-publicised split in 2017, the pop star and Lord of the Rings actor reconciled in 2018 and made it red carpet official – again – at the Opera of Monte Carlo in September.
Orlando proposed to Katy after a Valentine's Day dinner. He even asked her parents for permission before popping the question. According to reports, after Katy accepted the couple celebrated at a party with close friends that Orlando had pre-planned. Lucky she said yes!
It will be the second wedding for both Orland and Katy. Orlando was married to Miranda from 2010 to 2013, and they have an eight-year-old son, Flynn. Katy and actor Russell Brand tied the knot in 2010 and called it quits two years later.
Whether Orlando Bloom made a conscious choice to give Katy Perry a similar design engagement ring to the one he gave Miranda Kerr is something we may never know the answer to. What we do know, however, is that his choice is classic and timeless. Cluster rings have remained popular for the best part of the last century. They look amazing with coloured centre stones of any shape and are breathtakingly bright when made with diamond centre stones too.
We have had the pleasure of designing many different cluster design rings for our clients over the years and we look forward to designing many more. As mentioned above, Kate Middleton proudly wears what is arguably the most well-known cluster style engagement ring, which was once worn by Princess Diana. This ring has inspired many sapphire cluster designs of all shapes and sizes. One of our favourite combinations is in a similar "Bloom" style and features a stunning round Ceylon sapphire in the centre.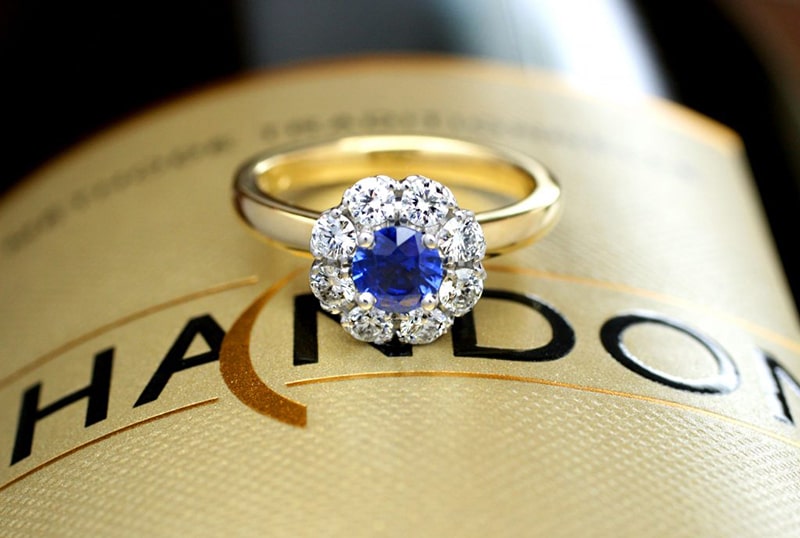 Have you got your heart set on a similar style engagement ring? What would your choice of centre stone be? We would love to help you design a ring to rival Katy's or Miranda's and our skilled team of jewellers are up for the challenge. Make an obligation-free appointment at either our Sydney or Melbourne studios today to find out more.
Related Posts