Engaged! Reality Star, Stassi Schroeder and Beau Clark
Reality star Stassi Schroeder announced her engagement to boyfriend Beau Clark just hours after receiving the most unique proposal, that really places the emphasis on '…until death do us part'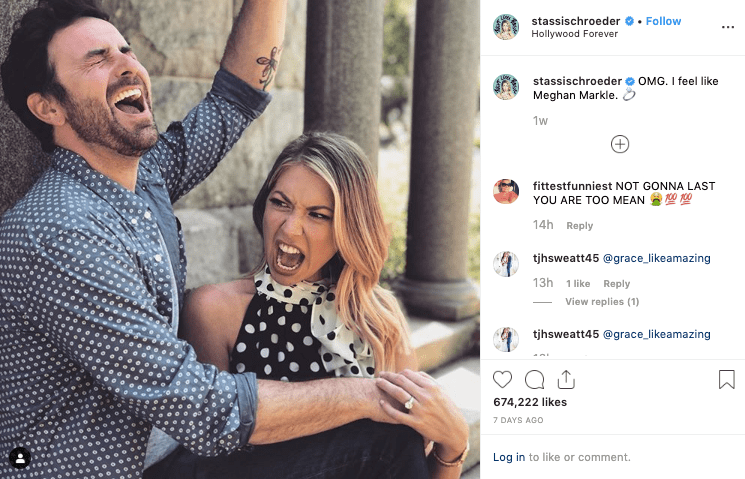 How Beau Clark Proposed to Stassi Schroeder
The Vanderpump Rules star revealed the exciting news last Wednesday posting a photo on Instagram captioned "OMG. I feel like Meghan Markle". Now-fiancé Beau, popped the question inside the Hollywood Forever Cemetery while cameras were filming for the show. While a cemetery would not be the first proposal location in mind for most brides, Schroeder, lover of all things true crime, is not most brides. The couple toured the cemetery before reaching a pond, where Clark then got down on one knee to reveal the heirloom sparkler tucked inside a fake urn! The proposal is only too fitting for their relationship, as the couple celebrated their first Valentine's together with a murder-themed date. Apparently, plans for the one-of-a-kind proposal had been in the works since January this year. Beau had originally planned to build a fake mausoleum until Stassi suggested they tour the Hollywood Forever Cemetery, "it was like God just laid it out on the table for me..she's going to have no idea" Clark revealed in an exclusive interview with PEOPLE Magazine.
The couple have been dating since August last year which was kept on the down-low before Beau made his official appearance in the most recent season of Vanderpump Rules. Even earning the most important tick of approval (second to Stassi of course) from Lisa Vanderpump herself. It's been a real case of wedding fever for the show, as the couple's co-stars have also recently celebrated a wedding and another engagement.
All the Details of Stassi's Stunning Engagement Ring

Luckily for Beau, the pressure was kind-of off when it came down to choosing the ring. As Stassi, lover of all things jewellery adores all gemstones, shapes and ring designs. When Clark asked months ago what style direction she could steer him in, the only criteria was that the ring was representative of the couple and their relationship. Cue an "awwwww" right here! Stassi and Beau later revealed the ring is a family heirloom dating back to the early 1900's. The glamorous showstopper features a 3.5 carat old European cut round diamond accented by graduating diamonds in a platinum setting. The ring has been passed down from generation to generation since Clark's grandfather originally acquired it sometime between the 1940s and 1950s and was then handed down to his aunt.
Perfect proposal: ✔︎
Perfect ring: ✔︎✔︎
Old European cuts, like Stassi's centre stone, are distinctively seen in jewellery dating back to the Edwardian and Art Deco eras. They are the forefather of the round brilliant cut we know today. Old European cut diamonds have a high crown, open culet, smaller table and thicker triangular pavilion facets in comparison to the thinner facets seen in a round brilliant. Although Clark didn't have the ring designed, we just have to tip our hats for choosing the most thoughtful ring, full of history that is quintessentially 'Stassi'.
Has Stassi's heirloom ring caught your eye? Let us know if you would like to hear more information about Old European cut diamonds in the comments box below!
Related Posts