How To Choose a Solitaire Engagement Ring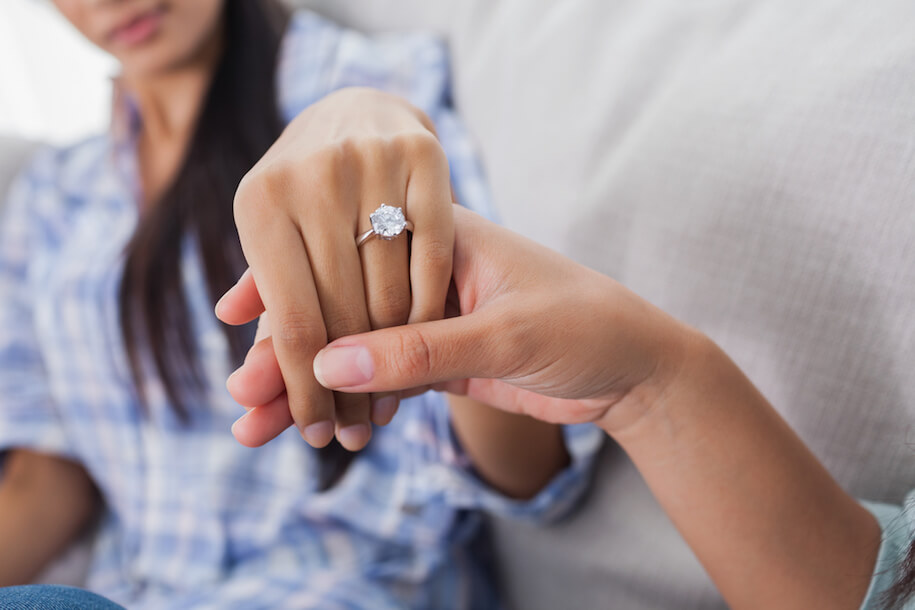 Solitaire engagement rings are classic, versatile, and suited to all tastes. They're considered the quintessential choice for engagement rings. Although most people are familiar with timeless versions of the solitaire, the options are endless. We'd love to run through some considerations with you. We will help you choose the perfect solitaire for you.

What Are Solitaire Engagement Rings?
As the name implies, a solitaire engagement ring is a ring that includes just one stone. Although most people think of the classic round shape in a simple claw-set ring, we can make solitaires with any shape diamond or coloured stone. As long as there's a single stone on the ring, it's a solitaire. The ring doesn't even need to be simple. At Larsen Jewellery, we make solitaire rings in our Sydney and Melbourne studios with intricate or unusual designs as well as the sleek, minimalist classics.
There's a Solitaire Design for Everyone
The most popular engagement ring choice by far is a simple band with a round diamond in the centre. A solitaire design can actually be as classic or as contemporary as you like! An emerald cut diamond in the centre has a sophisticated appeal. An oval or pear creates a softer look that accentuates long fingers. Princess cuts suit wearers with geometric tastes who want to keep the sparkle.
To stand out from the crowd, choose to add a splash of colour by using a sapphire or ruby instead of a diamond. You can also create a unique band design to complement your style. Why not opt for a different shape too?
Jewellers who make solitaire rings have seen it all and heard all kinds of requests. Don't be afraid to give us your ideas for a special solitaire design!
Are Solitaire Rings More Expensive?
Engagement ring prices are dependent on the style of the ring. If you choose a ring with a halo or diamonds on the sides, it is going to be more expensive than a ring without those extra details. The price saving on the band may allow you to increase your budget for the diamond. Keep in mind that a wide and heavy solitaire ring will cost more than a delicate band because some of the price is in the weight of the ring.
What is a Good Size Diamond to Choose for a Solitaire?
One of the most critical components of the solitaire ring is the diamond. Size is an important discussion from the aspect of the look of the solitaire. Of all the choices you make when choosing a solitaire, the diamond size is the one that will influence the price the most.
We can make solitaire engagement rings with any diamond size. The best gauge for best size comes down to two main factors: the size that suits the wearer, and budget. When thinking of diamond sizes, it's hard to see past the magic "one carat" size. Smaller hands may consider a big diamond overwhelming. In these instances, it's often more likely that the wearer would choose a diamond in the realm of 0.50ct. The biggest engagement ring usually goes to those who love impact and you may choose to jump from 1ct up to a 2ct diamond solitaire, perhaps bigger. We can also help you with an appropriate selection for your preferred budget.
The Classic 6-claw Solitaire
Timeless, simple, and stunning, the 6 prong solitaire is without a doubt the most popular solitaire style engagement ring. At Larsen Jewellery, our take on this classic is our Elegance design. This design is characterised by its understated band and traditional collet. This solitaire engagement ring lends itself to a wide variety of wedding bands because of its simple design.
The classic 6-claw solitaire is almost certainly the most popular engagement ring. Its popularity is definitely here to stay. Is it a boring choice? Not at all! It's timeless and beautiful – classic rings are classic for a reason, after all.
Unique Solitaire Rings
Not all solitaires have to be traditional. Our studios in Melbourne and Sydney create bespoke engagement rings. We specialise in rings crafted for those who love different and unusual designs. Settings for solitaire rings can include the traditional 6 claw setting, an open 4 claw setting, partial bezels and full bezels.
You can also choose to create your own unique look with unusual shapes for solitaire rings. Do away with the round brilliant cut diamond and introduce a shape made to impress, like asscher, emerald or princess cuts. You can use non-traditional colours and stones, where the options are endless.
Modern Solitaire Rings
Contemporary ring designs are represented by smooth, minimalist design. Usually, the diamond in a modern ring design sits low on the band and is set with a full bezel (rub over) setting instead of claws. This makes them favoured by ring wearers with active lifestyles. In our Melbourne and Sydney studios, we often make modern ring styles in platinum, but they can also be made in rose, white, or yellow gold.
Vintage Solitaire Rings
Vintage solitaire engagement rings are inspired by designs reminiscent of yesteryear. These may include delicate engraving, milgrain, or filigree detail to complete the look. Vintage and Art Deco styles are entirely customisable, with a lot of head-turning design options.
Sapphire Solitaire Rings
In recent years, we've seen an upward trend of gorgeous sapphire engagement rings. Although mostly known for their popular rich blue colour, sapphires actually come in every colour. Pink and teal sapphires have been exceptionally popular, chosen for their unique hues. Sapphires can also be colourless, which make for attractive, cheaper alternatives to diamond.
Not finding your colour palette in a sapphire? Not to worry – there are other coloured stones which are suitable for everyday wear. Spinel is often cited as an underrated but hardy gemstone. It comes in beautiful grey and pastel shades. Stones for solitaire rings need to be strong and suitable for everyday wear. We can offer specialised advice about which coloured stones are the most suitable.
Rose Gold Solitaire Rings
For those who love soft, feminine rings, rose gold rings suit a wide variety of skin tones and designs. Many don't realise that rose gold has been an option for engagement rings for generations. Rose gold is famous for drifting between being the sideline option and the hottest trend. This stunning metal also contrasts beautifully with white gold. This means you have an extra colour option for wedding rings. Rose Gold has been a popular ring choice for over 100 years, so it's well and truly here to stay.
Oval Solitaire Diamond Rings
Oval diamonds are dainty and delicate and great options for slender fingers. The oval shape accentuates the length of the finger. The oval's shape also gives the illusion that the diamond is larger than a round diamond of equivalent weight. This means that you can get better value for money choosing an oval diamond compared to a round brilliant cut. Ovals are a great option for a solitaire ring with a bit of difference.
Oval diamonds best suit 4-claw settings or bezel settings to flatter their shape most effectively.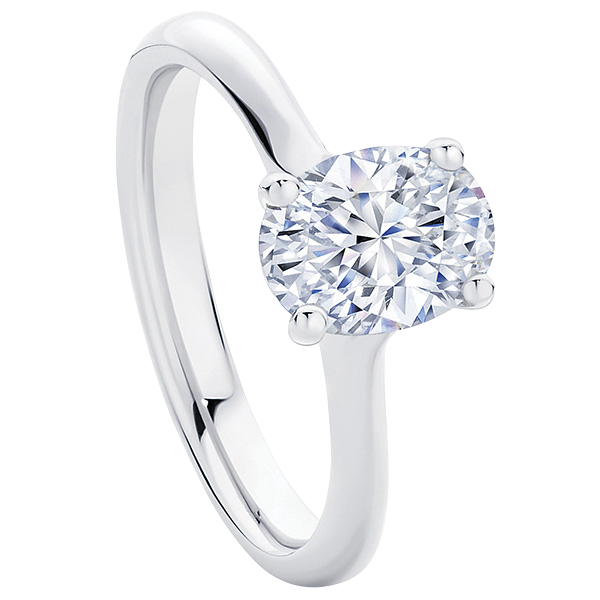 Emerald Cut Solitaire Diamond Rings
Emerald cut diamonds are geometric and emphasise the diamond's clarity. These diamonds are somewhat contemporary compared to their round and oval alternatives. Emerald cut diamonds are an elegant option for an updated spin on a classic solitaire.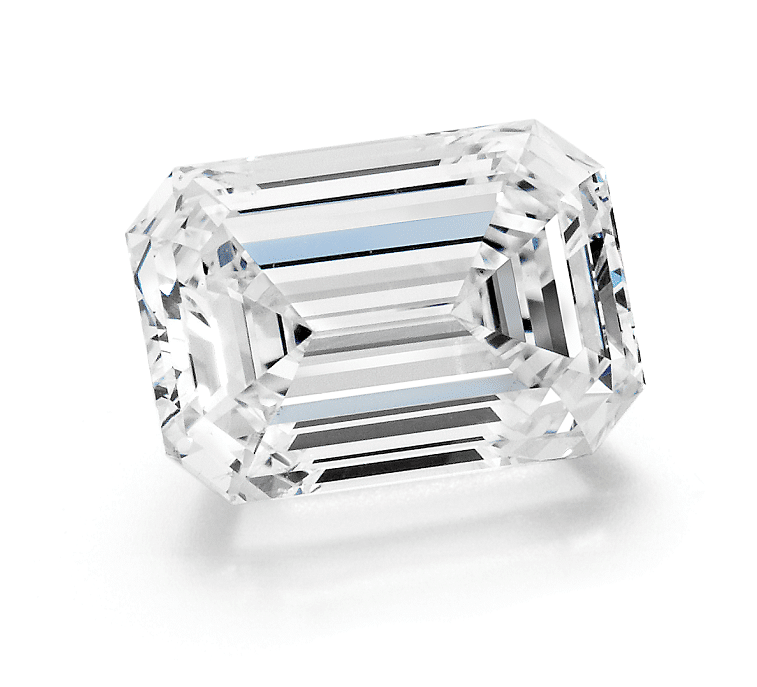 What Does a Solitaire Ring Symbolise?
All styles of engagement rings have their own special meanings. At its most basic form, a solitaire engagement ring is really a circular band set atop with a single stone. The circular band has strong connections with the concept of eternity. The solitaire has been known to symbolise many things. The most charming may be the notion of the single stone representing two people coming together as one. Diamonds are most frequently associated with their ability to resist wear. The comparison to love and commitment isn't lost in this symbolism. Coloured gemstones are used to reflect the individuality of the wearer (or the couple as a whole).
Click here to see our range of solitaire designs
Why Are Solitaire Rings the Best?
Solitaire engagement rings are the most versatile of all engagement ring styles. We talking about a ring style that can suit all hands and tastes. Not only that, there are endless options for wedding bands! A bridal ring set can be dressed up with a detailed wedding ring for a unique flair, or paired with a simple wedding band for understated elegance.
The cost of a solitaire design is inexpensive compared to other ring styles. Who said cheap engagement rings can't be beautiful or interesting? Solitaire styles are classic and unlikely to become dated. A solitaire can be classic or a unique once-off design. The options are endless. The adaptability of the humble solitaire is its biggest strength.
Are Solitaire Designs Only For Engagement Rings?
Solitaire rings are mostly considered a classic option for engagement rings. That being said, solitaire designs are also worn as dress rings or anniversary presents. A solitaire dress rings often feature large coloured gemstones in various shapes. They often have a wider band than you may expect for an engagement ring. They are generally worn on the middle finger instead of the ring finger. Of course, you can wear any ring you like on any finger, as long as you're aware of the connotations of the ring finger.
Men's Solitaire Rings
We haven't forgotten our male friends! Solitaire designs are also very popular as gents' engagement rings. Round and square diamonds are very popular, as well as black diamonds and sapphires. Men's fingers are broader and longer than ladies' fingers, generally speaking, so it's more common for a men's solitaire ring to have a wider band. These rings can follow a flat signet ring design or the classic claw setting.
There are more choices for solitaire engagement rings than perhaps any other style of ring. Many style choices take into account the tastes and lifestyle of the wearer. At Larsen Jewellery, we make solitaire rings for all kinds of styles and budgets, each one specially made for each individual.
With so many options from band design to stone choices, what is your favourite solitaire design? Would you wear a solitaire engagement ring?
Related Posts