How to Create an Engagement Ring with Hidden Details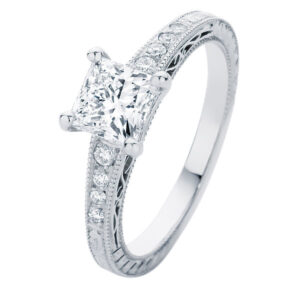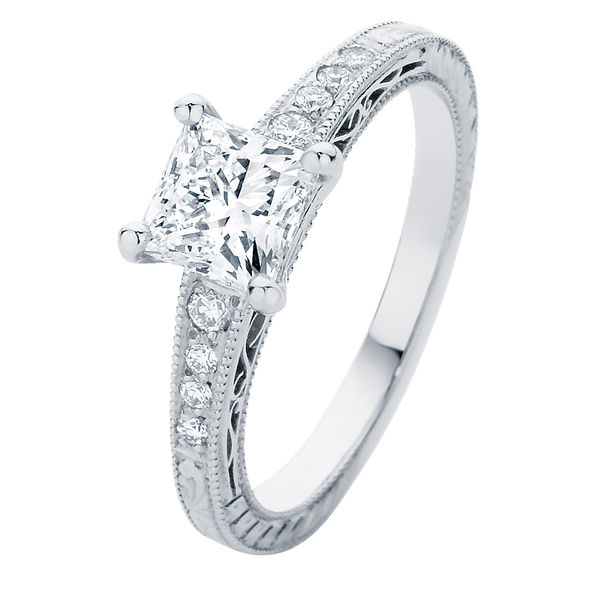 When it comes to engagement ring styles, we often find ourselves drawn to the classics, such as the diamond solitaire and halo engagement rings. However, there is also often a desire to have a ring that is individual without being so unique that you risk your design being too weird. In these cases, we often suggest that an engagement ring with hidden details might just strike the perfect balance between unique and timeless.
When you see an engagement ring with hidden details from above, the ring will appear like any other classic version of its style. To anybody else, these hidden details may go unnoticed. It is only when someone has the opportunity to take a closer look or when they get a quick flash of your ring from a different angle will they notice that there are surprise details that make your ring truly unique.
It is these small details that can make an engagement ring that much more special. Handcrafted especially for you, they showcase that every detail has been considered. It may be a small element like a secret hand engraved message or pattern or it might be hidden diamonds set on the bridge of your ring. There are many ways to create subtle features that set your ring apart from the classics.
Hand Engraving
Hand engraved patterns or messages inscribed on the inside are beautiful ways to create a secretive detail. When worn, this detail is hardly visible to anyone who views the ring. Whether you share this detail or not becomes completely up to you.
The Turin
A cushion cut solitaire engagement ring in an elegant wine glass setting, the hand-engraved leaf pattern of the Turin subtlety catches the light to add an extra element of shine and organic movement to this ring.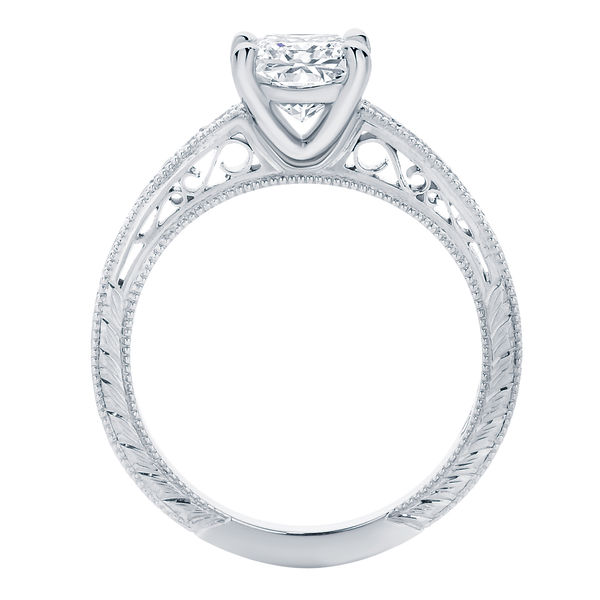 The Baroque
A vintage inspired ring, unassuming in nature from the top view, features beautiful hidden detail in the side. Underneath the diamond set shoulders, our expert jewellers carefully fit delicate scrolls to give this design an element of old-world luxury.
Secret Gemstones
A ring is not only about how grand or expensive it is, but the symbolic meaning of the piece. It can be really special to add a small gemstone that is secretly set beneath the centre stone or into the inside of the ring.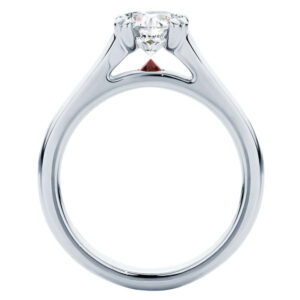 The Hourglass
A sleek contemporary solitaire from above, you would be forgiven for thinking that this ring design is minimalist, where the simplicity of the band and the double claws are the refined features of this design. But with one quick look under the setting, you realise this ring holds something very special. Beneath the centre diamond is one small round ruby (or gemstone of your choice) inverted into the bridge of the ring. The silhouette of the inverted ruby and the diamond reminded us of an hourglass, hence its name.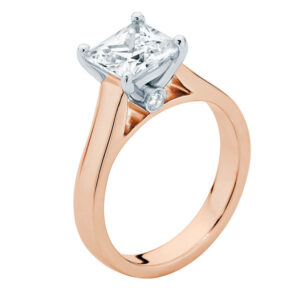 The Faith
This classic claw set Princess cut diamond engagement ring houses the perfect addition for a modernist ring beneath the setting, 2pt round brilliant diamonds, bezel set on both sides.
Hidden Patterns
Beneath the centre stone is the perfect place to include subtle details that won't compromise the design when looking down at the ring. Cut out patterns, initials or symbols can be incorporated into the collet or the side of your ring, you can even incorporate tiny diamonds into these shapes for some extra sparkle.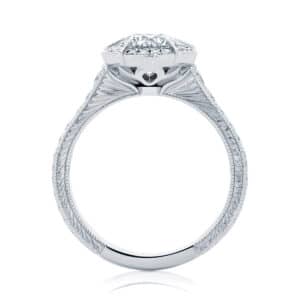 The Atlantis
With millgrain and halo details in the design, the Atlantis is a stunning option for those who are interested in that vintage appeal. The hand engraving on the band gives that little bit extra to this ring.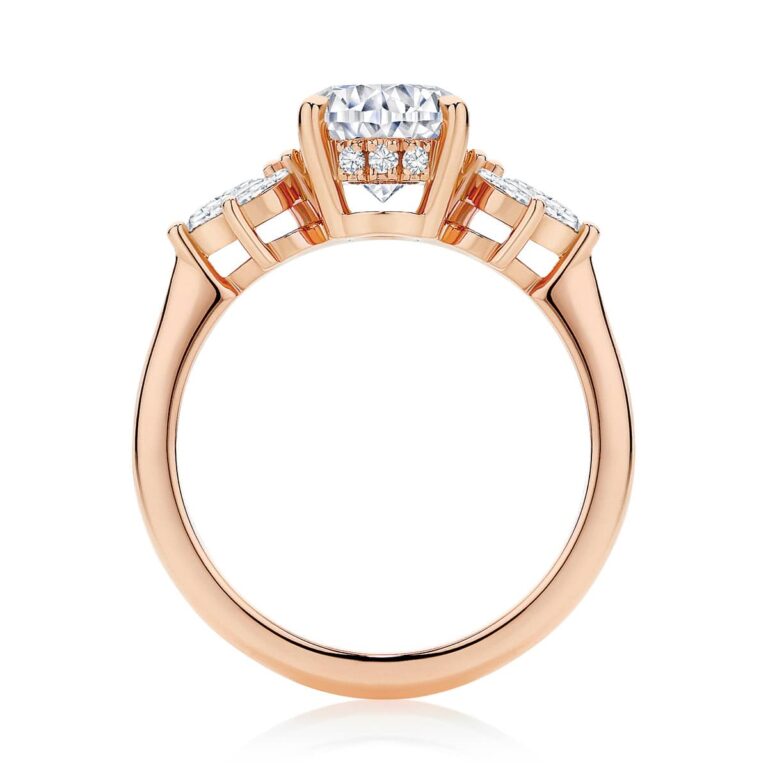 The Lyra
With delicate oval diamond surrounded by marquise cut diamonds, this unique engagement ring also has a hidden halo around the centre stone, with ten round brilliant cut diamonds.
Birthstone
If you are a believer in the powers of astrology and the benefits gemstones can hold, then consider incorporating your birthstone into your engagement ring as the centre stone or as side stones. If you are born in September then Sapphire is your gemstone, a perfect alternative to a diamond and comes in an abundance of colours. For those born in April, you are the envy of all of us because you are blessed with the diamond as your birthstone.
Filigree
Filigree, an ancient technique inspired by lace, it features beautiful shapes which are either carved out of the setting and along the band or scrolls of fine wire inserted into the design. This is the perfect addition to any vintage style engagement ring.
Rose and Antique Cuts
For those that love vintage designs, you may wish to consider a rose, antique or old mine cut diamond as your centre stone. These cuts were popular before technology advanced and modern cuts became the standard. Although slightly imperfect in comparison, they create a beautiful and interesting alternative. It is important to always have a professional eye determine if an individual stone is suitable for an engagement ring.
Metal Finishes
When you think of an engagement ring, the first thing that comes to mind is a diamond set into a perfectly polished band. High polished surfaces are classically sophisticated but they are not the only option. A textured or matte finished ring can create a striking point of difference adding contrast and character to your design.
Related Posts