Our 10 Most Popular Engagement & Wedding Rings
Choosing an engagement ring or wedding ring can be one of the hardest decisions; even more so if you're buying for someone else and have no idea what they want! There is a multitude of engagement ring designs, and while some people want a unique engagement ring, others want something more simple, suitable for everyday wear. And beyond that, there are others want something ostentatious and showy.
Once you have your engagement ring, there is also the matter of wedding rings, which can vary from plain to ultra-detailed.
Whatever your style, your engagement ring and wedding rings should be unique to you and should fit in with your lifestyle as easily as they fit on your finger. Luckily, in today's world, it's easier than ever to create a unique engagement ring. Most rings can be customised with different bands, diamond/gemstone colours and cuts.
So, what do you need to consider when buying a ring? If you're buying a surprise engagement ring, which many people do, how can you choose one your partner will like without giving up the surprise?
Before you choose a ring
If you're going to choose a ring together, lucky you! But it's still a big decision and your partner will appreciate your input and advice. After all, it's a big and, hopefully, lifelong purchase!
Don't make the mistake of thinking that just because your partner likes large, ostentatious rings on occasion, that they'll want the same style when it comes to an engagement ring. Some of us are surprisingly traditional when it comes to engagement rings and it's worth taking into consideration the fact that many of us will wear our engagement ring and wedding rings almost every day. Therefore, an engagement ring should be beautiful and stunning, yet still versatile enough to stand up to daily wear.
There are some elements you can usually count on. If your partner likes wearing rose gold everywhere, buying a rose gold ring is usually a safe bet. Likewise, if they don't usually wear rings or only wear minimal jewellery, a simpler, more classic style is also a safe bet.
If you're buying for someone else and have no idea where to start, check out our engagement ring guide, which will help you navigate the choices you'll need to make about engagement ring styles, colours, metals and jewels.
So here it is, our top 10 engagement and wedding rings. We'll tell you why they're so popular so you can consider which factors are important for you and your loved one: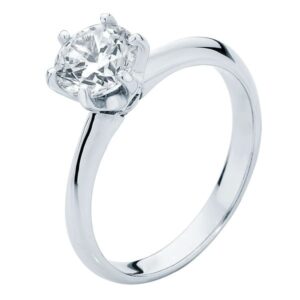 Elegance
At number 1, is our Elegance ring, the classic solitaire engagement ring. This Brilliant-cut diamond sits in a six-claw setting and features a simple, yet gorgeous rounded band. This is a ring type that suits many people in its simplicity and, of course, elegance!
Aurelia
The Aurelia is simply stunning. This beautiful ring features a stunning oval cut diamond in a double-claw setting. Along the band sits 32 smaller brilliant cut diamonds set in an 18-carat white gold band. The best part about all our rings is that they can be customised with your choice of stones or metals. This ring is beautiful and it would also look incredible set with a gorgeous coloured stone.
Amore
Another one of our classic engagement rings is the Amore ring which features a brilliant cut diamond in a magnificent 4-claw setting, and twelve smaller brilliant-cut diamonds on the band. This style is similar to our Elegance ring, yet has the added sparkle more glamorous.
Rosetta
The Rosetta takes the glam up another notch. This sparkling beauty features a Brilliant-cut diamond in a 4-claw setting surrounded by eighteen smaller diamonds. A further sixteen Brilliant-cut diamonds adorn the band. A glitzy choice, this ring is bold and definitely beautiful.
Night Sky
For something a little different, the Night Sky is a perfect choice. Featuring a stunning rectangular Cushion-Cut Ceylon sapphire, a halo of twenty diamonds, plus twenty-eight additional diamonds set into the band, this ring is made to stand out.
Classical Men's Ring
The name says it all. This Classical Men's ring is simple but elegant, perfect for everyday wear. A 6mm band featuring a half-round profile, this ring can be made in a range of metals and finishes. White gold and Platinum are generally a great choice for men because, as well as the fact that they won't rust, tarnish or corrode, they are perfect for men who work more with their hands (and may not always remember to remove their ring!).
If you're not sure which to choose, click here to find out more about the differences between platinum and white gold.
Serenity
One of our top rings, the dreamy Serenity is another classic of our engagement ring styles. It's glamorous yet sits a little lower on the finger, this means it is easier to wear every day. Featuring a beautiful cushion-cut diamond surrounded by eighteen small diamonds with a further sixteen diamonds in the band, this bewitching style is sure to dazzle and delight.
Swing Trio
Made popular last year when Prince Harry proposed to Meaghan Markle with a similar
design, this engagement ring style is our eighth most popular ring! Three stone rings have developed a unique significance. Traditionally, the three stones are said to symbolise the past, present and future of the couple.
The Swing Trio ring is our favourite version of the traditional three-stone ring. As with all our designs, it can be customised with your preferred diamond size or stone to perfectly fit your needs and create a unique engagement ring that represents you and your partner.
Union
The Union ring is a beautiful two-tone ring, this style is incredibly versatile, as it can be mixed and matched with multiple jewellery and watch tones. Again, it is fully customizable. Choose your favourite metal types, as well as sizing, or add other design elements such as stones if you'd like a little more sparkle.
Susie
Finally, at number 10, is the Susie design. This ring is a crossover solitaire engagement ring featuring a classic Princess-cut diamond and a tapered band, both, of course, are fully customisable. The Susie is a classic; it's simple yet beautiful. It's sure to impress and is incredibly versatile for everyday wear.
So, there you have it, our top 10 most popular engagement and wedding rings! While these ring styles are the most popular, your perfect engagement ring or wedding ring may not be among them. If you want an entirely different style, we can also create one for you!
Check out some of our unique custom-made rings here, or enquire now for an appointment with one of our experienced jewellers.
Related Posts